You probably know that a parole board recently recommended the release (subject to final approval by the governor of California) of RFK assassin Sirhan Sirhan.
As we have pointed out before, Sirhan long has maintained that he was under the control of intelligence agents, who purportedly brainwashed him in a program called "MK-ULTRA."
There is no hard evidence for his claims. But MK-ULTRA beyond question existed, and used drug or hypnosis-induced brainwashing to "control" certain select people. Many believe Lee Harvey Oswald was another case.
Fable? Another conspiracy theory?
Sirhan, as we explained a couple years ago in a "special report" on MK-ULTRA, insists he had no idea what he was doing but had been programmed to fire at shooting-range-like targets that flashed in his mind when cued.
"Under hypnosis, Sirhan said that a mystery girl had led him into the pantry of the hotel where the shooting had taken place and had pinched him on the shoulder, a gesture which he said had sent him into 'range mode,'" noted one source. "Witnesses have spoken in the past of seeing a mystery girl running from the hotel shouting 'We shot Kennedy' but she has never been identified." Sirhan alleges she was a seductive woman dressed in a polka dot dress.
Kennedy's son Robert Jr. thinks it was more than one shooter. "I got to a place where I had to see Sirhan," he recently said. "He would not discuss the specifics of their conversation. But when it was over, Kennedy had joined those who believe there was a second gunman, and that it was not Sirhan who killed his father," said the Washington Post.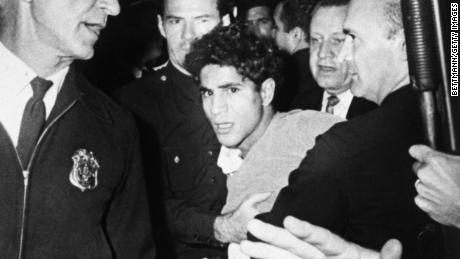 Remember James Earl Ray, of Martin Luther King infamy? He was hypnotized in Los Angeles two months prior to killing Martin Luther King Jr. in Memphis. That's a fact, though he never said (or wasn't given the opportunity to say) what the hypnosis entailed. These are all facts for you to discern.
But does it sometimes seem peculiar how three huge, charismatic, game-changing public figures were all assassinated in a short period of time under mysterious circumstances?
Whatever the answer to the suspicions (and that's all they are for now, and perhaps forever), MK-ULTRA existed. At least 149 subjects and eight institutions — universities, medical offices, hospitals — participated in some way in the nefarious program, often without knowing the C.I.A. was behind their research.
Add to that hundreds of military men and prisoners who were administered psychotropic drugs.
We personally met one: the late radio host and fashion model Candy Jones of WOR-AM in New York, whose experience was the subject of an entire book.
Remember Theodore J. Kaczynski — the "Unabomber"? Though not MK-ULTRA, he had been subjected — unwittingly — to clandestine such psychological experiments while a student at Harvard. 
As for MK-ULTRA: Who else might they have attempted to use?
Were the C.I.A. operatives tapping into something they didn't understand?
(Did that destroy the minds of some subjects — or unleash a demon?) 
At every turn, mysteries. At every turn, puzzles that come wrapped, as the old cliché goes, in enigmas.
[resources: Michael H. Brown retreat next week]