As I write this, we have finished cleaning up around our house: pine needles and small branches down by Hurricane Ian. There was no real damage, where we are. But rain? We measured nine inches, and during the height of the tempest (tropical-storm force winds), even a rainproof jacket was immediately soaked through. (View above computer out a window during storm, below)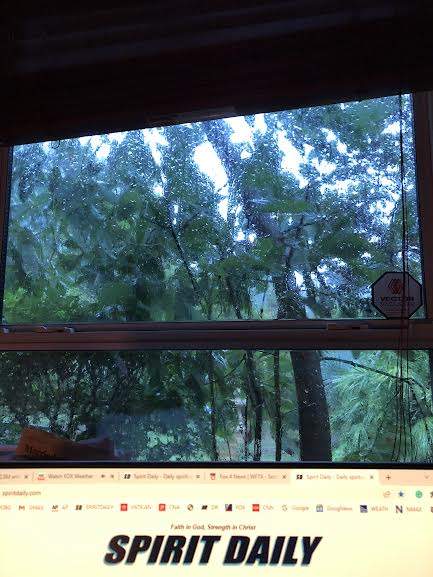 It may be the biggest storm in terms of damage since "Katrina."
It's another in the many potent storms stalking the planet.
How did it compare, in actual power, to other hurricanes?
One of the best measures is barometric pressure. The lower, the more powerful. And by that standard, Ian does not rank among the top tier. The pressure of the storm last week was 945, far higher (and thus less powerful) than Hurricane Wilma in 2005 (a terrifying 882 at one point), Hurricane Gilbert in 1998 (888), and the famous Labor Hurricane of 1935, which wiped out an entire island in the Keys (892).
Rita was 895. Camille, 900. Katrina was 902. While Ian was a large storm, causing massive damage because of where it hit, its 155-mile-an-hour winds (nothing to shrug at) were substantially less, however, than the Labor Day storm's 185 mph. (For its part, Hurricane Andrew had winds of 175, as did Katrina.)
When we surveyed the damage wrought by Andrew back during the 1990s (for research used in Sent To Earth), what we encountered were the results of a small storm, but one that caused effects not described with Ian (storage sheds and pickup truck tool cases levitating and swirling in the air. During Camille, a heavy old postal box was witnessed taking flight — something even Jim Cantore would rather not dodge). Andrew was like a tornado fifty miles wide. Ian was 240 miles wide, and therefore, while less intense, more extensively devastating.
The most devastation we've seen in the aftermath of a Florida storm was Michael in October of 2018. Driving weeks after it struck the panhandle, it took us several hours to encircle the utterly flattened forests and devastated shoreline.
If that storm had hit southwest Florida, it wouldn't be just Fort Myers Beach, Pine Island, and Sanibel that disappeared: total destruction would have been witnessed from the Everglades to Sarasota, and then across the state. An emergency management director in Collier County once told us that if the highest-grade storm hit southwest Florida, that county would be completely underwater, up to twenty feet deep.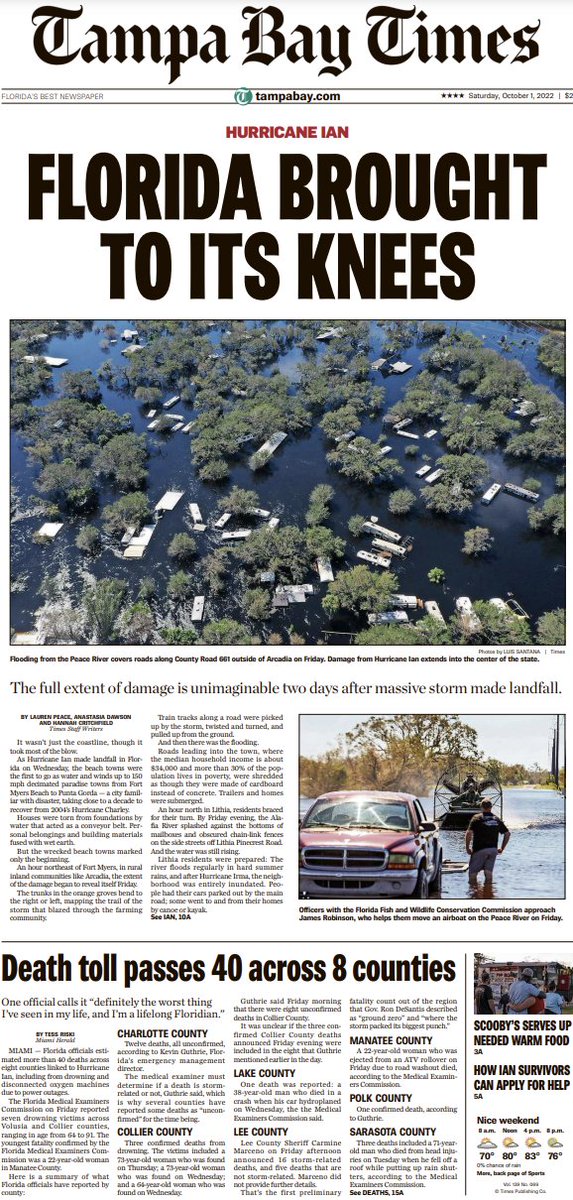 Millions have ignored such threats, in the rush for sunshine in lieu of northern cold. But the dangers are real for much of Florida. At the National Hurricane Center, the director and other experts told us years ago, during interviews, government agencies should never have allowed building on barrier islands, where you find the ritziest homes all around the peninsula. Their main concern is Miami. They believe it's only a matter of time before destruction there dwarfs what we have seen with Ian. Few realize that after the Great Miami Hurricane of 1926, there was national debate over whether to rebuild Miami Beach.
Back then, just hundreds of thousands lived in the area. Now it's more than five million.
And hundreds of thousands of others live just north in extremely vulnerable cities such as Palm Beach and West Palm Beach.
A hurricane like Michael hitting here — the "Gold Coast" — would be apocalyptic. 
As it is, Naples and parts of Fort Myers are likewise havens for the wealthy. The median home value in many Naples neighborhoods is about $1.1 million, although, says a real estate company, "homes can be found across a range of prices depending upon size and location. While homes in the Artesia neighborhood have a median price of about $544,500, in comparison, homes in the Aqualane Shores neighborhood can easily sell for over $10 million." It has the second-highest proportion of millionaires in the U.S. 
The median home in Fort Myers: about $410,000. Before the storm, prices were up twenty-nine percent from just a year ago.
The median listing price in Fort Myers Beach — which was all but wiped off the map — was $899,000.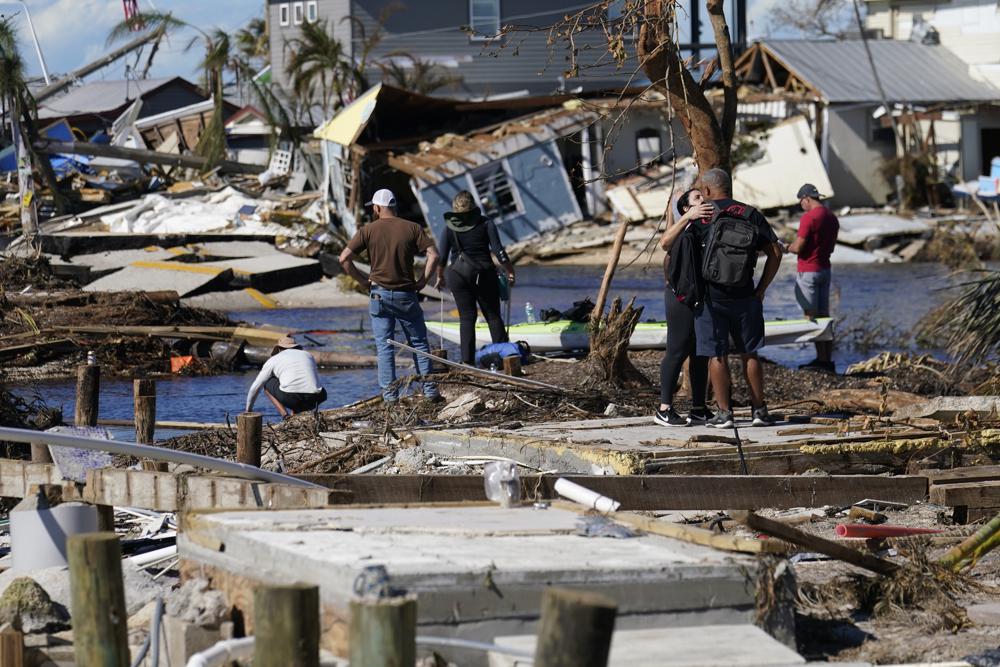 That compares to Palm Beach, where the median is around $955,000 to $2.1 million.
And West Palm Beach (Mar-a-Lago territory), where the median listing price is $433,000, with coastal neighborhoods much higher.
Not far away from Fort Myers is Ave Maria University, the Catholic enclave founded by Naples resident Tom Monaghan, who gained his fame with Dominos Pizza. As far as we can see, the university incurred no major damage. Reported a news service, "Ave Maria is not in the floodplain zone but received small amounts of damage and power outages that were quickly resolved by generators… Classes will resume fully in-person by Monday and campus Masses have fully resumed.")
Back near Fort Myers, they are still counting victims. Thus far, the death toll has been set at about 100. Will there be controversy over the body count, as there was after Hurricane Andrew, which had an official toll of 65 dead but claims that hundreds more (many of them illegal aliens working as migrant farm laborers) had succumbed?
An irony of forecasts: the area initially believed to be in the bullseye — Tampa Bay, which everyone projected would flood horribly — saw water levels plummet, pushed out of the bay by what meteorologists call "blowback," as the storm hit substantially farther south.
Perhaps most relevant: all these storms — whether Ian, Michael, or even Labor Day — are nothing compared to what hit three thousand years ago, according to a scientist at Louisiana State University named Dr. Kam-biu Liu we once interviewed.
The southern part of the U.S. was battered by storms worse than any on the modern ledger, storms that according to Dr. Liu (who has studied sand from ancient ocean surges) amounted to a category above cat-five. He said back then there is evidence such intensity — at least of cat-four and cat-five — reached up even to the Northeast of the U.S.
"I think part of the reason why we haven't seen more catastrophic hurricanes in the documentary record is because it's too short," says the scientist. "If we extend the record from 120 years to 1,000 years, then I think it is quite likely that we'll find more catastrophic hurricanes hitting the Northeast, including New England, New York, and a lot of parts of the coast that during that 120 years have not been hit by strong hurricanes."
Dr.Kam-Biu has postulated that climate change altered the position of the Bermuda High and steered storms northward centuries ago, when solar intensity caused the planet to warm, shifting the jet stream.
Many commentators have been acting as if a hurricane strike in southwest Florida is a huge surprise. Perhaps it's already forgotten that Hurricane Charley — substantially smaller but equally intense — took the same basic route, slamming into Punta Gorda (as a category-four, with about the same wind speed as Ian)  before crossing the state (damaging suburbs of Orlando and Daytona Beach) less than twenty years ago.
Ian is the 22nd strongest storm to hit the U.S. in modern times — to give you an idea of what, without God's Grace, can occur in the future.
–MHB
[resources: Michael Brown online retreat, 10/29]
[Said Mother Angelica about Sent To Earth: "If you didn't buy his book, you're missing it. It's not a scary book; it's a very good book. If you haven't bought it I would buy it. I think it's a great book, just terrific. I think it's important for my future and your future. I want you to read Sent To Earth. Why? It's logical, it's truthful, it's sensible, and it's God's way of saying, 'Let's be ready.'"]