Oddities in the news and elsewhere.
————————————————–
First:
The other day, Thursday, November 11, one happens to look at a clock as it clicks to 11:11 a.m.
November 11, of course, is also 11/11, so that there were the double elevens in three spots (calendar and clock, since 11:11 appears twice, a.m. and p.m., a day).
And therein is one explanation for why so many have been mystified, at times unnerved — at times turned rapturous with prophecy — seeing the juxtaposition of elevens with what seemed and still seems like portentous frequency.
They took it as "signs" — both Christians and, also, those who lean into the occult.
Thus the precaution with this sort of stuff.
Is it reheated numerology? Or does it indicate a special moment — personally and/or for society — as the clock progresses toward midnight?
"From angel numbers to numerology, the interest in 1111 comes from the belief that different numbers carry specific energetic vibrations and, further, that you can work with those vibrations," says one New Agey site called MindBodyGreen. "In the case of 1111 (and even 11 or 111), according to professional intuitive and author of Angel Intuition Tanya Carroll Richardson, 1 is always about new things, new cycles, new beginnings, and bringing new elements into your life.
"Numerologist and author of You Are Cosmic Code Kaitlyn Kaerhart echoes this point, adding that seeing repeated ones in numerology signals that a beginning is near, and it's a good time to 'focus on innovation and creativity, embrace your independence, and go after what you want.'"
And right off, with such explanations, is the big red flag.
Is there a place for the series of numbers in Christianity?
If you believe numbers can be cryptid signals: perhaps. Since the Council of Nicaea (325 A.D.), numerology has been out of favor with the Church, assigned to the field of unapproved beliefs (along with astrology and other forms of divination and "magic").
But numbers have symbolism in Scripture (witness "666"), and it was Saint Augustine of Hippo (A.D. 354–430 — right after Nicaea) who wrote that "numbers are the universal language offered by the deity to humans as confirmation of the truth." Like the famous mathematician Pythagoras, Saint Augustine believed that everything had numerical relationships, and it was up to the mind to seek and investigate the secrets of these relationships (or "have them revealed by Divine grace," in the words of an encyclopedia).
And so we try to figure it out, and of course will fail, without the Holy Spirit.
Numbers?
There's an entire book of the BIble by that title!
Historically, "333" has been considered a "good number" symbolizing Christ. Three represents the Trinity. Jesus died at 33. There is also "777," often associated with God and the completion of goodness — a finished plan.
---
Second, from the mailbag: "We recently added small fake remote control candles to our living and dining room to make for a peaceful place. After Confession this past Wednesday night, my wife, Mary Beth, and I came home to our condo and in one corner of our place, we have an Infant of Prague statue next to our Lady of Fatima Statue. Here is the image that appeared the past Wednesday evening (see picture) and still remains if the candle is on. Of course, it is probably a reflection of the top of the candle itself somehow off the statue, but in any case, the image is 'enlightening.' Just a little hope in otherwise confusing days. God bless you, Dave Burke, Ashburn, Virginia"
---
Third:
On November 11, the New York Post had this strange item about so-called UFOs (now known by the U.S. government as UAPs, or "unidentified aerial phenomena"): [scroll past ad for more]
"UFO's buzzing warships and being reported by U.S, pilots could be of alien origin, America's top spy chief has said in a stunning admission," said a newspaper. "Avril Haines, the Director of National Intelligence (DNI), who oversees all 16 US spy agencies including the FBI and CIA, was speaking at the Our Future in Space event at the Washington National Cathedral [our italics].
"Haines was quizzed about UFOs which have become a serious national security debate in the US after years of being consigned to the dustbin of conspiracy theories. The stunning UAP Task Force report published by the Pentagon over the summer admitted there have been unexplained encounters between the US military and mystery objects – such as the infamous TicTac."
We believe they — those TicTacs, off the coasts of California and Florida a few years ago, and made famous in The New York Times — can be Chinese hypersonic drones or whatever.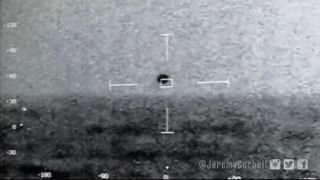 Human creations? Perhaps. For in the news also:
"A new report says that China's apparent nuclear-capable hypersonic glide vehicle ejected some kind of payload while barreling through the atmosphere, in its much-discussed test this past summer. If true, this would indicate an intriguing new capability for this already novel weapon, albeit one the function of which is not entirely clear. You can read our original reporting on this ostensible milestone test here.
"The Financial Times yesterday reported that China's puzzling weapon test on July 27 included the presumed hypersonic glide vehicle launching some kind of payload over the South China Sea 'as it approached its target traveling at least five times the speed of sound.'"
Some U.S. scientists said it seemed to defy physics — which is also how the pilots described the Tic-Tac UAPs.
Odds therefore build that those UFOs spotted by the Navy were indeed foreign drones (or, unknown to regular military types, secret American ones). This yesterday from Fox News: "The federal government is embarking on a new attempt to explain the unexplainable. The Defense Department is launching the Airborne Object Identification and Management Synchronization Group, a unit that will be charged with finding and identifying UFOs in restricted airspace, officials said Tuesday."
We firmly believe that many if not most "UFOs" are spiritual phenomena, when they can't be explained in normal ways.
But we'll keep our ears to the rail and eyes skyward. In a vast universe, and perhaps a multi-dimensional one, extraterrestrials are always possible.
Meanwhile, this, over Switzerland: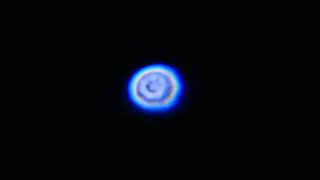 It doesn't end and won't anytime soon. Strange days will get stranger. More on that in the next "special report."
(Meanwhile, when looking upward, or speaking in a national cathedral, do so to look for Christ.)
[resources: Lying Wonders, Strangest Things]