From WLS:
CHICAGO (WLS) — Some worshippers see a sign from God after a caretaker at Holy Trinity Greek Orthodox Church on Chicago's Northwest Side saw what looked like tears pouring from the Virgin Mary's eyes.
The caretaker noticed the shocking sight early Sunday morning, as she prepared for what could be one of the church's final services. The church faces foreclosure and is due to go to bankruptcy court Tuesday morning. The community was in shock at the weeping icon.
From the Chicago Sun-Times:
What does it mean?
Mandalios said they are tears of sorrow for the plight of a congregation that's about to lose its church. The church is about $8 million in debt, in foreclosure, and unless a lot of money can be raised quickly, the building will be sold, said the pastor, Rev. Nick Jonas. Jonas and others from the church have a date with a federal bankruptcy judge Tuesday. Jonas said he's hoping the judge will give them just a little more time. The church has a potential investor.
From Fox News: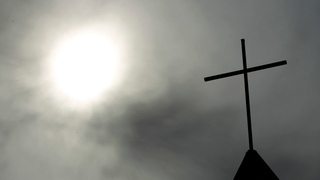 Chicago worshippers on Monday flocked to a century-old Greek Orthodox church that is facing foreclosure to see what some say is a sign from God after a caretaker witnessed what appeared to be tears streaming from the eyes of a painting of the Virgin Mary over the weekend.
Rev. Fr. Nicholas Jonas told the Chicago Tribune he was in his office at Chicago's Holy Trinity Greek Orthodox Church early Sunday morning when a caretaker told him about the painting. Jonas said he investigated and placed cotton balls at the bottom of the painting to absorb an oil-like substance pouring from the eyes of the Virgin Mary. He posted a picture of the painting Sunday night that shows streaks of liquid residue coming from the Blessed Mother's eyes, which give the appearance that she's crying.