---
Have you heard of the (alleged) 'Tear of Joy" miracles?
As we explained a few months back, a viewer named Arrow Osborne sent us a photo of Our Lady, explaining, for our discernment, that Mary somehow materialized on an "instamatic" photo. It occurred near Cincinnati last September 8, as someone was taking pictures of balloons released at the home of a woman celebrating Mary's official birthday, in connection with a visit from the mystic, Carmelo Cortez, of the Philippines (known for rose petals on which holy images seem to materialize).
Magic? Holiness?
Asserted Arrow: "When all of this was happening, the sun was spinning and some people were saying, 'Look at the sun!' [see his full account]. I went into the house and went up stairs, walked in the bedroom where [my friend] Neil was. Neil just took a picture using a Instamatic camera as the balloons were still going up, then turned to me and said, 'This is yours.' I watched the image appear of 'Our Lady of the Tear of Joy' in the photo.
"There were no images of Our Blessed Mother on any of the balloons, nor in the trees, nor anywhere!" Arrow emphasized. "Our Lady has said we are to say the Memorare when we look upon this image of her. Our Blessed Mother has said that when we say the Memorare prayer, we are fleeing to her and all those who flee to Our Lady will be led to her Son."
Since then, apparently, numerous faithful have experienced wonders associated with copies of it.
On February 29, says Arrow, a priest and author named Father Joseph Esper held a Mass for the victims of the coronavirus. 
"I attended this most beautiful Mass and received his permission for people to come up and venerate the original image of Our Lady of the Tear of Joy (icon) after Mass," he informs us. "After Mass, I gave the original image of Our Lady to my dear sister in Christ named Terri. 
"As people came up and knelt down, Terri was handing them the image (icon) of Our Lady and I was passing out blessed images of Our Lady of the Tear of Joy for people to have. A man named Fred Lopiccolo from Lake City Michigan called me to say he went up and knelt down, was handed the image of Our Lady, placed Her on his forehead, and asked Our Lady to heal him of his double hernia. 
That was followed, says Arrow, by an e-mail to her in which Lopiccolo recalled, "After Mass, parishioners were invited to place a blessed picture of Our Lady, Tear of Joy, on our foreheads. I did not hesitate to participate. 
"Seconds after placing and praying

with Our Mother's blessed picture on my forehead, an incredible heavenly feeling of peace, joy and calm came over my entire body. I asked Our Mother to heal dual hernias that I have in my left and right groin areas. Now my hernia areas are not anywhere as bulging as once before! Praise God, now and forever!"
Hopefully, he is healed, or at least has been helped. Even if he does necessitate surgery, Our Lady will doubtless be there to guide the surgeon's hands.
Arrow also sent a testimony from a woman Byrdth Cowie, who is in in her late 70s and says that "I get the fragrance of Our Lady very often, especially when I handle or even look at the Image of our Blessed Mother of the Tear of Joy."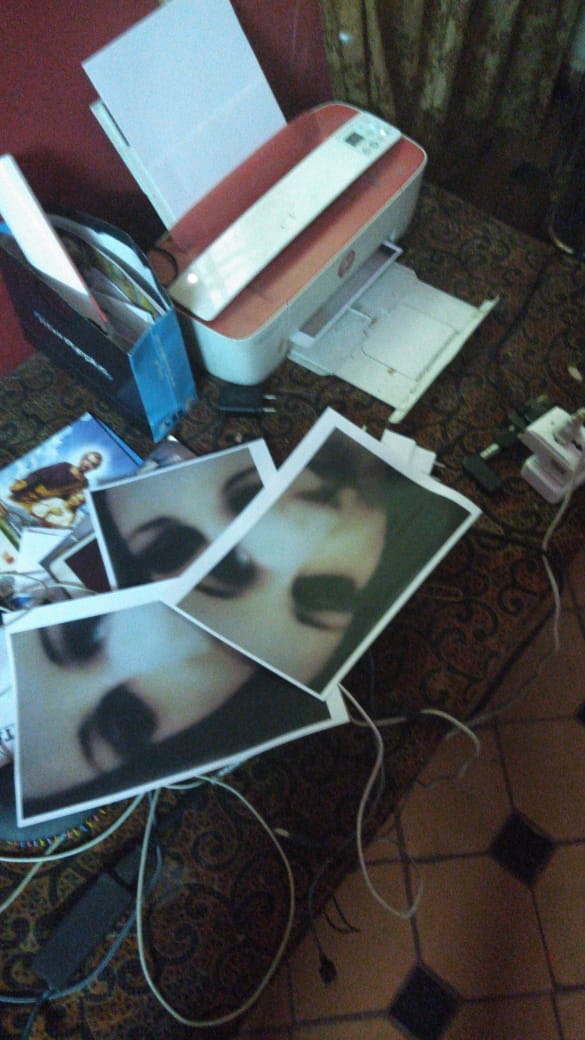 There is a testimony from Michael Page, a 65-year-old man from the U.K. who for many years had been suffering from painful arthritis — to the point where he couldn't walk. His pain lessened greatly after he was sent the picture and the Memorare. Urges Michael, "Cry from your heart looking at the picture of mother, Tear of Joy and she will touch you now. She touched me. My arthritis is gone. I have thrown out all the pain killers. I was taking 500 mg Naproxen I don't need it anymore. I don't feel any pain. Today I feel very much comfortable. No arthritis pain. It's gone.  Mother Tear of Joy helped me. It's a miraculous cure. I couldn't walk two weeks ago. I couldn't keep my feet on the ground. Thank you very much Holy Mother, my arthritis is healed."+
Let us hope that also continues — while at the same time advising that we must remain prudent when it comes to medical care, consulting doctors when necessary (and after prayer).+
Discern and pray (and fast).+
Noted a woman named Mary from Toronto:+
"In December, my husband Robert had several tests done, MRI and blood work, all indicating he had prostate cancer. 
"We had the image of Our Lady of the Tear of Joy and my husband was placing the image on him and we would say the Memorare prayer together and he also kept the image in his pocket. 
"Recently, they did a biopsy and another MRI and everything came back negative and he his cancer free, and they have no explanation for it, but we know it was Our Lady's intercession."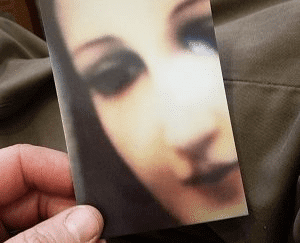 Testified one more, a woman from Macomb, Michigan: "On October 30, 2019, my husband went to the hospital with severe abdominal pain. The emergency room doctor diagnosed him as having a 'large duodenal diverticulum' near the small bowel. Upon discharge, they instructed him to see a surgeon or a gastroenterologist. 
"Several weeks later he saw his gastroenterologist. Concerned over the hospital's findings, his doctor scheduled a colonoscopy on December 2, 2019.
"On November 30, 2019, we met with Father Joe Esper for blessings. As we were walking out of the church there stood this woman in a tiny vestibule with Our Lady Tear of Joy prayer cards in her hand. She handed us the prayer card and said, 'I think you need this.'
"I began to cry because she had no idea what we were both going through emotionally and healthwise. Her gesture touched our hearts. On the drive home I kept on feeling that God sent this angel to us to share the word about Our Lady Tear of Joy. Having no knowledge about Our Lady Tear of Joy I went on the website to read the beautiful story behind the photograph. 
"For the next two nights we both said the Memorare prayer and placed the holy card with Our Lady's picture on my husband abdomen.
"On December 2, 2019, my husband had his colonoscopy. The doctor came out and told us that he didn't find anything. He said whatever they imaged at the hospital was no longer there. Praise God and Our Lady! Between the prayers of Father Esper and Our Lady Tear of Joy's intervention, a miracle had occurred!"
Praise God, for miracles large and small.