---
Perhaps one day we'll find out that we are all prophets in certain ways.
We all are "seers."
We see different things; God grants different Grace. Perception is in the eye of the beholder (to play on an aphorism, and state the obvious). 
What do you see in this photo? It was taken Divine Mercy Sunday during Rosary and prayers from a church parking lot in Syracuse, New York: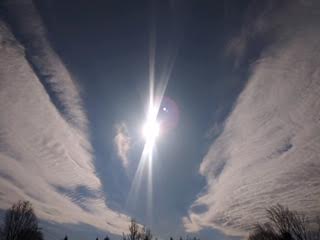 Besides a figure (or two), doesn't the entire array — the construct of the seemingly parted clouds, with the sun smack in-between — lend an unusual aspect to it?
We see what we feel: At Massa Carrara, Italy, on the eve of the feast of Divine Mercy, a man named Paolo Brosio took a cell video of an aureole around the sun, along a striking second aura with a rainbow rimming its ominous dark underside.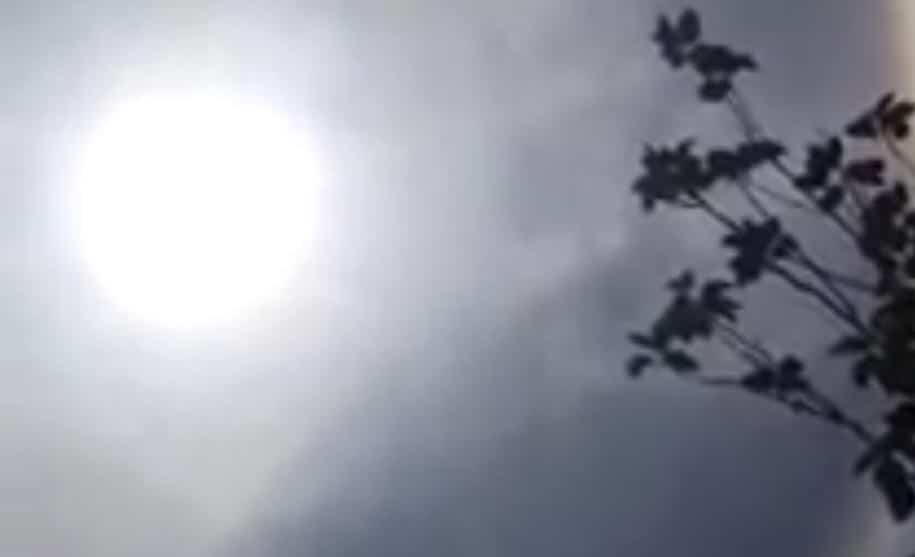 We understand that such effects — the sun as a dot, or with darkness surrounding —  occur regularly as an artifact of cell cameras, though not necessarily to this extent (and again, at a poignant moment of prayer). Besides, this was seen with the eyes — not just an exposure or lens effect.
Perhaps you have to be there? 
Remarked Paolo on Facebook: "I had the feeling that God wanted to give us this great sign to allow us to be with Him in a wonderful Eucharistic Adoration, which gives us the opportunity to be close to Jesus even when we are precluded from participating in the Eucharist and taking the Body of Jesus. It could be a sign that heralds the great Mercy of God to prepare us for more pleasant days that will take away this virus that has brought our country and the whole world to its knees. I am telling you what sensations I felt in my conscience and in my soul" [while taking the video, which is here.].
And yet it also seems a bit inauspicious.
It is interesting how many took a second look at such things — miracles, phenomena, prophecy — during the corona lockdown.
A similar solar effect was circulated by Rod Drehrer (author of The Benedict Option) in a post about an exuding Orthodox icon. This time the photo was taken at three p.m. on Orthodox Good Friday:
"This is called a sun halo, and it's a natural meteorological phenomenon, though rare," writes Rod. "Still, 3 p.m. on Good Friday is quite some timing."
It's all in the feeling and the timing, it seems.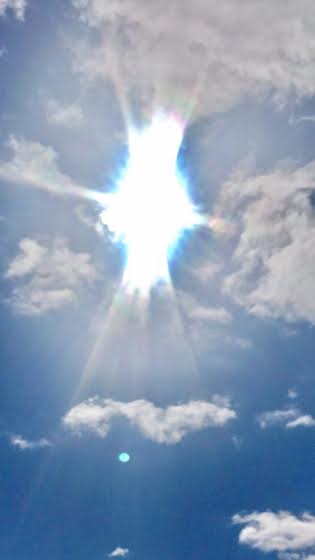 Here's what was snapped by a fellow in the Chicago area, who, meditating on the Virgin, recorded his thoughts during that photograph. "My children, I am  here through your suffering and sacrificing. Do not be worried, because my beloved Son knows everything. Indeed, my Son is coming, not to condemn the world, but so the world might be saved through Him. Trust Him and do not fear. My beloved Son is with you. Help your neighbor not only in your prayers but with your works. Many are in need of your help without hesitation. His words and manifestation will be scattered all over the nation, to bring back the faith of His devoted followers. Do not quarrel. Instead, help and unite, for it is the right time to show that He did not lose His efforts to atone for your sins. Do not give up, and pray. I am with you on your behalf and will always be on your side to intercede for my Beloved Son. I love you and continue to love you all. I am your Lady Mother of Help. Thank you my children."
Once more: the feeling more than photographic evidence. 
And the latest from Medjugorje: "Dear children! May this time be an incentive for personal conversion for you. Pray, little children, in solitude, to the Holy Spirit to strengthen you in faith and trust in God, that you may be worthy witnesses of the love which God bestows upon you through my presence. Little children, do not permit trials to harden your heart and for prayer to be like a desert. Be a reflection of God's love and witness the Risen Jesus by your lives. I am with you and I love all of you with my motherly love. Thank you for having responded to my call."
That you can take to the bank.
[resources: The God of Miracles]
[Footnote: A seer in Ireland conveyed interesting "messages "(allegedly from Jesus) as far back as 2002,  including one that year that said, "Diseases will fall upon many; plagues will devour many," and a few years later (on February 22, 2005): "There will be a virus-type plague which will kill many people throughout the world." The idea of pandemic seemed to be a recurring theme with this purported seer. On March 29, 2009 Our Blessed Lady had presumably added (for your discerning only), "Locusts such as have never been seen before will form a plague; it will seem as if they themselves have an evil intent, almost as if they have an awareness that they are to wreak destruction…"
How's this for a news story on Las Vegas (from Sunday): "Slot machines are powered down, casinos boarded up and barricaded. Sidewalks are largely deserted and electronic marquees that once flashed neon calls for nightclubs, magic shows and topless revues instead beam somber messages of safety."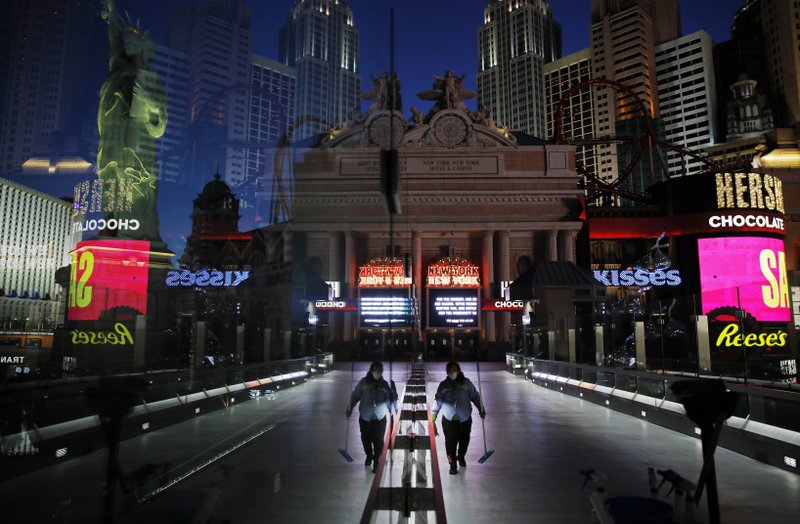 Do we get it? Or will we all now just go back to what we were doing?
Interesting, in that the coronavirus outbreak occurred just after the first wave of an incredible pestilence — by way of locusts — in Central Africa, a pestilence that arrived in a second, even bigger wave in the midst of the global lockdowns, as if the insects were the visible representation of what was invisibly plaguing all of mankind in a way not seen before by anyone living. Reported BBC, "Towards the end of 2019, a major upsurge of swarms was seen in Ethiopia, as well as its neighbours Eritrea and Djibouti, and continued to spread, taking hold in Somalia, Kenya and even reaching Uganda, South Sudan and Tanzania though in smaller numbers. A second invasion by desert locusts has hit East Africa in just a few months, as younger and more aggressive swarms hatch and spread across a region already battling hunger and coronavirus, which has made it more difficult to get supplies to kill the crop-devouring pests. [The government] estimates the swarms could be up to 20 times bigger than during the first invasion -and they could become 400 times bigger by June. Here was the headline]:
How do you fight a locust invasion amid coronavirus?
How, except for prayer, indeed.