---
Is the sky speaking to us?
"These images were taken at Our Lady's Farm in Falmouth, Kentucky, during special prayer time, and focus on prayer to end to abortion," wrote viewer Fran Hemmer (Falmouth is the site of alleged apparitions near Cincinnati):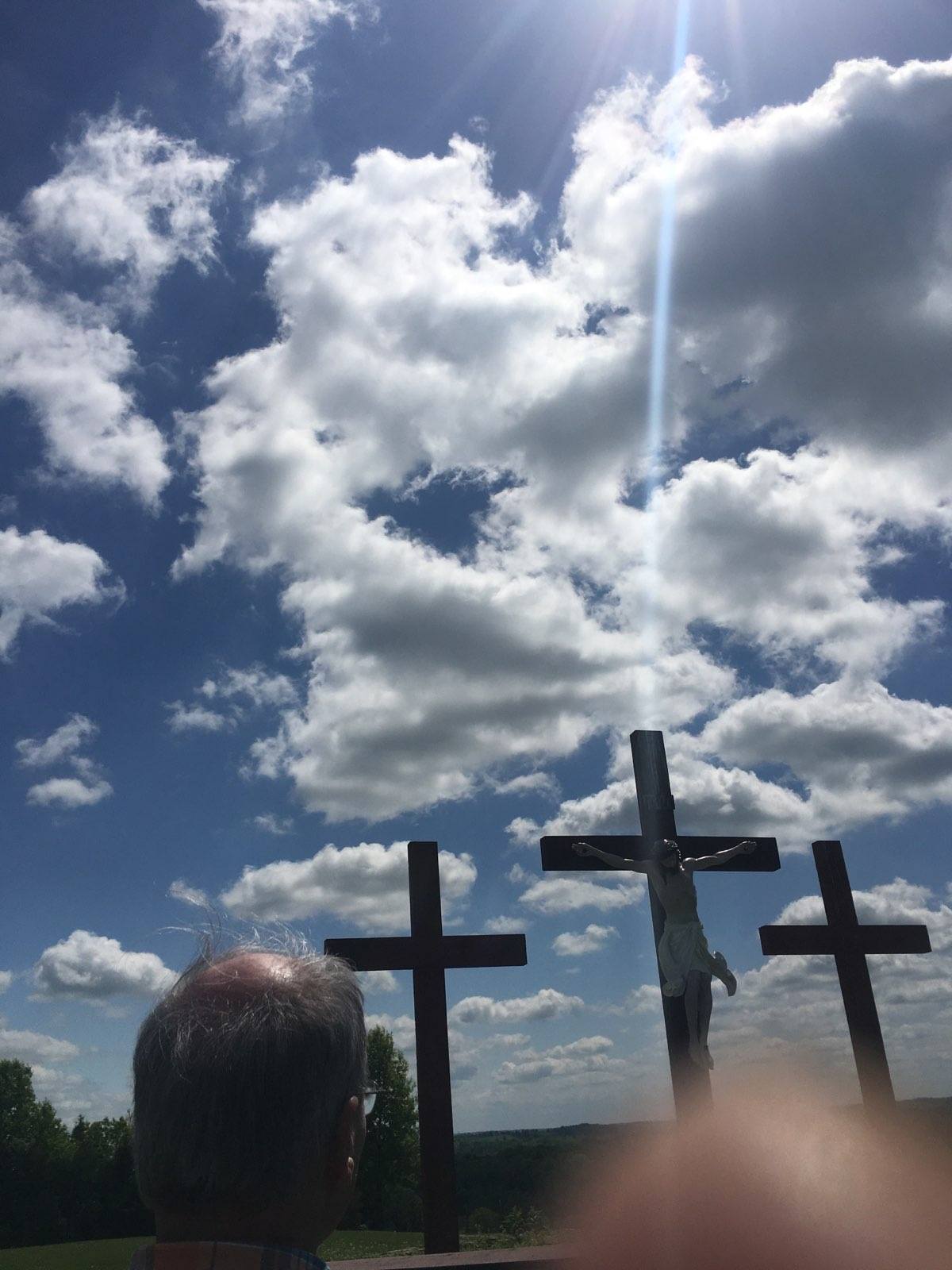 When placing a finger on the prophetic pulse — which, across spectra, fairly throbs these days — one recalls the e-mail sent around recently by a Louisiana priest, who said:
"Dear brothers and sisters in Christ, this is Father Dan and I just awoke from experiencing a very powerful prophetic dream that Jesus wants me to share with you about the coming chastisement upon the earth that will soon take place, if we fail to repent from our sin and return back to Him.
"The event will occur suddenly and unexpectedly. Everyone will be going about their usual daily routine when the event will take place," he said (see the current "special report" for more"). "You are to say over and over again the following: Jesus save us from our sins, Jesus save us from this event, Immaculate Heart of Mary protect us, victory in Jesus alone, Jesus give us victory." Good idea for all eventualities of life.
Back to the sky: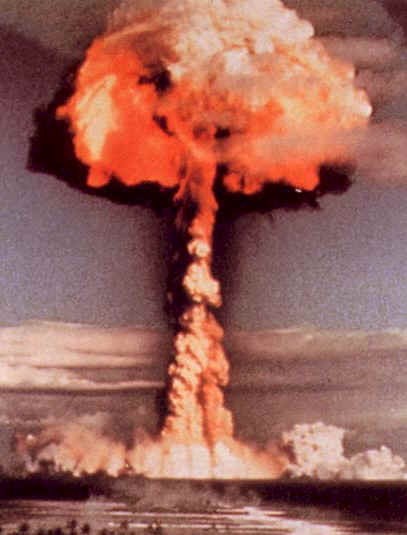 We know something was being said in this man-made cloud during a nuclear test at Mururoa. As we have discussed before (and as is meaningful with the Pope having just visited Hiroshima and Nagasaki), there are formations that resembled a) the Blessed Mother (left), Jesus Crucified (center) and c) some believe demonic images, including a dragon. It is certainly striking.
Elsewhere, everywhere:
"My mother asked me to take a photo of this cloud that looked like it was on fire," writes one of our fine Canadian viewers. "I took several photos within a minute on July 13 between 8:59 and 9:00 pm, looking toward the south of my farm. This cloud may be over Toronto; I live north of Toronto). It was three days ago ( October 25 ) I looked back at them and was amazed at what I saw ( a clear side profile of a face looking up). Maybe an angel face." At first glance we thought it was smoke from a fire!
Here's another "word of knowledge" that crossed the desk:
"This is not a disaster that will occur overnight or as a single event, but a disaster of destiny. It is a disaster at the root of the nation."
Take heed. Clarify your vision. Sanctify your thoughts. Discern through fasting. Go to Confession. Confess how you have viewed others. Confess when you have judged too quickly and harshly. Confess all imperfection and find perfection in the Eucharist, in a stronger connection to the Blessed Mother, in a more pronounced attachment to Jesus Christ, Lord and Savior, in gratitude.
Simply pray. Squander no moment. Spend no energy generated by hate. Purge even niggling irritation. Yes: look skyward.
For the purity of Heaven is reached only when there is purity in the heart; only when we think first of Christ; only when we live each day all day with the humility of thanksgiving, as we look up.
[resources: Tower of Light and The Warning]
[November message to Marija Pavlovic-Lunetti
Dear children! May this time be a time of prayer for you. Without God you do not have peace. Therefore, little children, pray for peace in your hearts and families, so that Jesus can be born in you and give you his love and blessing. The world is at war because hearts are full of hatred and jealousy. In the eyes, little children, peacelessness is seen because you have not permitted Jesus to be born in your lives. Seek him, pray, and he will give himself to you in the Child who is joy and peace. I am with you and I pray for you. Thank you for having responded to my call.]