---
Already, there are iconic images of the Great Contagion.
Here's one from Twitter, the Blessed Mother looking down from a wall portrait at a very sick Italian woman in Bergamo, Italy's "epicenter."
It is future history.
Perhaps no image will be as iconic, not globally, but in Catholicism and Italy, as the profoundly dramatic and yet somehow powerfully subtle way Pope Francis blessed the world on Friday, in a basically empty St. Peter's Square. No matter one's Church politics, it has to be acknowledged that this Pontiff is as Marian (visiting Mary Maggiore before and after every trip, reciting fifteen decades of the Rosary each day, constantly visiting images of her, and allowing official pilgrimages at Medjugorje) as any Pope in a century. (One thinks of Pius XII and John Paul II.)
She was there — was the Blessed Mother — at the epic Friday Urbi et Orbi blessing, there on one pillar in the giant order of columns in front of St. Peter's while on another was a miraculous Crucifix, the Pope praying at each in a way that reminded some viewers of Saint John Bosco's vision of a pontiff navigating the Church in stormy seas between two likewise massive columns (one with an image of Mary, the other not a Crucifix but, perhaps selfsame, the Blessed Sacrament.)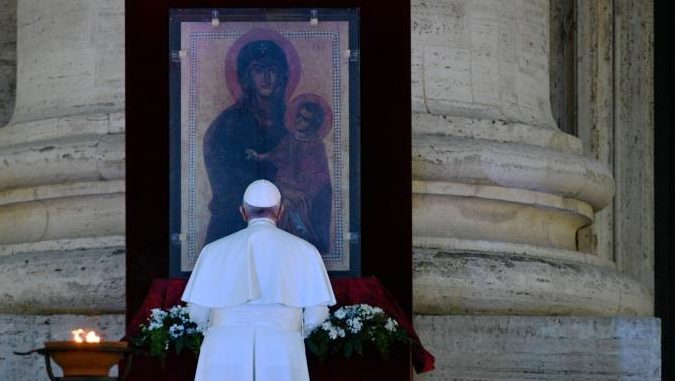 The gravitas was tangible: not just an empty square, not just the Pope praying between the two massive columns, but those large haunting torches that were burning behind him.
Only the Catholic Church can frame events with the touch of ancient genius.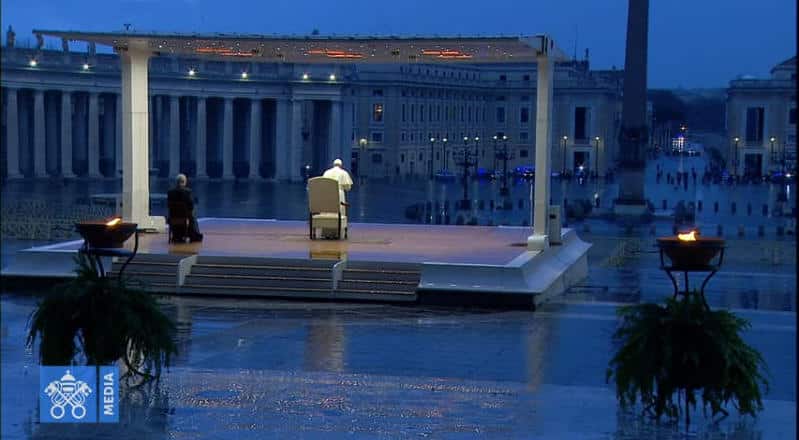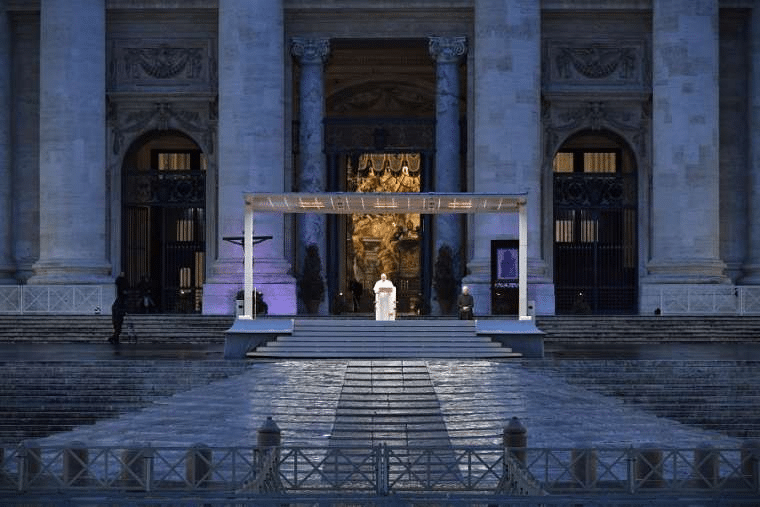 Perhaps, despite differences, truly major events will cause us to rethink certain religious squabbles as smaller than we thought, when placed against a pandemic.
From the mail: "I can't help but notice the similarities in the 'Urbi et Orbi' blessing by the Pope and the third secret of Fatima. In the stark emptiness of Vatican square and with darkness and rain falling, the Pope climbed the 'hill' of steps up to the front of the basilica 'with a halting step' and then prayed at the top before the wooden cross," notes Lori Furtado. "The secret vision was symbolic of all the evils attacking the Church and I couldn't help but wonder if this was part of it. Pope John Paul II thought he was depicted because of his assassination attempt but he did not have a halting step at the time. The Pope in the secret may be a compilation of several popes and the trials they and believers face. Also, Jacinta had a vision of the Pope praying and crying near a window where a huge crowd of people were angrily shouting at the church. I think this symbolizes the sex abuse scandal and perhaps Pope Benedict prior to his resignation."
Bringing home the mystery and historicity of Catholicism was the fact, down in lenten Jerusalem, that the Church of the Holy Sepulchre is now closed.
When asked as to the last time this had happened, an Orthodox custodian there said it was seven centuries ago (a full century before Columbus) during the Black Death in 1349. Let that time-frame settle in. Our Church survives plagues and internecine battles and persecution and history.
Was it really Mary, in a home-made video, who appeared during the Pope's blessing? (Or would someone dare photoshop even such an event?)
Did Mary also appear over Argentina last week? (This was in San Carlos.)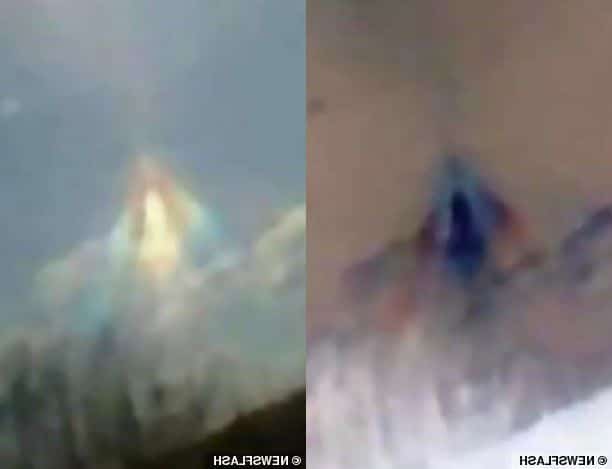 You decide.
Among other interesting tidbits in the current crisis (which if it drags on with the same intensity for two more months will be truly monumental) are many things it has shut down or otherwise affected that needed to be shut down.
We pointed some out before. Casinos. Bar revelry. Profligate shopping. Let us add: wanton sex.  One can bet promiscuity is at a many-decades low. We also note that cities like New York are most affected and afflicted, while at least for now, reported Associated Press, "As the coronavirus rages across the United States, mainly in large urban areas, more than a third of U.S. counties have yet to report a single positive test result for COVID-19 infections." Are we meant to head back to more of a peasant way?
The virus as it appears in microphotographs. Do we see anything in them?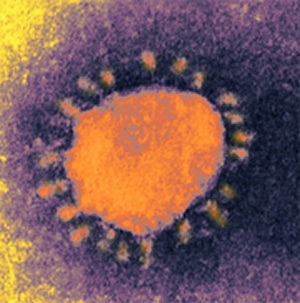 A flu bug:
Many don't realize there was also a great epidemic in England in 1666, which many felt would be the year of the apocalypse. It was in late spring 1665 that bubonic plague began to eat away at London's population. By autumn, about 7,000 people were dying in the city every week. The plague lasted through most of 1666, ultimately killing about 100,000 people in London alone — and possibly as many as three-quarters of a million in England as a whole, dwarfing the current pandemic, when reckoned proportionately (though London is currently in lockdown and may be for weeks).
The population of London at the time was just 500,000, so this was one of five people who succumbed. Thus far. projections in the U.S. (pray against this) see 100,000 to 200,000 in the entire U.S. population of 330 million.Thus: one out of every 1,650 to 3,300, to give us perspective.
In the midst of everything, the former St. James the Less Roman Catholic Church in East Baltimore, which was closed in 1986, was on fire last week. It is now an evangelical church. The Institute of Notre Dame is next door. A video captured the steeple falling.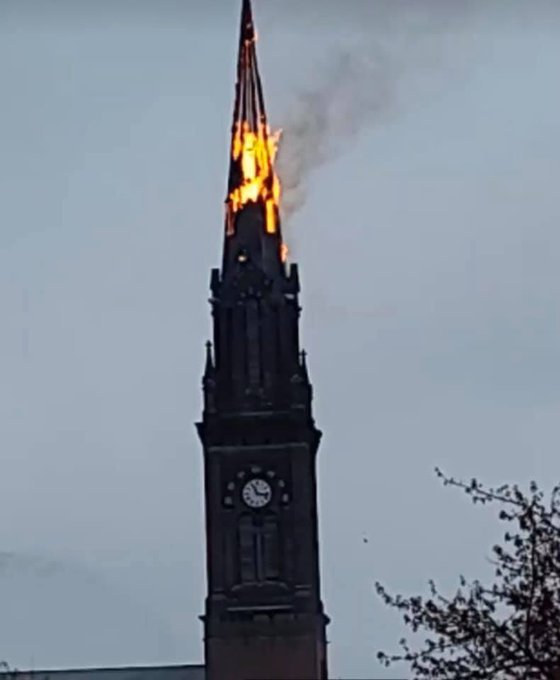 Much goes on around us.
Make it a holy Lent — a really holy Lent — and any trepidation will leave you.