---
From the Mail:
Interesting it is how anything mystical — recently  mystical — is absent across Catholicism. We tend to focus only on those miracles and mystics of old — in many cases, many centuries ago. Perhaps this seems safer, though for certain there is as much and very likely far more occurring in this regard right now than at any other time since the death of the Apostles and Jesus.
Whether or not an actual "miracle," it's the attendant feeling with many manifestations. Call it anoesis. Let's go to the mail, in the chance — perhaps just the chance; you decide — that we have examples of the "little things" of God.
---
Below, Mary TV building (Medjugorje, Hercegovina):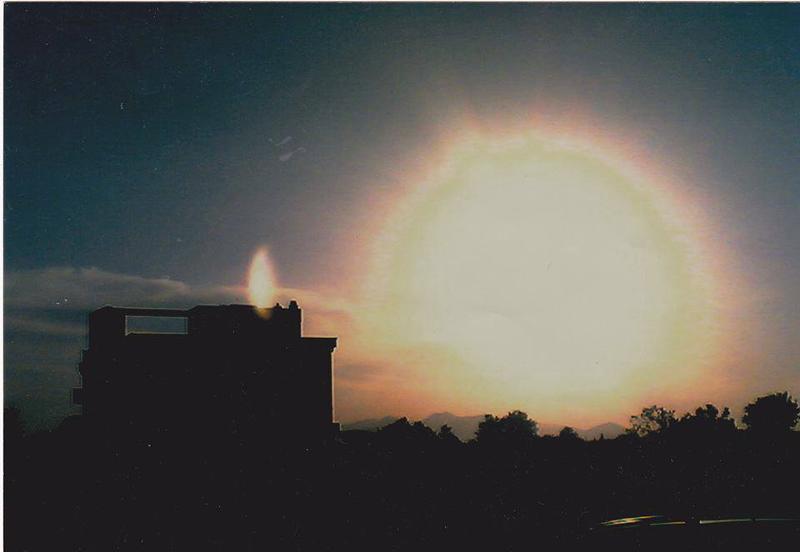 ---
Below, from Alex Monty Canawati: "The image was taken in a hotel room I was staying at in Norwalk, California in June of 2016. I noticed that the rays of sun were taking on an unusual color, and then immediately took note of 'her' on the wall. She spoke to me, and then urged me to photograph her [for our discernment]. This was the first time she allowed this (the visits started in 2003). I didn't do anything with the image for fear of ridicule, but the Blessed Mother recently appeared to my friend Bill and told him she wanted me to circulate the image, but not exploit it.  This propelled me to post it online, where I've now had scores of lengthy conversations with people, who are completely stunned and fascinated by the image. These images will help facilitate just how the Mother Mary Image came about. The rays of sun illuminated a part of the wall close to the window. (Note the Virgin Mary candle in the frame of the window, first pic). The rays slowly started to form an image, and immediately the Blessed Mother was seen. I was in such shock that I went and grabbed Melissa Guzman as witness (second pic)."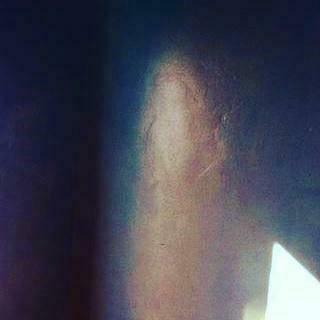 ---
[Below]: Frances Behrens from Melbourne, Florida (a long-time, credible friend), explains, "I was trying to get a video of my four-year-old Pom dog Bella as she performed her nightly ritual but slipped and got a picture instead and this angel appeared on her as big as day."
---
[Below]: Wrote a viewer from Goffstown, New Hampshire: "Today I was having a real down day, I was questioning my faith and doubting apparitions and just feeling awful about so much. I was sharing how I felt with my friend Susan in Maryland, just venting. Longer story short: I went outside with my dog for a walk and immediately noticed this foliage leaf on the grass in my front yard. It got my attention right away because I've never seen a leaf like this and I've never seen one with these colors. 
"Although there's no clear image, I feel a clear presence of Our Lady in this leaf, in nature, and not only did it really touch me, it just turned my day all around and felt peace that I hadn't felt in a long time.
Is what an unusual image looks like as important as the feeling it imparts?
(PS– "Also every year I pick a saint for the year and this year I got Our Lady of Guadalupe too for 2017, times have been so tough lately as you know and I just feel better days have to be ahead.")
[Return to www.spiritdaily.com]
[resources: The God of Miracles]