A mailbag item, to be remembered next month, a note that speaks for itself:
"Fatima means a lot to this family," writes Maria Amaral of Keswick, Ontario.
"My grandmother was born in 1907 and was there for the Miracle of the Sun [October 13]. She had traveled miles to get there as our family is from southern Portugal in the Algarve region. Our Lady of Fatima is therefore especially loved and revered. Here's a picture of my grandmother. The younger lady is my mom, her daughter. My grandma's name was Joaquina or Jacqueline as most Canadians were unable to pronounce 'Joaquina.'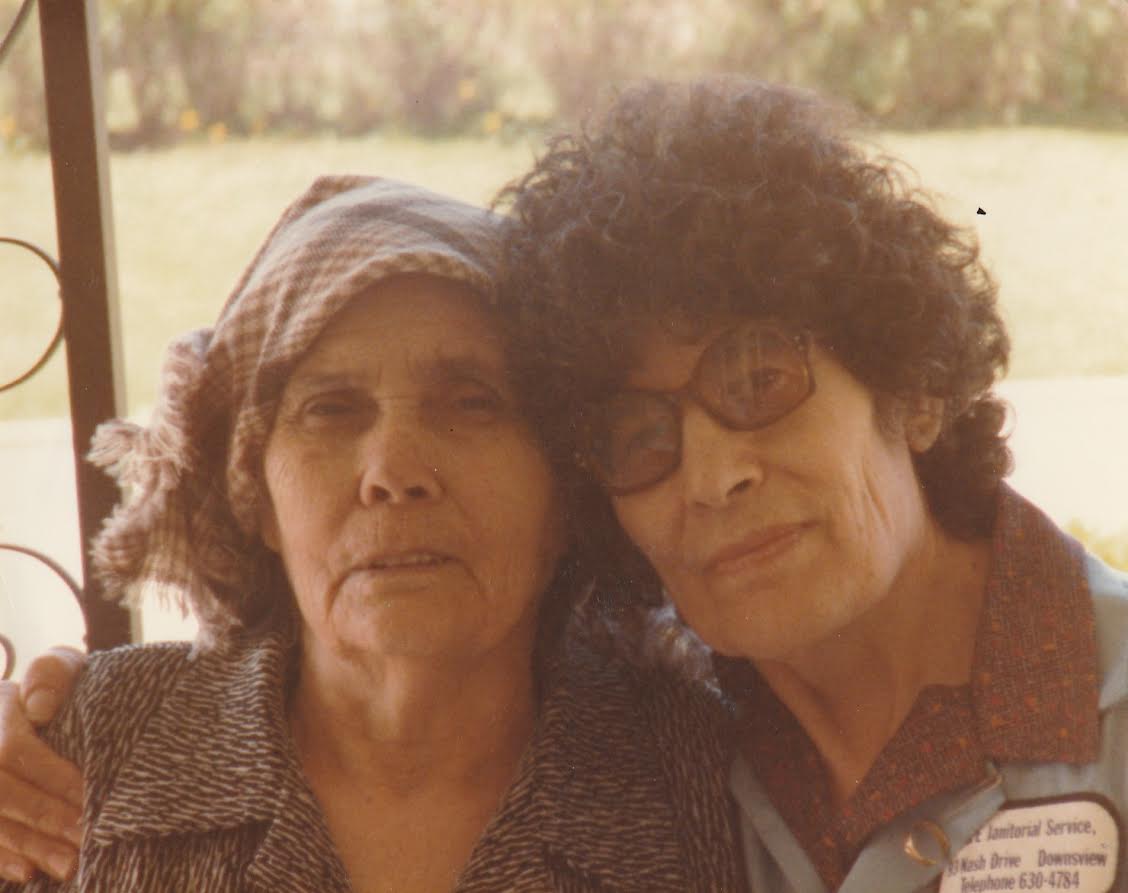 "I think she was about ten when the Miracle of the Sun
occurred and she was as mesmerized and transfixed to her spot as everyone else around her.
"The thing is, she told me that even though there were thousands of people there on that particular day, she felt as if she was there alone with the children [Lucia, Jacinta, and Francisco].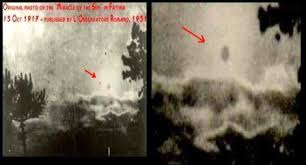 "She said that the Miracle of the Sun was terrifying.
When it began to rain, she thought of fleeing to drier areas but it would have been futile as there were no dry areas. Besides, there were far too many people and she was just a little girl. There was also something she felt the need to tell me.
"She was unable to move.
Even though her brain instructed her to run from her spot, she was absolutely unable to put one foot in front of the other. It was almost as if her shoes had been glued to the ground. So she gave up listening to her brain and began to listen to what her heart was telling her and that was to pray. She didn't have a rosary, so she prayed with her fingers.
"She didn't see anything but did feel a slight breeze, and as sudden as the rain began, it stopped and that's when she said the sun decided to dance in the sky, her words.
"Not only did it hover, it flitted from side to side and danced up and then back down. At one time, she was sure everyone was going to die on the spot because she said the sun was crashing down on top of all the people gathered there. It literally seemed like gravity was pulling it down.
"Then suddenly, like a yo yo,
it was yanked back up into the sky leaving the ground bone dry.
"Everyone's clothes were also dry and there were those who hadn't brought any umbrellas or protection. Everyone was dry. As she looked around, there were children present who no longer required their walking supports. There was one lady who suddenly was able to see when she had been born blind, as the story went, but she had to be believed because there were others who knew her and confirmed it.
"She saw very exultant people with complete joy on their faces and others who wore scowls. I remember her saying she couldn't understand how anyone could be miserable in such a place and especially after what had happened.
"That day changed her, but being a small child, she didn't realize how much her beliefs would influence everyone else she came into contact with.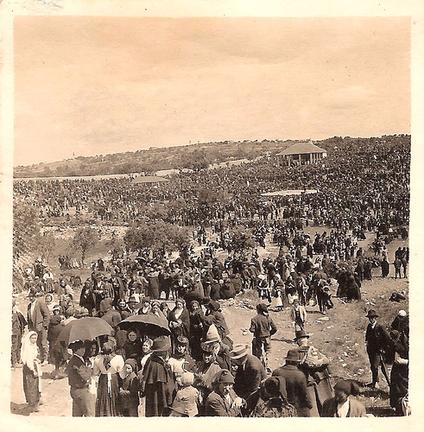 +
"My grandmother's story is a wild one and my mom's even wilder. The experience at Fatima only cemented my grandmother's love for the Blessed Lady. Her love for Mary, our Holy Mother only intensified and led to our family having a great love for her. But remember that my grandma was only ten when this happened and little did she know that only a mere five years later, she was to undergo huge trials that were either going to further enhance her love and desire for Heaven or turn her into a bitter and cold woman.
"She got pregnant at fifteen outside of wedlock which, in a Portuguese household, was a huge taboo. She was sent off to work for a very rich man at the age of thirteen. This very rich man had a rich son. During the first two years of laboring in their estate, she hadn't met the son but that was to change when he returned from his studies abroad. She fell hard and to be fair, he did as well, but he desired the finer things in life more than he desired my grandmother or his unborn child.
"She was then kept basically as a prisoner in their estate for the duration of the pregnancy, and when it came time to give birth, she had no doctor to assist. She was then placed outside of the estate gates along with the baby. She couldn't go home as she had been ostracized so she turned to an orphanage. It's important to know that orphanages which were always run by nuns, were not put in place for the purposes of adoption. They were there to house girls like my mother who had been born out of wedlock and no one wanted.
"Long story short, when my mom was nineteen, my grandmother went back to the orphanage to get my mother back. She was now an adult, young and strong. For the first time ever, my mother saw her mother. She tells me that when the nuns asked my mother why she didn't greet my grandmother, my mother answered, 'Because I don't know who she is.' My heart still breaks whenever I hear this story.
"Because my mom had been raised by the nuns and because of her own sweet disposition, she was timid, shy with an enormous heart and an equally huge capacity to love. The love of Our Lady was not only taught to my mom at the orphanage but also by my grandmother. She had never wanted to give her baby to the orphanage but there were no choices, none.
"I apologize Michael. I know I'm a little wordy. The point of this whole thing is that our Blessed Mother has been a staple in our household. My dad, who was ninety when God took his soul and who I miss every day, prayed the Rosary daily. In fact, like Padre Pio, that was his favorite prayer. I buried him with his Rosary in his hands. It may have happened in the mid-1900s, but her miracles continue not just in this family but throughout the world. I just wish there were more of them. I am very proud to say that I was born in Portugal, a truly blessed land."
+
+
[resources: books on Fatima; soon to be released, Michael Brown's book on  prophecy, tied to Fatima and other prophecies]