---
We haven't delved into the mailbag for a while, and so we'll go there now — which means, of course, to places that you don't necessarily see elsewhere.
That's because we give air to alleged mysticism, instead solely of religion de rigueur (though we certainly go there as well).
Call it "populist supernaturalism."
At any rate:
"Hello and hope things are well with you at this tumultuous and often bewildering time," writes Peter Bannister from Cluny, France. "Am writing after just seeing today's article about the Campi Flegrei mega-volcano (I was just in Naples three weeks ago on a rapid pilgrimage to the Sanctuary of the Madonna of Pompeii and went via the slopes of that other giant, Vesuvius).
"Are you aware that the Blessed Mother allegedly gave the message below referencing Campi Flegrei on March 24, 2016, to the Italian stigmatic Giulio Massa (whom I very strongly consider to be an authentic mystic on the basis of the photographic/video evidence on the website www.incamminocongiulio.it as well as in the book In Cammino con Giulio seguendo Gesù prefaced by the Archbishop of Reggio Calabria Mons. Giuseppe Fiorini Morosini)?
"When I first saw this, not knowing the geography of the area in detail, I thought this might be a reference to Vesuvius — but the website later offered a more precise interpretation identifying Campi Flegrei as the volcano in question. One of the strongest indications of the authenticity of Giulio Massa's stigmata is the remarkable phenomenon of 'blood writing' ('hemography'), spontaneous images and texts appearing on fabric in contact with blood from his wounds. This is truly inexplicable scientifically, especially as the texts are in various languages unknown to him — Hebrew, Arabic, Greek, ecetera. This is of course not an isolated instance of such hemography: there have been at least five other examples of the phenomenon in Christian history (of which the best-known is probably Natuzza Evolo), as you might be interested to see from this compilation."
To be frank, we'd be exceedingly cautious with this kind of alleged phenomena, more than just about any other. In looking at some, in the past, as now, it can seem disorderly and soulish, perhaps even demonic. So caution.
But an excellent issue is raised with Campi Flegrei: Most don't realize that, never mind Vesuvius, west of Naples is a volcanic field with twenty-four craters, most of them underwater — and of late, the field shows signs of rising.
That's a bit daunting when we contemplate that parts of the supervolcano are under the feet of millions of Italians, and when we consider that one major eruption of it several centuries ago caused a "volcanic winter" around the world (due to ash). 
Some believe another forty thousand years ago killed most of the Neanderthal hominids in Europe.
This we keep in mind as we note geological disturbances elsewhere in Italy (for example: destruction by an earthquake of the very basilica of Saint Benedict, the famous warrior against evil, in Noscia last fall. If that's not a sign, not many things are).
Yet, scientists (like us in populist supernaturalism!) must watch out for presaging specific dates: Some predicted that Campi Flegrei would erupt on December 20.
One message from Giulio Massa: "Do not let yourself be corrupted by evil because [then] you will no longer be fit for the Kingdom that has been kept for you. You will have to pass through difficult times. Great disasters will occur, but do not stand watching with indifference and disbelief, all of you are all responsible; you are all called to build salvation in the world; do not remain in the darkness of your bodies. You live on a living heart, a beating heart, your earth. It is alive: love it, respect it, it is not an abode of war and death, but it is a tabernacle where one of so many mysteries of the universe is guarded. If you do not love it, it will not love you. The earth's axis will undergo fearful movements, all caused by powerful weapons created by human wickedness. The consequences will be disastrous if you continue with these harmful actions."
Love the earth or respect it? As far as the axis: if this is saying humans can directly and physically alter it, we'd have to draw back; not even all the nuclear weapons exploding at once would likely do this.
But if it means because of the very existence or use of them — the evil and hatred behind such weaponry — well, okay: perhaps. We certainly don't "despise" such prophesying, although we seek to take what is good and leave the rest (as Scripture admonishes). Is there a real warning embedded in it?
As for what may allude to Campi Flegrei:
"Do not continue to be a threat to your earth," is another recent message. "Soon all the elements will be unleashed upon you. Great chasms will open in the depths of the oceans and the earth will be disfigured, put out of harmony because of you, and everything will be terrible. The earth will emanate a red cloud like blood and with violence this cloud will ascend into heaven accompanied by a loud thunderclap. Everything will be made sterile, the air will be as unbreathable gas, springs will give out red water and it will be poison for those who want to quench their strong thirst. So many things essential for life will be missing. For ninety-one days you will experience darkness, everything will occur in a short time; when you are aware of these events everything will already be established, thus pray, pray, pray; be aware, be sober, be prepared, ponder, and do not underestimate the months of spring.
"Humanity is near to the abyss; try to be in agreement because you need to support yourselves; even if these events are [coming] soon, fix your hearts on my beloved Son Jesus and do not be afraid since you will be safe with him. My Son is at hand and is coming. Persevere in love, Jesus will cleanse everything and His Kingdom of Peace will be magnificent. I bless you in the Name of the Holy Trinity, Father, Son and Holy Spirit."
As for spiritual warfare:
"I've recently relocated from upstate New York to southern California," writes another viewer.
"Last night my sister's co-worker was on his way home in Long Beach, California.
"When he got off the bus near his apartment, he noticed the streets unusually deserted. He started walking and suddenly heard a terrible sound. He describes it as a growl from a vicious animal.
"He turned around and saw a dark hooded figure approaching him that appeared to be 'hopping'!
"He told my sister all the hair on his neck stood up and although he has several physical disabilities, he started to run as fast as he could.
"When he got in the apartment he locked the door and ran to get his Rosary. He told my sister he felt terrified. He was sure it wasn't an animal but some type of evil being. He didn't want her to mention it to any of their co-workers.
"I'd like to know if anyone has had a similar experience recently. My sister feels he's absolutely telling the truth. This happened the evening of December 20th."
We'd discard it as phantasmagoric were it not for similar accounts (from regular folks and seers as well as seasoned exorcists). Our world is strange and challenging every step (and every thought) of the way. Only with prayer and fasting comes discernment.
New Year's resolution: to pray in the car instead of turning on the radio, and whenever anyone enters our thoughts (especially negatively), to pray for that person; so many times, they know not what they have said or done to offend us.
In this way do we keep at bay the energy of dark materialization.
[Return to www.spiritdaily.com]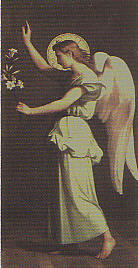 Pray always for purity and love
+++
---