We had some mail following an article on animals and signs from the deceased.
Without further ado:+
"I have a story about two butterflies," writes Jeanann Perry. "My mom passed in April of 2018 and my dad passed in 2019. A couple of days later after my dad died, I was leaving the house.+
"As I closed my front door and turned the lock to lock it I was suddenly drawn to look towards my left. I saw a butterfly flying by the end of my house up near the roof. It was fluttering around as I was looking at it.+
"Suddenly, it looked like it split in two, and there was a smaller butterfly with it.  And  also all of a sudden, I was mesmerized and felt like I was in a different realm and a voice told me that was my dad and mom.+
"I stared at them and the smaller butterfly (my mom) flew away. As I stared at the bigger butterfly I knew this was my dad and I walked further toward it and stopped at my bushes. This butterfly flew over towards me and landed on the bush smack in front of me. We were inches apart. The butterfly was staring at me. I knew it was my dad. I told him we missed him but we were ok. I then went to take my phone out of my purse to take a picture and he flew away."+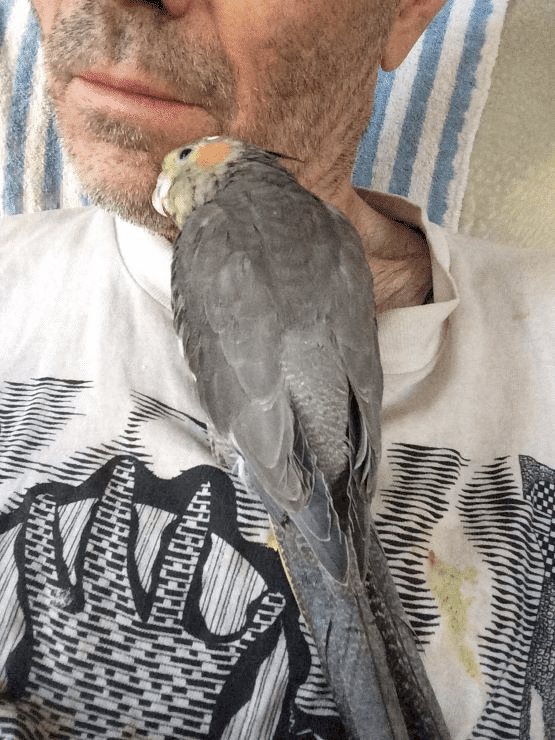 Says Mark Borcherding of Denver, Colorado, "I experienced my own animal sign from beyond. After my wife Mer died, I got a cockatiel bird. When giving me the paperwork, they said, "The cockatiel is female not male like we told you; do you still want the bird?"
+
"When I got home I looked at all the paperwork and saw my bird Tiela was born on May 30, 2020, which was the 33rd wedding anniversary of Mer and me, right after her death. That was not the only sign, because Our Lady of Guadalupe was also giving me another. The cockatiel, like cardinals (in the article) has a crest of feathers. The red cardinal's crest of feathers is the red color of a Catholic Cardinal. But a cockatiel's crest of feathers is green like the Quetzal bird feather headdress of a person given the title of Quetzalcoatl in Juan Diego's native tradition. The real Quetzalcoatl was in the womb of Our Lady of Guadalupe…"+
"I lost my 24-year-old son on May 29, 2010, from a heroin overdose," writes another reader. "He struggled with anxiety and depression and drug use. He had been to a psychologist, psychiatrist,  drug rehab, and juvenile camp but his struggle continued.+
"My spiritual friends, sister, and I always had prayer for him. When he died the Lord in His great goodness gave my sister a whole vision as to how he had barely escaped hell. The Blessed Virgin had saved him because of our rosaries and God's Divine Mercy.
"A few months later I was giving a witness at a prayer meeting about my son's death and Divine Mercy. I was standing at a podium speaking and there was a window to my right.
"All of a sudden I kept hearing this tapping sound and trying to ignore it because I was addressing this group of women, and when I could no longer ignore it, I looked at the window and there was a cardinal tapping on the window.
"I observed this for a bit and continued on with my talk and it wasn't until my talk was over when I had realized what had happened. Also, I homeschooled my son for three years and he always liked drawing cardinals.
"Not sure if his drawing them was prophetic of his early death but I still have those drawings. God is so good."
"My twin brother, Matthew,

died of cancer in 2014," writes Jon B. Wilder. "Matt had Down's Syndrome and had the intellectual development of an 18-month-old toddler. He was pretty much institutionalized all of his adult life.
"After he passed, we learned from his dear caretaker at his group home that Matt was mesmerized by birds.  He would sit at the window for hours and stare at them. This went on for decades until he died at the age of 55.
"Matt came back as a bird several times, over a series of weeks and months, after he died, hovering at the windows of our mother and my sisters. But he had a special surprise for his twin.
"I lived a block and a half from the beach in Redondo Beach, California, so Matt saw fit to come to me as……..a seagull! I was sitting on my third-floor, ocean-view balcony, enjoying the early afternoon sun 
glinting off the waves, momentarily staring down at my cell phone's screen. When I looked up again, I espied a seagull to my immediate left calmly sitting on the other Adirondack chair!
"It had not fluttered down from the sky onto my balcony; I neither heard nor saw this bird 'make a landing' next to me. It just suddenly….appeared.
"I looked in astonishment at the white seabird as it fixedly gazed back at me. It didn't move, it showed zero fear, and it sat there for a good 10 minutes staring at me. I even at one point quietly asked the bird, 'Matt, is that you?'
"Then, the calm and peaceful bird gracefully alighted from the chair and flew west back toward the blue Pacific Ocean from whence it presumably came.  I am utterly convinced this was Matt, saying 'Hello' and 'Goodbye'…."
[And one more, from Raven Wenner, in Texas: "My dear stepfather, who had been raised on a small ranch, and was an old-style outdoorsman and hunter, who from childhood knew the ways of birds and animals in their habitat.  That fine April morning of 1993 he was dying of cancer at his local hospital.  I had come from elsewhere in the state and had stayed the night before in the house, surrounded by woodland, where he had been living, on Lake Houston. I was up early and had a hasty breakfast before going to the hospital; but being restless I first walked outside into the woodland which was the rural front yard.
"There, in front of the house, was a fallen tree, and on this tree, a swarm of bees. They looked docile and their hum was soothing. I like bees, and they like me.  I slowly went down on one knee to study them closely for a minute or so. Viewing the protective mass of them surrounding their queen, I felt calm and even serene. I rose and drove to the hospital, where

I joined others of the extended family (none Catholic) in dad's room, where I said the Litany of Mercy at his bedside. A few moments after, a

Catholic chaplain walked in the door and immediately began anointing my dad, and began the litany of the dying. (Dad had made the nine First Fridays years before.)   This was perfect timing, as I had not been able to find a Catholic priest through the hospital; the nearest Church did not have a resident priest.
"Midway through the litany,

 I was holding Dad's hand as his spirit left his body, and was quietly thankful for his peaceful, almost majestic passing. There were others of the extended family there, and I was not needed for the paperwork which attends death, so after thanking the good priest, I drove back to the house to eat something and to be alone. Before going into the house, I wanted to see the swarm of peaceful bees again. I walked to the fallen tree, but they were gone. I walked pensively around the woodland; it was a beautiful day.
"Shortly after the funeral, I found myself in a library absently looking at volumes on the shelves. I randomly pulled down a book on folklore and folk customs around the world — and the book fell open to a page that said in many countries, it is believed that when a good man is about to die, bees swarm and wait before his house shortly before his death. As soon as he dies, they leave, and escort his soul to Heaven.  
"I replaced the book on the shelf, and walked out of the library smiling and thanking God for such a lovely touch of grace for a man who knew the woods and its creatures as well as my dad."]