Are you fearful? There is no need. Remember that we're not the ones fighting the battle. God is. And there is nothing caused by the enemy, however fierce — no daily trouble, no serious crisis, no attack on our person, no insult, worry, trouble at work, disturbance in marriage, or illness — He can't defeat with a mere glance. He has all power over all the universe (and beyond).
Everything and everyone is inferior — vastly inferior — to He Who created all things.
Let us also remember that He gave us "authority to walk on snakes and scorpions, and authority over all the power of the enemy, and nothing will injure you" (Luke 10:19). "Authority" means "power." Believe on the Bible. Take it up, read it daily, and like Jesus, quote it when darkness arrives (or tries to). Withstand all evil attacks by standing on the rock of His Word.
"Fear not, for I am with you; be not dismayed, for I am your God. I will strengthen you, I will help you, I will uphold you with My righteous right hand." Isaiah 41:10
"For God gave us a spirit not of fear but of power and love and self-control." 2 Timothy 1:7
"Even though I walk through the valley of the shadow of death, I will fear no evil, for you are with me; your rod and your staff, they comfort me." Psalm 23:4
"The LORD is my light and my salvation; whom shall I fear? The LORD is the stronghold of my life; of whom shall I be afraid?" Psalm 27:1
The devil can't bear having Scripture read to him, yet too often we Catholics, operating by rote, forget that God can instantly banish any scorpion, Goliath, or dragon.
"Be not afraid," was the slogan of Saint Pope John Paul II.
Fear is the energy of Satan — and therefore attracts him. Love — which dismisses all fear — is the Power of God.
"Your sorrow will turn to joy" (John 16:20).
Trust in the Lord with all your heart — says Proverbs 3 — and lean not on your own "understanding."
In all your ways, acknowledge Him Who is behind everything good!
"All authority in heaven and on earth has been given to Me" (Matthew 28:18).
We are often scared of the unknown and of the future. The devil works hard in the imagination. But we must dismiss all fear with prayer — often, spontaneous prayer from the heart. How Jesus loves to see your soul, mind, and spirit open when you pray from the depths of your being.
From the depths, we move swiftly to the heights.
God is a God of victory, triumph, and resurrection from the most extreme of circumstances. He defeated evil last Friday. How therefore can there be trepidation?
Caution, yes.
Vigilance, for certain.
But fear?
That's faith in the enemy.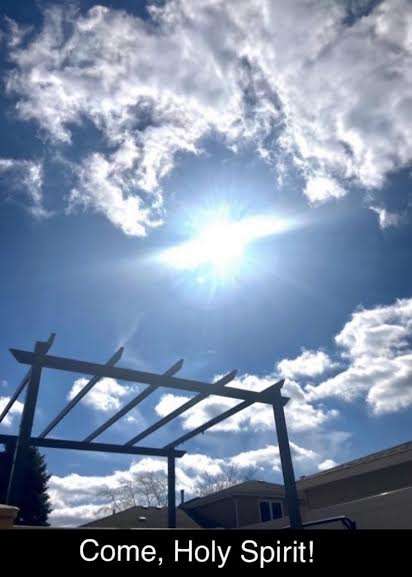 Come against that and note fear is not a feeling; it is not an emotion; the Bible tells us fear is a spirit (2 Timothy 1:7).
Spirits you can cast out. You have that authority.
God is your fortress, your strength when you are weak. In our weakness, He is glorified!
Let love and peace reign in your life. Throw away all anxiety. All worry. All neurosis. All paranoia. Breathe in the peace of Heaven. Inhale as you say: Come, Holy Spirit!
With the Lord, no one, and nothing, can be against you — not in the end. Not in the final score.
[resources: A Life of Blessings]