From Forums of the Virgin Mary [initial translation]:
God does not want people to get sick and suffer and gave us weapons to fight disease.
God wants no one to get sick and that is why, we see, that when Jesus walked the earth, He healed the sick and cast out demons that caused illness.
And He showed us that demonic spirits are behind many illnesses and diseases, and must be expelled before healing can fully manifest.
There are spiritual causes for disease, because we are not only material beings.
Here we will talk about how the demons have their part in the diseases that afflict human beings. And how might limit its influence, to reduce our suffering and so as not to get seriously ill.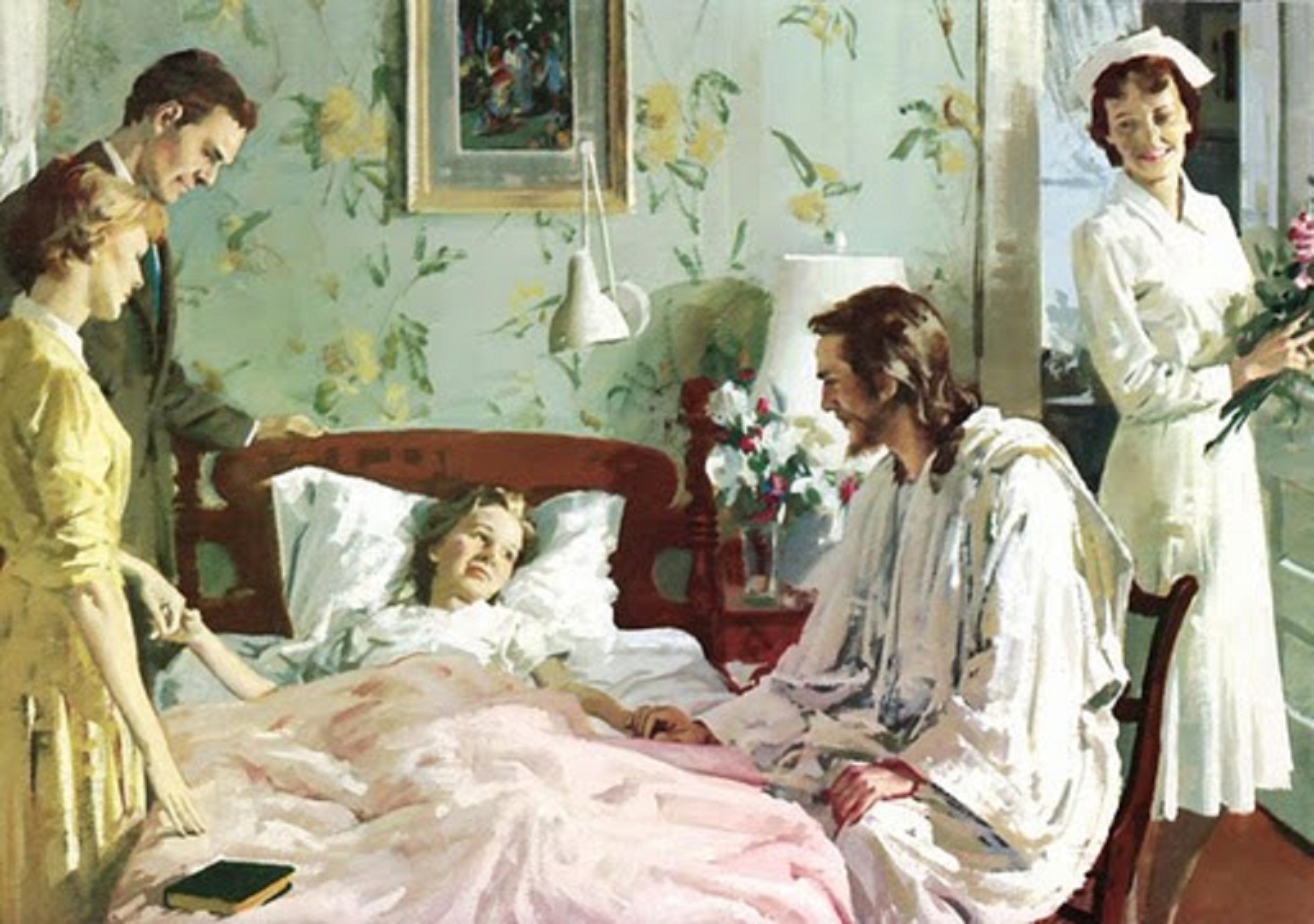 There is absolutely no question that the Bible, the inspired word of God, views disease as a negative and destructive force.
In the Old Testament healing is associated with Divine favor and God is revealed as the healer of His people.
And in the New Testament, we repeatedly see Jesus healing and casting out demons — both.
In the Garden of Eden, the first couple had rejected the Creator's plan and from there Satan claimed his power over the earth and its inhabitants.
In that Garden, Creation was a pure reflection of God; everything was good, beautiful, and happy; and neither death nor illness was foreseen.
But on earth, dominated by Satan, death and disease entered, and human beings ended up there because of the rebellion against God.
So in this world, there is disease.
Many times it is due to the wear and tear of the body caused by the years, or to the lifestyle related to food, bad habits, pollution, etcetera.
Which ultimately are the fruits of evil, of original sin. 
But there are also genetic problems at birth, which are a mystery.
Some may be due to an effect of the parents' lifestyle, and for others we have no explanation.
We human beings take these cases as the fruits of the normality of life on earth; they are the things that happen in a fallen world after the expulsion of men from Paradise.
But diseases are happening right now and have their causes in the current reality of each person. 
So it should not be ruled out that the diseases that occur in each person do not have a demonic influence at that time, that is, with the demons acting directly on the person now.
It could be in the very genesis of the diseases, or in their exacerbation, with the devil acting to increase the suffering of the person who has the disease.
But current materialistic science does not consider that the devil could be causing or exacerbating diseases, simply because the devil does not exist for it.
But Christianity does believe that it exists and that it acts in the world.
Jesus differentiated the sick into two types, but always considered some demonic involvement in the disease.
There were illnesses that were directly caused by demonic possession, that is, demons acting from within the person, and in those cases, Jesus gave the order to the demons to leave the sick person and he or she was cured.
But when the disease was not due to possession, Jesus laid His hands on the sick, prayed, and they were cured.
And what Jesus did affected the totality of the person, the healing of the body and soul.
With which he removed any oppression and obsession produced by the demons from outside the patient.
Today science distinguishes two types of diseases.
Those of the body, which are treated by physical medications, and the mental and emotional ones, which are treated by psychology and psychiatry.
But He considers neither the laying on of hands nor prayer; neither is exorcism for the expulsion of demons.
However, exorcists have verified, for example, that there is an overlapping of symptoms between mental illness and demonic possession or oppression, which is why they work together with psychiatrists to differentiate them. [scroll for more]
Some cases of schizophrenia could be possessions, because they hear voices in their head.
Cases of multiple personality syndrome may be due to demons manifesting from within the person.
Cases labeled as neuroses may be obsessions caused by demons.
There is even a discussion about whether the key case that Sigmund Freud treated, which gave rise to his theory of psychoanalysis, that of "Anna O," was not actually a case of demonic possession.
Today we can say that almost all exorcisms are performed on people in whom a psychiatrist actually found that their problems were not only mental.
And the exorcists find themselves later in the sessions, with demons that they have to remove from within people.
However, we can also say that most cases of possession, oppression, and obsession caused by demons do not reach the exorcists.
In the first place, because the possessed person does not consider his problem, apparently only mental, to be a demonic possession, and the doctor even less so.
And secondly because of the difficulties of accessing a dedicated exorcist at the moment.
So sometimes it is necessary to fend for oneself and therefore one must know how Satan acts.
Exorcists believe that Satan gains a foothold in the psyche of people through their weaknesses and human sins, and from there generates diseases.
The "attacked" people do not realize the demonic source and sink into despair, when they feel things like:
you are a terrible person, there is no hope for you, God doesn't care about you, you are going to hell, you should kill yourself, or something like that.
Exorcist and fellow psychologist Father Stephen Rossetti maintains that it is becoming increasingly apparent to him that many who are mentally tormented by their past sins and failures actually suffer from demonic obsessions.
Which in turn produce or exacerbate mental or physical problems.
And what to do when these kinds of thoughts come to you?
Rossetti gives this series of recommendations when these types of thoughts occur, so that they do not do more damage to the psyche and the body.
First, try to recognize the true source of your mental illnesses, do not assume that they are only issues of your psyche, observe yourself and evaluate the possibility that it is the evil one who is whispering bad things to you.
Second, let these thoughts go in one ear and out the other. Try not to cling to them or think about them, let them come and go.
Third, take a deep breath. Exercise your body by walking or whatever exercise works for you. Distract yourself in something else and another environment.
When the body relaxes, it helps the mind relax.
Fourth, close the door on the devil. Satan is taking advantage of a psychological weakness caused by past hurts and traumas. 
He seeks to heal those wounds through psychotherapy, healing prayers, spiritual direction, forgiveness rituals, and the sacraments.
And also liberation prayers focused on the torment you suffer: for example if you suffer from self-hatred, then say frequently:
"In the holy name of Jesus, I renounce the evil spirit of self-hatred and command it to leave me."
Fifth, turn to Jesus repeatedly with short prayers like "Jesus, I trust in you" or "Jesus, Son of David, have mercy on me a sinner" or "Jesus, Mary," and similar prayers.
Sixth, offer your suffering for others, do not waste it because it can be a source of grace for others and for you too. And that generates well-being.
And Seventh, try to stay in peace, think that you will never be without suffering in this life, and trust in Jesus, that He will save you.
In short, Christianity sees disease as negative and destructive forces at work in a fallen world, but which Jesus cured nonetheless and taught us how to do so.
For through Him, there was always a demonic intervention.
Sometimes the demon produced the disease by possession, and He expelled it by order.
And other times He healed the body and soul from demonic oppression and obsession, which produced the disease, through the laying on of hands.
Today, materialistic science does not consider the existence of the devil, which is why it has difficulty curing some cases and only manages to lull others to sleep, hiding the most serious symptoms.
Exorcists believe that Satan gains a foothold in the psyche of people through their weaknesses and human sins, and from there he produces illnesses and exacerbates others.
So what do you do about the demon trying to make you sick and worry you?
Try to recognize if the devil is behind your sufferings.
Let go of negative thoughts when they come to you. Distract yourself in something else. 
Seek to heal your past wounds and traumas.
Turn to Jesus with constant prayers, asking for healing.
Offer your sufferings, staying in peace and trusting in the Lord.
Well, up to here what we wanted to talk about is how the devil acts in diseases and how to deal with it. [Pray, pray, pray — and fast. This is a solution!]
[resources: Forums of the Virgin Mary and Michael Brown Retreat]