---
He is someone — Vladimir Putin — one longs, as a conservative Catholic, to embrace.
He's tough. He's smart. Most of all, he is associated with a reawakening of Christianity — Russian Orthodoxy — in Russia.
He is pictured lighting candles.
He has been photographed wearing medals with the Virgin on them, or contemplating (perhaps even praying before) an icon of her.
Every January, he treks to Lake Seliger near St. Nilus Stolobensky Monastery and enters icy waters in an annual devotion to mark the Epiphany.
He has not only allowed Christianity to resurrect (as did his immediate predecessors, especially Mikhail Gorbachev), but has in a way encouraged it. He has visited with the Pope.
If all these acts are authentic, it's very uplifting. One longs for fulfillment of a Fatima prophecy — that Russia (at the time of those famous apparitions in the clutches of atheistic Communists) would eventually convert to God (if consecrated to the Virgin Mary by bishops and Pontiff). At Medjugorje, the Virgin was quoted as saying that in the end, the sprawling nation would be the Christian beacon. Exact words (October 1981): "The Russian people will be the people who will glorify God the most. The West has made civilization progress, but without God, as if they were their own creators."
Are we seeing that materialize?
Or are we seeing a mirage?
The jury is out: While there are all those good trends, there is also the fact that Putin has sought to usurp elections; has allowed the assassination of adversaries (including journalists); high-fived a Saudi prince who had just had someone tortured; has reportedly boasted of his nation's beautiful prostitutes; is notorious for "kompromat" — obtaining compromising information on people — and, well, is what they call an irredentist, a former operative in the KGB who wants the former Soviet Union to regain its lost territories.
A big mystery, is this man — rising as he did — in less than a decade — from a local political position in St. Petersburg as assistant to the mayor in the early 1990s to national leadership toward the end of that decade.
A meteoric rise, to use understatement.
Write two of America's foremost experts on Russia, Clifford G. Gaddy and Fiona Hill, in Mr. Putin (issued by the conservative Brookings Institute, which, depending on who is reporting on them, has been called "conservative," "liberal" and "centrist"):
"In three short years from 1997 to 1999, Vladimir Putin was promoted to increasingly lofty positions, from deputy chief of the presidential staff, to head of the Federal Security Bureau [once the KGB], to prime minister, then to acting president."
 "Personal information, including on key childhood events, his 1983 marriage to his wife Lyudmila, the birth of two daughters in 1985 and 1986, and his friendships with politicians and businessmen from Leningrad/St. Petersburg, is remarkably scant for such a prominent public figure.
"When it comes to Mr. Putin, very little information is definitive, confirmable, or reliable.
"As a result," note Gaddy and Hill, the later a former National Security Council member specializing in Russia, "some observers say that Vladimir Putin has no face, no substance, no soul.
"Each episode of Mr. Putin has a specific purpose. They are all based on feedback from opinion polls suggesting the Kremlin needs to reach out and create a direct connection to a particular group among the Russian population. Putin himself has asserted in biographical interviews that one of his main skills is to get people to see him as what they want him to be, not what he really is. These performances portray Putin as the ultimate Russian action man, capable of dealing with every eventuality. His leadership style is more like that of a Mafia family don.
"He is a 'man from nowhere,' who can appear to be anybody to anyone. Indeed, as president and prime minister, Mr. Putin has turned himself into the ultimate political performance artist.
"Over the last several years, his public relations team has pushed his image in multiple directions, pitching him as everything from big game hunter and conservationist to scuba diver to biker — even nightclub crooner.
"Leaders of other countries have gained notoriety for their flamboyant or patriotic style of dressing to appeal to and rally the masses — like Fidel Castro's and Hugo Chavez's military fatigues, Yasser Arafat's ubiquitous keffiyeh scarf, Muamar Qaddafi's robes (and tent).
"But Vladimir Putin has outdressed them all. He has appeared in an endless number of guises for encounters with the press or Russian special interest groups, or at times of crisis, as during raging peat bog fires around Moscow in 2010, when he was transformed into a fire-fighting airplane pilot. [He also races cars.]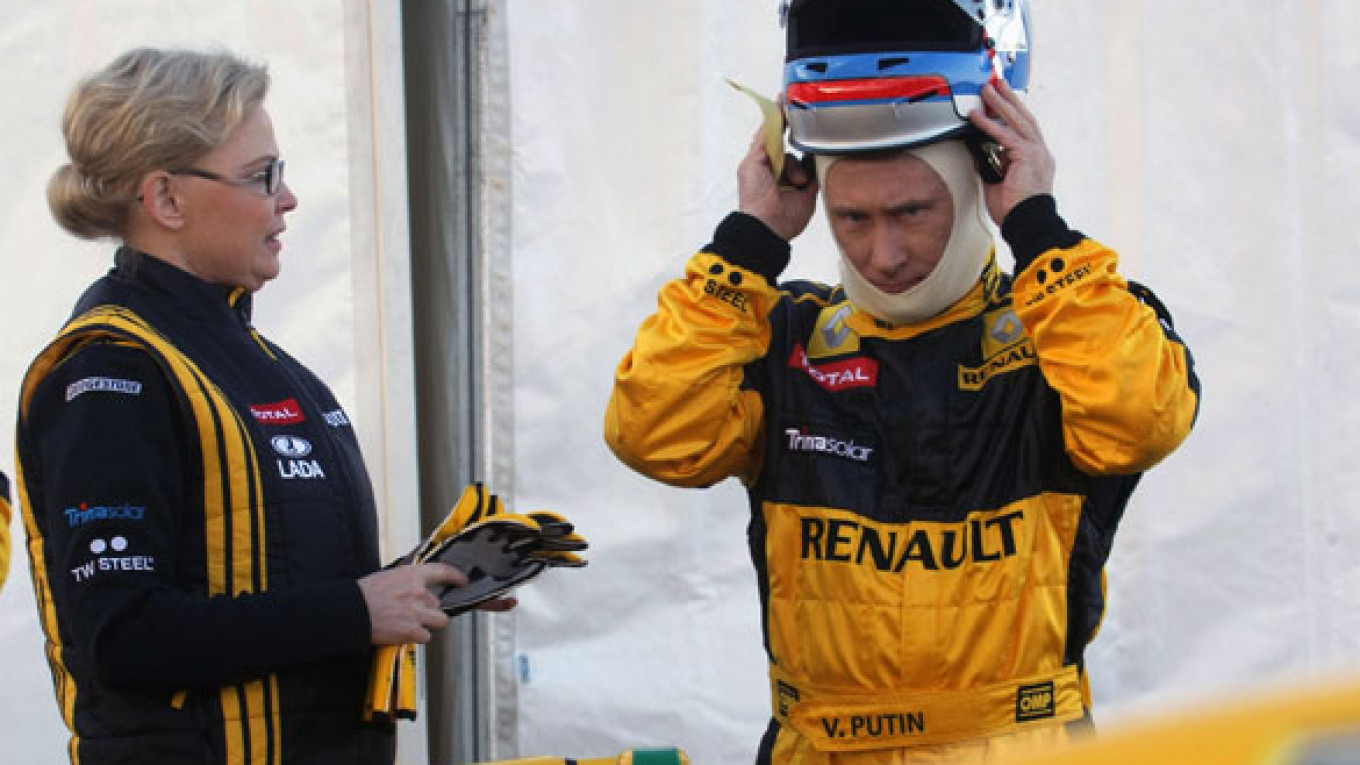 "All this with the assistance, it would seem of the Kremlin's inexhaustible wardrobe and special props department."
We report. You discern. Let us note that in that hunting photo, Mr. Putin is wearing a Cross (which seems — or so we hope — more than just something staged). Gadds and Hill may be too negative: Putin was raised in an Orthodox family, which would argue against all the church matters being staged. Is he really as bad as some portray?
The book, nonetheless, is worth perusing before jumping with both feet into a pond of uncertain depth.
[Putin's website]
[Feedback from Ted Quigley: "Thank you for the article on Vladimir Putin.  Thanks for bringing forth all the issues of this complex man. Some more information which you probably know already: In the Time magazine article where he was named man of the year, if I remember right, he was worth over 4 billion us dollars.  Now it is supposed to be $70 billion.  How did he get all that money? The Frontline report, "Putin's Revenge", was very sobering.  In it, Boris Yeltsin was quoted saying that appointing Putin as prime minister was the biggest mistake he had ever made. The aggressive military behavior beyond Russia's immediate borders, see the McCain report on 2015, is totally unnecessary and has driven border nations into NATO. Later in Bush 2's term, British prime minister Tony Blair said to Bush that Putin was beginning to worry him.  Bush responded that Blair should be worried. And then there is my friend in Florida who received a vision of Putin in 2000 where he had a large black circle over his forehead as he was about to descend down an airplane ramp in his visit to Cuba.  Jesus said to her at that moment, "Do not trust him."  For your discernment of course.  Again, she had a flurry of visions in 2000 and accepted our Lady's request to be a suffering soul and ended up bedridden most of the time to this day. We all love Putin's devotion.  At the beginning of each May 9 victory celebration for the last several years, after the clock strikes 10, the Russian general coming into Red Square does the Sign of the Cross. But as I have said before, every European leader that contributed to the start of WW1 went to some Christian Church.  Russia was very devout in 1914 and yet Tsar Nicholas and his government were very repressive and he and his government contributed greatly to the start of WW1.  His Christian devotion apparently was not enough to help him avoid bad decisions. Attendance is not enough. At what point will Putin's devotion start to ameliorate his behavior? I try to pray for his and his family's conversion every day. May God bless you, your family, and all that you do."]