What did Jesus really look like?
The short answer: no one's absolutely certain. It's also the long answer.
"The earliest surviving Christian art comes from the late second to early fourth centuries on the walls of tombs belonging, most likely, to wealthy Christians in the catacombs of Rome, although from literary evidence there may well have been panel icons which, like almost all classical painting, have disappeared," notes Wikipedia. "Exodus 20:4–6 'Thou shalt not make unto thee any graven image' is one of the Ten Commandments and except for minor exceptions, made Jewish depictions of first-century individuals a scarcity. But attitudes towards the interpretation of this Commandment changed through the centuries."
This third-century picture shows Jesus as the Good Shepherd:
Beard, no beard?
Below is an early image "portraying Jesus, as he would have been perceived in the fourth century A.D. Earlier images tended to portray him looking clean-shaven and very Roman – but by the fourth century, artists had started to portray him with a beard, thus giving him a more traditionally Jewish dimension," claimed the (secular) London Guardian in an article recently.
Etched gravestone, ca. 330 AD Catacomb of Priscilla, Rome (Museo Pio Chistiano, Vatican):
232 AD, Dura Europus (Syria), painted plaster (Yale):
Fourth Century depiction of Jesus between Peter and Paul in the Catacombs of Marcellinus and Peter, Rome:
Panel from a Roman church about 410 A.D.:
Christ in Majesty, with no beard, from an English 12th-century illuminated manuscript:
The oldest surviving panel icon of Christ Pantocrator, encaustic on panel, about sixth century, showing the appearance of Jesus that is still immediately recognized today:
Here's an image mystic Maria Esperanza had in her house: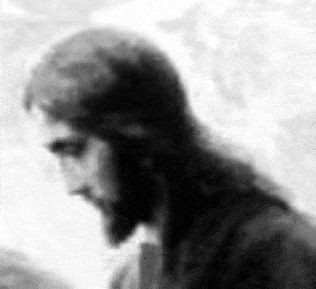 For what it's worth, an alleged painting, said to have been recently discovered, by DaVinci (16th century):
Maybe. Maybe not. (Beware forgeries.)
Notes Wikipedia: "There is only one description of the physical appearance of Jesus given in the New Testament, and the depiction of Jesus in pictorial form was controversial in the early Church. The depiction of him in art took several centuries to reach a conventional standardized form for his physical appearance, which has subsequently remained largely stable since that time. Most images of Jesus have in common a number of traits which are now almost universally associated with Jesus, although variants are seen.
"The conventional image of a fully bearded Jesus with long hair emerged around AD 300, but did not become established until the 6th century in Eastern Christianity, and much later in the West. It has always had the advantage of being easily recognizable, and distinguishing Jesus from other figures shown around him, which the use of a cruciform halo also achieves. Earlier images were much more varied."
Claims a recent report in the (very secular) Daily Beast: "Though scholar Joan Taylor has written an excellent book on the subject, we do not know what Jesus actually looked like. The Bible tells us absolutely nothing about Jesus's facial features. The only real interaction with or discussion of His Body comes after he is resurrected from the dead when the Apostle Thomas says that he wants to put his hand on the marks of the Crucifixion. And that's it. We don't know how tall He was, if His nose was crooked, what His hair was like, or if He had smooth skin. We know a little bit about His fashion sense—He advises against wearing flowing robes in Mark 12—and His Face shone brighter than the sun during the transfiguration. But there's nothing that would lead you to swipe left or right on His profile."
Let's quickly settle it by looking no farther than the Shroud of Turin:
Puzzle solved. Yes, a beard. Height? About 5'11".
Stature? Infinite.