---
Call this "media trends afoot":
There is the Holy Father. The apparent dispute with American Cardinal Raymond Burke is widening and posters criticizing the Pope have cropped up around Rome, placed there by conservatives.
At the same time, Cardinal Burke reportedly has met with an Italian nationalist conservative leader who is seen as an ally of President Trump (who in his turn is seen as at odds with Francis). It is all getting a bit interesting — perhaps too interesting — and the prayer is that the Church and all in it on all sides follow a course guided by the Holy Spirit, one that redounds to the best afterlife for the faithful, while also preventing division, especially public discord.
The current dispute started when the cardinal criticized the Pope and Francis soon after demoted him, sending Cardinal Burke from prestigious positions with the Supreme Tribunal of the Apostolic Signatura and the Congregation for Bishops to a largely titular post as Patron of the Order of Malta — which is now all but at war with the Pope, who has assumed control of it. The rift that has steadily widened since the Pope's exhortation on ministry to divorced who remarry is now reaching a danger point. Prayer need. The possibility that the Pope will take direct action against the cardinal (when matters calm down; it is currently too prominent in the news) may be increasing. This could cause more than posters.
——
On the secular side, there's the issue of "fake news," which is starting to be overused and often misused. (Fake means a forgery, a counterfeit, a hoax or fraud.) This term or obloquy first came about in relation to reports, on one side, that Hillary Clinton and assistant were part of a satanic-like pedophile cult, and on the other side, that as a model, now-First Lady Melania Trump also had been an "escort." These are horrible allegations and indeed were "fake news" because those making the claims, at least in the case of Mrs. Trump, were forced to issue retractions.
"Fake news" is news that is fictive — not to be confused, as now it is, with facts that are presented in a subjective, opinionated fashion. "Fake news" is what you see at a drug store or supermarket counter in the way of tabloid publications such as "News of the World" — which outright creates stories out of whole cloth. Not even the National Enquirer, lurid though it is, does that (though it certainly publishes unsubstantiated rumors). We should be careful not to fling the term around loosely. A story may be presented from a liberal or conservative standpoint — from a biased angle — but that doesn't mean the facts have been manufactured. Fox News, which we often prefer, presents facts from one vantage point, while others present it from theirs. Although it does sometimes occur in the mainstream media, calling something "fake news" just because one doesn't agree with the viewpoint is a "fake complaint."
---
How about "fake entertainment"?
We speak here of "Lady Gaga."
Well, maybe not so fake; to many, she is entertaining. And perhaps she is now seeking God (Who was mentioned in a song during half-time at the Super Bowl, at which she starred).
While, from what we understand, more restrained than some half-times (Madonna, with horned dancers, and Beyoncé, channeling what she says is an alternate personality and barely clothed), there were disturbing costumes and images, and this is a singer, Gaga, who long has expressed distressing viewpoints and an occult undertone, along with blatant carnality.
One of her songs was "Born This Way," which is what they call her dance-floor anthem of self-acceptance for all kinds of people. "You're black, white, beige, chola descent/You're Lebanese, you're orient," she sang, and later, "No matter gay, straight, or bi/Lesbian, transgendered life/I'm on the right track baby/I was born to survive." 
"It was doubtless the first time the word 'transgendered' had been sung at a Super Bowl halftime show," reported The New York Times, which somehow felt her show was worthy of a review and ran the photo below (call it "hanging from thin threads").
Lady Gaga may one day turn to be a massive convert, but for now, thin ice, and not a good vibe, with all the dark paraphernalia, for our young to tap into.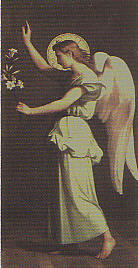 Pray always for purity and love
+++
[March retreat in Atlanta]
[Michael Brown Special Reports]
---
Please report any inappropriate ads or content