We're in the "time of the extremes." This we have spoken about for a number of years now.
There is volcanic activity.
Most recently, news from the Big Island of Hawaii, where one of the largest active volcanoes on land (that we know of; the ocean floor is another issue) erupted recently.
There are quakes.
Most recently, one in the Caribbean. Also, southern California.
Days before, in the U.S., one shook northern California.
And just before that, a temblor where we don't usually hear of such: Texas.
There are asteroids.
Every year, they find new ones — this year, one that is unusually close, in its projected orbit, to earth.
There's the weather.
2022 had gotten off to an unusually busy start (before activity substantially slowed), with an outbreak (at least thirteen) last New Year's Day. In Louisiana, a tornado recently tore into the turf, causing casualties.
As for cyclones, two of great intensity made landfall in Florida during 2022, including Ian, which all but wiped out the state's southwestern beach communities. It was the most intense storm in the state since Hurricane Andrew (though not as devastating as what would happen if one of similar intensity and size hit Miami).
Extremes? 2022 was one of the warmest years on record (pumping much moisture into the atmosphere), but thermometers plunged into an epic cold snap last week — record cold, from one extreme to another — that encompassed at least half of the United States. (Count them: 176 million Americans were under a chill advisory.)
Arctic air dropped wind chills as low as negative 50 to negative 70 degrees in the northern Plains, and 30 below zero in the Midwest, according to FOX Weather. For context, it was a relatively balmy -7.1 degrees in the Jezero Crater on Mars (where a NASA rover is monitoring the weather).
Atlanta and Tallahassee were forecast to have their coldest high temperature ever recorded on Dec. 24. Philadelphia and Pittsburgh also saw their coldest Christmas Eve ever. Washington, D.C., had to brace for its second-coldest (first place was in 1989) while New York experienced its coldest Christmas Eve in more than a century.
Signs of the times. Extremes also in society and our lives.
The storm — the "bomb-cyclone" — was part of a system that the Associated Press described as "nearly unprecedented and stretching from the Great Lakes near Canada to the Rio Grande along the border with Mexico. About sixty percent of the U.S. population faced some sort of winter weather advisory or warning, and temperatures plummeted drastically below normal from east of the Rocky Mountains to the Appalachians."
We all are hearing about Western New York (Buffalo), where a howling, paralyzing blizzard — part of the same system — caused power failures, cutting off heat.
At one point, every fire truck in the city was stranded.
Rescuers were rescuing rescuers.
Bodies were being found in snow banks, or collapsed on driveways, or frozen in cars. Folks had to shovel snow from their living rooms. Stores shut down — for days. In some cases, once folks could drive (there was a travel ban), they couldn't find food. Supermarkets and the airport were closed for days. It was, and is, a serious situation, in need of prayer: The latest death tally is 31 dead.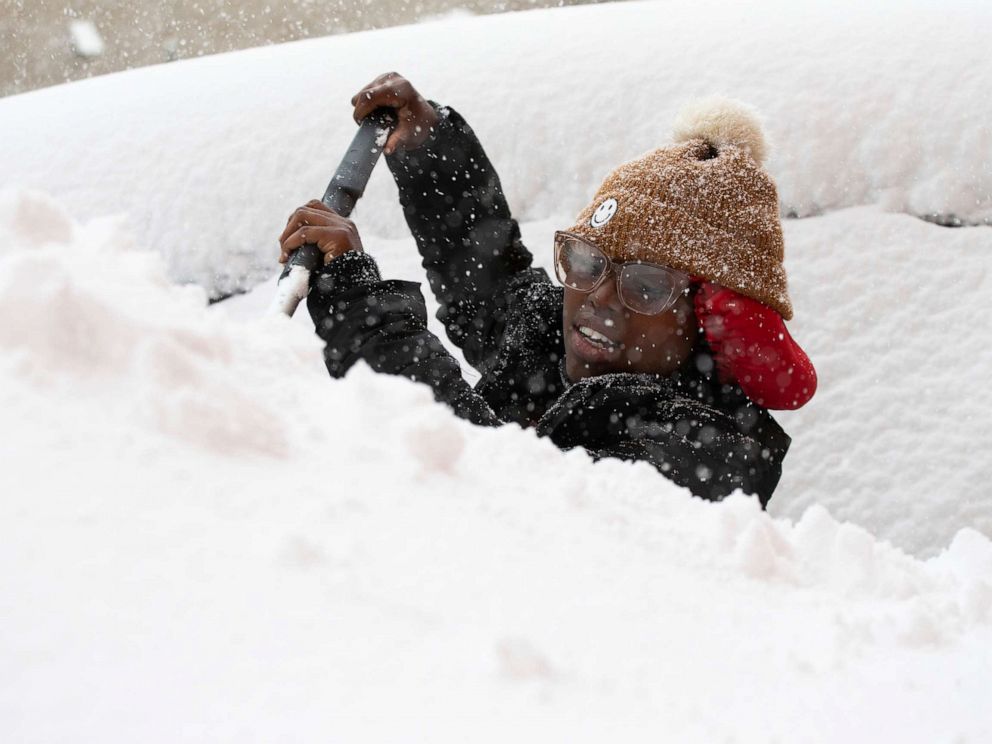 We're talking about hurricane-force gusts on top of frigid readings, causing wind chills to drop to fifty below.
Remarkably, just two months before — November — a historic lake-effect snowstorm buried the same Western New York, leaving four dead and in some spots dropping over 80 inches of snow in four days.
That's more than six feet (eighty divided by twelve, as a curiosity, is more precisely 6.6666 feet). In this last Christmas storm are areas that got more than a hundred inches (more than eight feet). All that moisture in the atmosphere had to go somewhere.
We always have blizzards — but storms are now rapid-fire and everywhere more extensive.
All this as war rages in Ukraine and a second war could erupt between Kosovo and Serbia. (The Pope has already said we are in "World War Three.")
And so we get the picture.
Or do we?
More to the point: are we approaching or even entering a new stage, the "extreme of the extremes"?
–MHB
[Footnote: As a cub reporter in Niagara Falls, I helped cover the Blizzard of 1977. This storm also dumped a hundred inches of snow and had wind chills from fifty to sixty degrees below zero, with drifts in the outlying towns covering entire sides of two-story homes. There were hurricane-force winds then also; at the height of the storm, I tried to walk from our house to my grandparents, which was five homes away, and though wrapped in a thick sweater, heavy coat, scarf, head covered with hood, face wrapped in a scarf, feet in boots, could only make it fifty feet up the sidewalk before having to turn back. The snowscape looked like another planet.
That time, it wasn't so much moisture in the air but snow that had piled on Lake Erie (which had frozen early) and was swept by those howling winds into shore communities. When it calmed down a bit I was assigned by the city editor to drive out to a small city called Lockport and find the highest drift.
This I did — perhaps the most dangerous journey of my life, in a car with back-wheel drive on the only road they were keeping open, making my way through what resembled the Lincoln Tunnel, with drifts and plowed snow piled the entire way on the shoulders, the only vehicles were my car and a couple snow plows.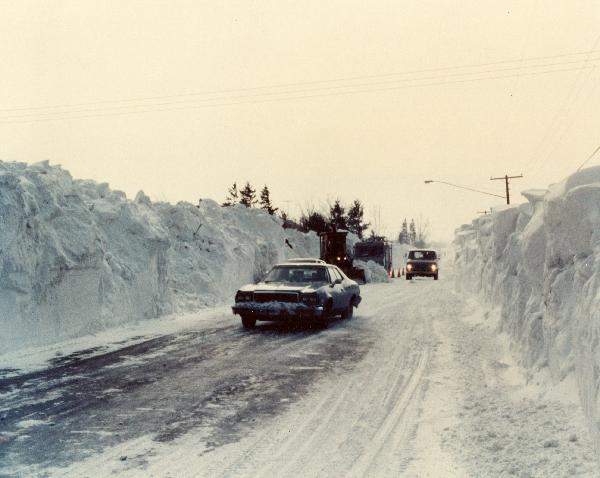 That's about all I saw for twenty very lonely miles, as huge hunks of snow fell from the drifts in front of my car. Only emergency vehicles and media were allowed to drive. When I got there, a sheriff's deputy took me to the highest drift he'd seen, and when we got to the top, I stepped over the top of a telephone pole.]
[resources: Michael Brown's books see especially Sent To Earth]