---
Always, at this time of year, in the secular world and at Christian outlets, are the stories, speculating on what the Star of Bethlehem may have been.
Was it the affixation, in the silent-night sky, of a rare flux in a constellation? Was it the North Star? Was it a comet, a planet, a supernova?
What if it was simply a spirit?
An angel, beckoning.
The Bible refers to angels as "stars" in places such as Job 38:7 ("while the morning stars sang together and all the angels shouted for joy") and Psalm 147:4 ("He determines the number of stars and calls them each by name").
Was it thus a bright angel?
We know this: from mysterious strangers to flashes of light, angels can take any form they wish.
Ask Dr. Howard Storm, who allegedly encountered several of them during a famous near-death experience. Writes the former chairman of the art department at Northern Kentucky University (now a minister):
"Angels rarely appear in their glory. The times that angels have appeared to me in their full glory, it was almost unbearable. The brightness of the light that radiates from them is brighter than the light from a welding torch.
"Their light doesn't burn the eyes, but it is frightening because it is so different from our experience of life. An experience of the supernatural glory and power of an angel is frightening. They don't appear to us in their natural state very often. They most often tone it down for us to keep us comfortable.
"I don't have the words to adequately describe angels in their natural state. Brighter than lightning, beautiful beyond comparison, powerful, loving, and gentle are words that fail to describe them. Artists' depictions of angels are pitifully inadequate. As an artist I am aware of the impossibility of representing an angel. How do you paint something that is more radiant than substance? How do you paint colors that you have never seen before or since? How do you describe love on a canvas?
"Angels are with us constantly and they are everywhere. We are never apart from them. We have angels who guard us from evil. Thousands of stories have been published concerning angels intervening in people's lives. Why they intervene sometimes and other times don't is between them and God. They told me that they always want to intervene in our lives, but sometimes God restrains them.
"God wants us to experience the consequences of our actions. On special rare occasions God allows the angels to help. When we ask God for spiritual gifts of love, faith, and hope, God always allows the angels to help us. Spiritual gifts are never refused if we are ready to receive them. The angels are working all the time to give us the love of God, faith in God, hope in God. Angels hear our prayers.
"Angels do not want to be worshipped. They want all praise to be for God. They don't want us to confuse them with God. They know the difference between the Creator and the creature. They are servants of God, created to be God's messengers. We can thank them for being that for us.
"Angels don't make mistakes, because they communicate directly with God. Their will and desire are the same as God's. We can ask God to send angels to guide us and protect us. We can ask the angels to teach us God's will. We can't make the angels appear to us or do anything that is not God's will.
"There are different kinds of angels with different responsibilities and different attributes. One angel may accompany a child, another has the responsibility for a city, another a nation, another a world, another a universe. We might think that the mighty angels are gods, but they don't think of themselves that way. They know they are servants of God participating in the Divine plan. Angels love God with their whole being. They desire nothing but to serve God. Angels can experience what we think and feel. When this is consistent with God's will, they are joyful.
"When we are opposed to God's will, they suffer emotionally. If we knew how empathetic our angels are with us, we would want to please them and God. We would never want to do anything that would distress them, but we do. The Spirit of God is the spirit of the angels. This same Spirit is in us, leading us to truth and love. When we allow the Holy Spirit to guide us, we are in harmony with the angels and God. Then we become like the angels, messengers of God.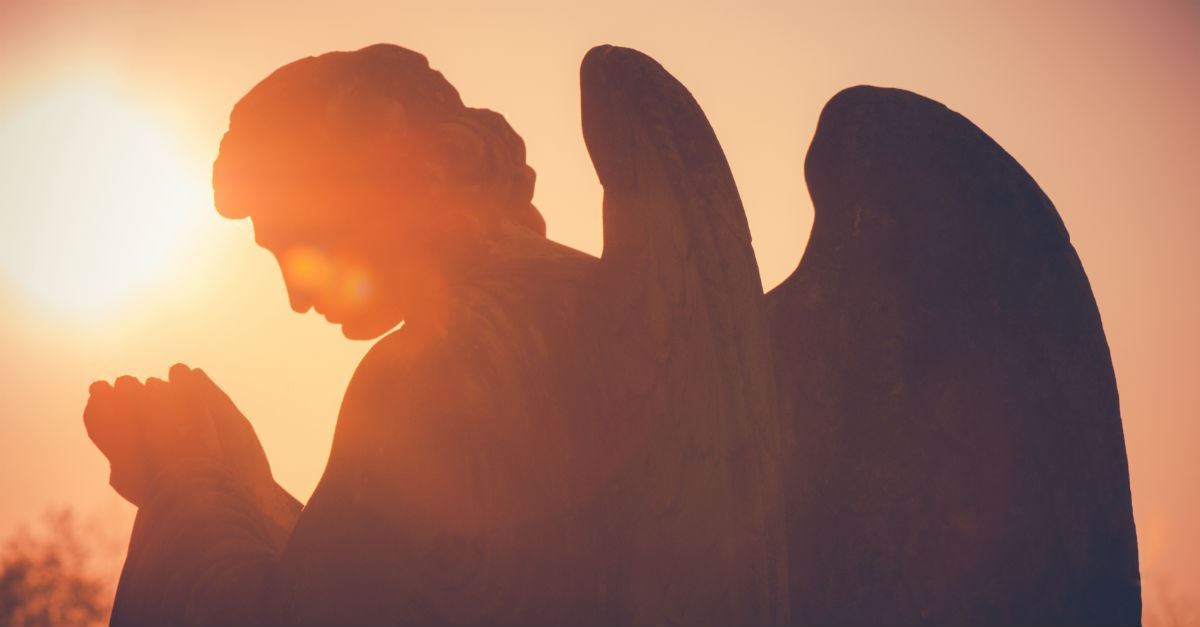 "The best word to describe an angel is compassion. As we live by the Holy Spirit, our compassion grows. The compassion of the angels for us becomes our compassion for all people. We discover that the love of God is tough love. The love we learn is complex and difficult. Just as the angels refuse to control us, we understand that we shouldn't control one another. We can try to influence, but we can't control spiritual development. Worldly things we have power over, and we are to use this power for good. Spiritual things we can only influence.
"Angels can move through time and space as easily as thinking. The laws of physical nature do not bind angels. Angels are aware of and protect us from forces we don't know or aren't capable of imagining. Our angels are ever-vigilant to protect us from evil that originates from other dimensions of the unknown universes. We don't have to worry about it. We should just be glad they are there keeping us safe. There exist supernatural beings that seek chaos. They have no power over us except the power we give them. They are known as demons, the devil, or evil spirits. They should be rejected as much as possible. The power of God and the power of God's angels is much greater than theirs. The best defense against evil is to be filled with the Holy Spirit…"
And so there are lessons, for sure, at this time of year.
And whatever that "star" was, we know it was an angel that announced the coming of Jesus to Mary, the threat of Herod to Joseph, and the Birth of Our Savior to those shepherds — involved in every aspect of God's great intervention into human history, right unto the rolling of the rock at the Tomb.
[resources: Howard Storm video]
[Other quotes from Dr. Storm (for discernment):
"The angels and Jesus had no interest in the track meet competitions I won or lost. They were interested in the relationships and how we encouraged or hurt one another."
Love
"It is impossible to love another person unless we love ourselves. Without the love of God, it is impossible to love ourselves because every human being is aware of their flawed nature and sinfulness."
"The only authentic love in this world is achieved when there is a balance between love of God, love of neighbor, and love of self."
"Our purpose is to know and do God's will in this life, and we do this when we love one another as God loves us. Every person, without exception, needs to be loved by us. This is the most difficult and most important lesson of our life."
Diversity of Heavens
"Each person is escorted toward Heaven according to his or her life, culture, and spiritual level."
Angels
"Every person has guardian angels all their lives throughout his or her life. Our angels are the embodiment of compassion for us. Because of their reverence for God, they cannot impose themselves on us or intervene in our lives when we choose to reject them and God's love. The more we despise our angels, the more we are on our own. Our desire for self-sufficiency insulates us from the divine order for our lives. When we realize our need for God and God's messengers, we grow in desire and opportunity to live in the divine order. Love attracts more love and hate attracts hate." Ask your angel to guide you through these deceptive times.]
[Feedback:
"Your article reminded me of my trip to Medjugorje in 1997. It was a September evening and we were heading to Mt. Podbro for an apparition with Mirjana. There was a hazy fog above, I could not tell how high up it was but it was clear at ground level. The flashlights and candles that people carried did not reflect any light on the haze. No moon or stars were visible. There were several hundred people present and the closest I could get was about 70 or 80 feet from Mirjana but I could see her. When our blessed mother arrived there was total silence but through the haze, directly above, a star started to shine thru. It was bluish/white and quite bright. I could not tell how high it was or see anything about it that was not star like, just its sudden appearance. When the apparition ended Mirjana stood up and the star quickly faded away. Everyone in my group saw it. Since then I have believed that the star of Bethlehem was a similar miracle. I firmly believe this was an angel. The next night was clear and I looked in the sky at the same time of the evening but there was no bright star directly overhead.
Have a Merry and Blessed Christmas!"
Bernie FitzMaurice
Eastbrook, Maine]