Let's go "around the horn" in the spiritual realm.
First order of business, Star Wars. It has been back in the news with a new edition. What caught our collective eye was an article on LiveScience with a photo and a headline that said, "Statue of Woman With 'Star Wars'-like Headdress Found In Mexico" the other day.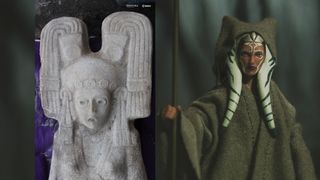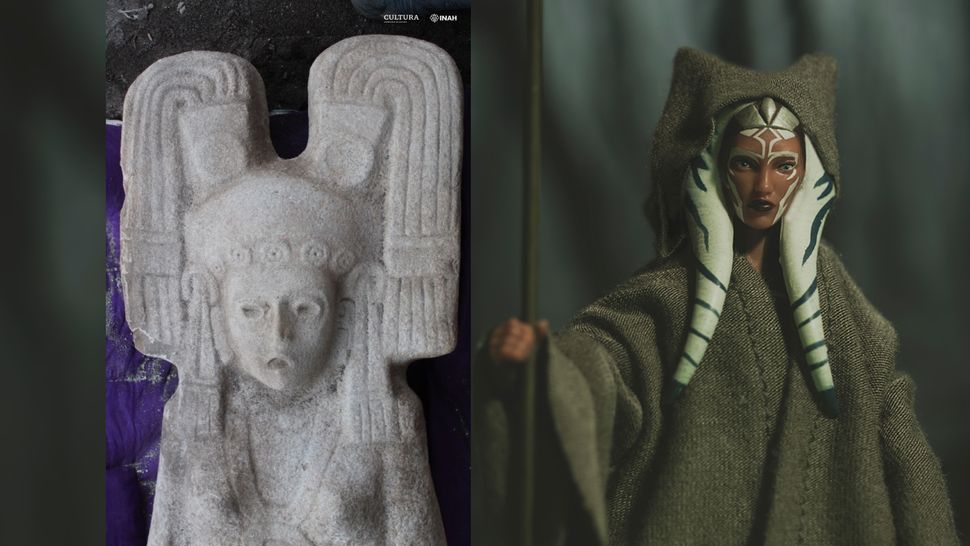 It's a relic that is five hundred years old, and as the article went on to explain, "The 6.5-foot-tall limestone statue depicts a young woman dressed in elaborate clothes and jewelry, including a circular pendant, known as an 'oyohualli,' on a thick necklace; tassel-like earrings; and a headdress that rivals the head ornamentation of 'Star Wars' Ahsoka Tano, a former Jedi apprentice turned warrior in the sci-fi series. "The style of the young woman from Amajac is similar to representations of Huastec goddesses of the earth and fertility' [noted one archeologist].
Or perhaps the more sinister "Mandalorian." [Click here for a picture list — it's quite long!]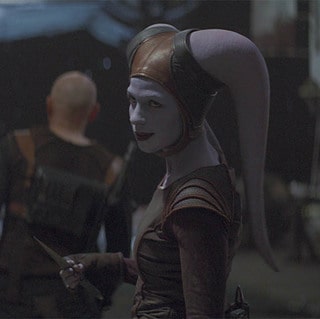 That's a bit witchier — more occult, as a good number of other characters are — with unnerving
resemblances to what for centuries has been depicted in dark literature, ghost stories, and exorcism files.
Darth Vader? Demonic entities, particularly of higher rank (principalities), have been depicted like him. The "Force"? Depicted as like psychic or ki energy. There is Ponda Baba [right]. There are the "Modal Nodes."
Perhaps most famously (and cuddly) is "Chewbacca," who bears distinct similarity to reports of cryptids such as the yeti or "big foot."
And those model nodes? Classic "gray" aliens.
Lest we forget Yoda.
If you so choose such an interpretation, he can be a throwback to magical gremlins and bogarts, with a dash of Buddhist-or-Hindu-monk-guru thrown in.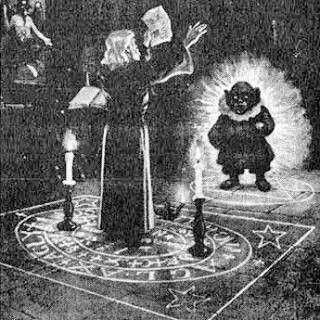 Claims a blogger, "Eliphas Levi, 33rd Degree Freemason, the famous British Occultist, is pictured here [left] conducting a demonic conjuration ritual, invoking a demon (Mephistopheles, also known as 'Yoda') into our spacetime. Culture comes from the cult. Movies and music are used for indoctrination."
We're not quite sure of all that, but as author Carol Lee Fry has pointed out, "The Star Wars movies' plots combine a number of New Age concepts along with a smattering of Joseph Campbell's Hero of a Thousand Faces. John Baxter claims that [Star Wars creator George] Lucas did not read Campbell but did listen to a book-on-tape" and "[quoting another academic] 'learned from Campbell that underlying religious mythologies are archetypal patterns which reflect universal truth.
"'Dig deeply into any of the great spiritual traditions and one comes up with a reservoir of truth common to all, and the source of each,' a concept central to New Age thinking."
In our strange time, discern everything.