---
How now Dow? 
"Dear children!" is a recent message from Mary. "May this time be for you a time of prayer, so that the Holy Spirit, through prayer, may descend upon you and give you conversion. Open your hearts and read the Sacred Scripture, that through the testimonies you also may be closer to God. Above everything, little children, seek God and the things of God and leave earthly ones to the earth, because Satan is attracting you to the dust and sin. You are called to holiness and created for Heaven; therefore, seek Heaven and the things of Heaven. Thank you for having responded to my call."
It is a message for our time. It is a message because we are in times like the Roaring Twenties.
Study what followed that decade. It was 666 Friday, lower yesterday. Now, back to the moon, Alice.
Meanwhile, as far as personal repercussions, a recent item: 
"News of the assassination in Miami's glamorous South Beach echoed around the world and sparked a murder mystery that has endured for more than 20 years," said the London Mirror. "Gianni Versace, the flamboyant Italian fashion designer beloved by Princess Diana, Elton John and Elizabeth Hurley, had been gunned down on the steps of his magnificent Miami mansion in a seemingly senseless act of random violence. The creative force of a £1 billion fashion empire was just 50 years old."
"So why does Gianni Versace's colorful life and brutal murder in July 1997 continue to ignite so much fierce passion?" asked the tabloid. "'He epitomized the excesses of the 1980s,' says one former associate who regularly partied with him in the gay nightclubs of South Beach. 'He was the face of an era where everything looked fabulous and perfect but you just had to scratch a bit and there was this seedy underbelly of sex, drugs, violence, and debauchery.'"
"Versace worshiped wealth, fame and art and he coveted status," noted his biographer.
It's certainly not to judge this specific gentleman (we are not competent to judge anyone), but it is to say that while we're in this material world, money often attracts the devil or springs from him to start with.
"'His family, the palatial houses, the artwork, the parties, the famous friends such as Elton John and Sting who came to sit frontside at his high-voltage shows, where he blasted their music and stacked his catwalks with supermodels – all were fodder for his branding.'
And then: gone. Poof. In a flash. (Prayer need.) Dust. In Toronto: a multi-billionaire and his wife were recently found hanging at poolside in their house — a terrible homicide (and another prayer need).
This from two weeks ago:
"Casino mogul resigned Saturday as finance chairman of the Republican National Committee amid allegations of sexual harassment and assault. [He] has been a prolific Republican donor and led the RNC's fundraising efforts during the President's first year, helping the committee rake in more than $130 million." (It plays both sides, let us hasten to add, does evil, of the political fence.)
When used for God's Plan, riches are a blessing; when hoarded and used selfishly, when idolized,when a goal in and of themselves, they bring a curse.
In too many cases, the old adage applies that "behind every fortune is a crime." Or at least something tinged with what is dark and can come back to haunt, from selling unhealthy food to manipulating stocks to obsessing over fashion to running casinos or pornographic studios to making occult movies or writing occult books to manufacturing poisonous substances.
Money in it? Of course.
But danger as well.
[Footnote from a recent Mass: "The word of the LORD came to Jonah, saying: 'Set out for the great city of Nineveh, and announce to it the message that I will tell you.' So Jonah made ready and went to Nineveh, according to the LORD'S bidding. Now Nineveh was an enormously large city; it took three days to go through it. Jonah began his journey through the city, and had gone but a single day's walk announcing, 'Forty days more and Nineveh shall be destroyed,' when the people of Nineveh believed God; they proclaimed a fast and all of them, great and small, put on sackcloth.When God saw by their actions how they turned from their evil way, he repented of the evil that he had threatened to do to them; he did not carry it out."]
[Psalms 25:4-5, 6-7, 8-9: "I tell you, brothers and sisters, the time is running out. From now on, let those having wives act as not having them, those weeping as not weeping, those rejoicing as not rejoicing, those buying as not owning, those using the world as not using it fully. For the world in its present form is passing away."
[Mark 1:15: "You adulterous people, don't you know that friendship with the world is hatred toward God? Anyone who chooses to be a friend of the world becomes an enemy of God … Draw near to God, and he will draw near to you. Cleanse your hands, you sinners, and purify your hearts, you double-minded (James 4:4,8)."]
[The Lord Jesus, of course, had first said, "No one can serve two masters. Either he will hate the one and love the other, or he will be devoted to the one and despise the other. You cannot serve both God and Money" (Matthew 6:24). And St. John added, if still we do not get it, "Do not love the world or anything in the world. If anyone loves the world, the love of the Father is not in him. For everything in the world–the cravings of sinful man, the lust of his eyes and the boasting of what he has and does–comes not from the Father but from the world. The world and its desires pass away, but the man who does the will of God lives forever (1 John 2:15-17)."
[resources: What You Take To Heaven]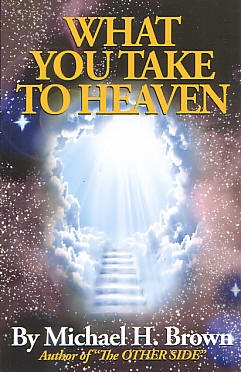 [Postscript: Perhaps the recent plummet in stock prices is a simple blip, and the Dow, falling nearly 2,000 points between Friday and Monday afternoon, will spring right back this week, maybe even today, and roar to even higher elevations. Or, maybe it will extend a bit and stick as a minor "correction." There is also the possibility it could be the start of a major downturn, one long in the making, when one considers that the Dow has increased more than three hundred percent – tripled — since 2008. If there is something "fake," perhaps it's "The Market." The U.S. president himself, before the election, called it grossly overpriced. While, due to tax cuts, the economy is now functioning on all pistons (and thank God for folks, especially young, finding work), one wonders, with all the borrowed money that fuels it, how long it can all last. Last week the United States increased its debt by more than ever before. The nation is more than twenty trillion dollars in hock. And on banks? As the exorcist, Chad Ripperger (granted, no economist, but very perceptive) points out, our current economy is smoke-and-mirrors, propped up by money that doesn't actually exist. His argument: banks need only have three to five percent of deposits on hand as actual cash — yet can lend money as if they had all of it.]