---
The notion of "ghosts" does not seem like a very far-out one, when one recalls that Jesus Himself used this term (Luke 24:39, differentiated from "demons") and when we see in the Old Testament King Solomon (very unwisely) consulting the spirit of someone who had died. In Isaiah (19:3) is this: "Then the spirit of the Egyptians will be demoralized within them; And I will confound their strategy, So that they will resort to idols and ghosts of the dead And to mediums and spiritists." How can any Christian deny ghosts when the Bible makes clear that they exist ("It is a ghost," the disciples cried out, in fear (Matthew 14:26)?
""The ghosts of the dead writhe under the waters along with those who live with them," says Job (26:5).
Case closed. Until modern times, priests, bishops, and cardinals recorded entire accounts of "hauntings."
The problem of course is that belief in ghosts can lead some to attempting communication, which is the sin of necromancy and dangerous because there certainly are demons that masquerade as the dead. There are also peculiar beliefs and practices. Some insist that the spirits of the dead materialize (as one example) in mirrors (because they are "liminal" spaces: between the realm of the real and unreal), and many have claimed to see spirits in such reflections (again, very unwise). One medical doctor, Dr. Raymond Moody, who penned the ground-breaking bestseller on afterlife experiences, has strayed into use of mirrors ("psychomanteum") in the decades since.
Apparently, there are Jewish funeral homes that cover their mirrors. Why? A matter of discouraging personal adornment during mourning? Notes a site, "The Kabbalists give a more spooky reason for covering mirrors in a house of mourning. They write that all types of evil spirits and demons come to visit a family in mourning. When a soul leaves this world, it leaves a void, an emptiness that is prone to be filled by dark forces. This is because wherever there is a vacuum, negativity can creep in. And so the house of mourning, the place where the loss is felt the most, is a magnet for evil spirits. These demons cannot be seen by the naked eye. But when looking in a mirror, you may catch a glimpse of their reflection in the background. And so we cover the mirrors in a house of mourning because we don't want to be alarmed by seeing these demonic visitors."
Says a responder on the internet forum Quora: "It is also said that Bela Lugosi went a little mad. His mirror was given to him and he used it in a lot of occult meetings he went to. Long story short he was seeing stuff in the mirror and swore it was cursing him."
So stay away.
Now this question: can religious places — even houses of worship — be haunted?
Stories of such are legion.
Take the Big Easy.
A list of the supposed top ten "most haunted" places in New Orleans (according to Travel.com) included:
[At number three] 
"St. Louis Cathedral looks more like a Disneyland castle than a Roman Catholic church. Get up close to this fairytale palace, though, and you'll see it for the imposing Spanish Colonial structure it is. But the cathedral you see now was not always here. This is the fourth building to have stood for the parish. The first church was built in 1718, the same year New Orleans was founded, but its architects placed it directly on New Orleans' oldest burial site. Throughout the years, as the cathedral grew, the spirits of those buried at this spot have been said to wander the pews."
[At number 6; but is this a "haunting"?]
"In its 300-year history, New Orleans has endured fires, hurricanes, raiding pirates—you name it. In the 19th century, an outbreak of yellow fever struck the city, devastating its population, and in an attempt to save the parish, Reverend Peter Thevis prayed to St. Roch, a patron saint of healing, especially against plagues. The parish had no fatalities, and the current chapel was dedicated to him. The inside of the chapel is decorated with offerings from visitors suffering from various illnesses, who leave anything from medical equipment to coins. It's come to be one of the most eclectic shrines in the country."
[At Number 10]
"Whether or not you're on a haunted tour of NOLA, St. Louis Cemetery No. 1 is not to be missed. One of the most famous burial grounds in the U.S., you might notice that the tombs here (and in other New Orleans cemeteries) are above ground. They look like little houses, decorated with gates and urns. Be on the lookout for Voodoo Queen Marie Laveau's tomb, where people often leave offerings in hopes of receiving her blessing. The cemetery has suffered damage at the hands of vandals and during Hurricane Katrina, so it is only accessible if you book a tour."
[Actually, avoid ghost tours; that's the better advice]
And New York?
They claim Most Holy Trinity Church in Brooklyn ("Visitors have reported mysterious footsteps and disembodied voices. The resident spirit is former parish clerk George Stelz, who was murdered here in 1857. Apparently, you can still see a bloody hand print on the stairway where the crime took place.")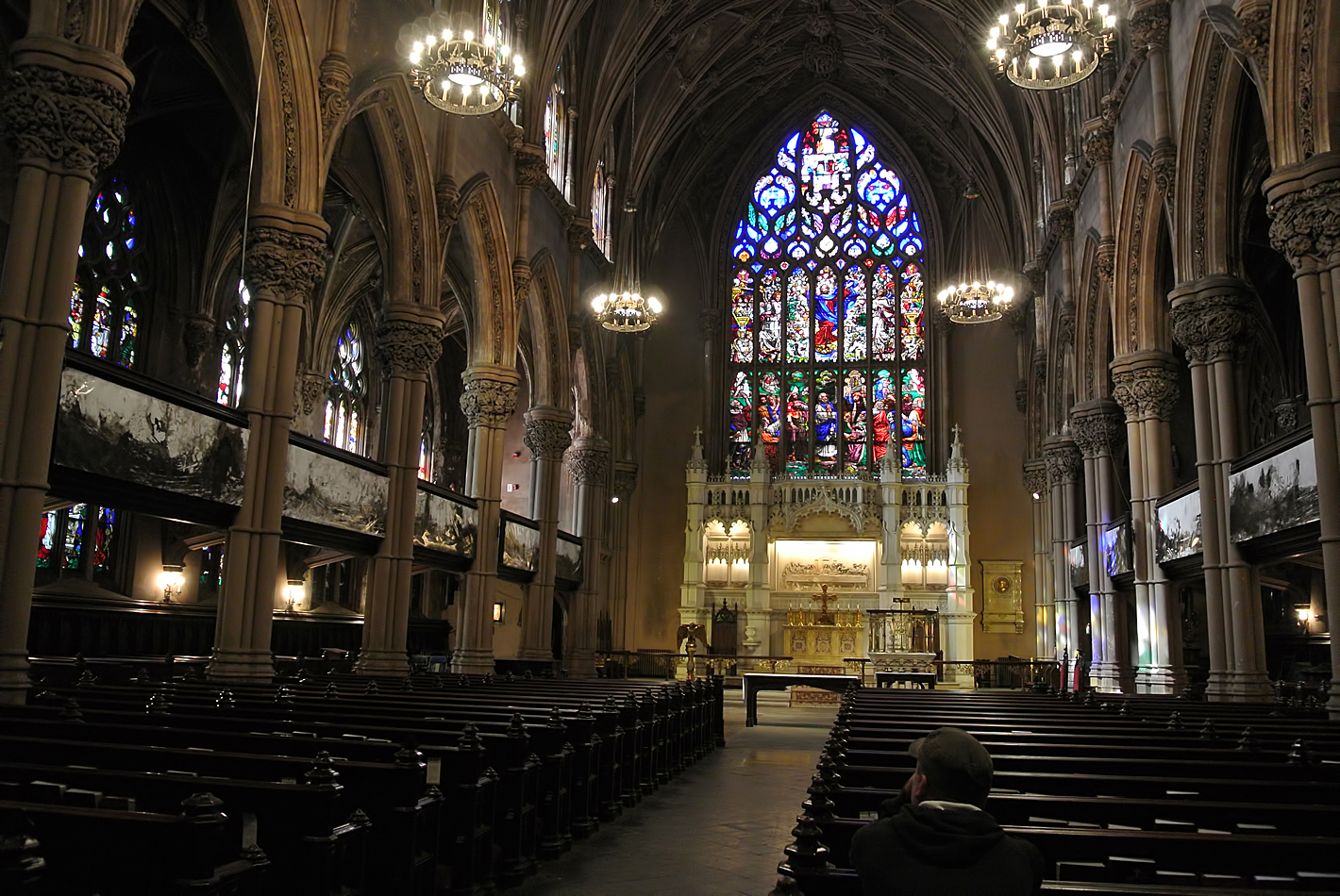 And the Church of St. Andrew's on Staten Island ("The churchyard is the permanent resting place of many notable people from Staten Island. During the Revolutionary War, the church was used as a battlefield hospital. Visitors claim to have seen the ghosts of dead soldiers and heard disembodied footsteps and knocking noises.')
Surely, many churches and old buildings, and some not so old,, have such accounts (especially in Europe) — for our discernment and prayers, though not our curiosity.