---
It was a bit curious, how last week China sent an aircraft carrier past disputed Taiwan while the U.S. grappled with the coronavirus. Also, reports that while the world, and particularly the U.S., was distracted, China carried out a small but prohibited nuclear test. Sunday, a Russian fighter aircraft approached a U.S. Navy aircraft over the Mediterranean. What's wrong with this scenario? Is there any reason for concern?
By all odds, if we believe government and academic calculations, and if the U.S. outbreak mimics the graph lines of other countries, the spread of coronavirus will calm down in a month or two and normalcy will begin to return. It will stand as an historic "jolt," but no "apocalypse." The economy may remain mired in a recession. But we'll climb out of it.
At this point, we still don't know which outbreak will prove to be the greatest: the Covid-19 virus pandemic (which is not to be trifled with) or the pandemic of panic — fear.
But what if some day the very worst scenarios played out, and coronavirus or some other future pathogen was unleashed upon North America with the same virulence as the 1918 flu pandemic or medieval plague (which killed at least a quarter of those living in Europe and Asia), with not just one but wave after wave of epidemic over the course of several years?
That would be an entirely new circumstance, and could lead, as could many other disasters, to the breakdown of our infrastructure and government, if enough officials died or took ill, if it became impossible to operate due to technological failure, or if the military were depleted of personnel.
If all that occurred — and it is anything but out of the realm of possibility — one could see the plausibility of certain supposed prophecies that have been stubbornly persistent through the past several decades, prophecies that foresee Russia and/or China invading or otherwise assuming control of the United States.
It seemed like far-out fantasy, before the coronavirus starkly demonstrated how quickly society can be disabled, if not dismantled. And — with famous men such as Prince Charles and U.K. leader Boris Johnson testing positive for SARS-coV-2 (the virus that causes Covid-19) — it is not unthinkable that a greater pandemic could take out ruling bodies and allow even for a full-scale incursion or invasion.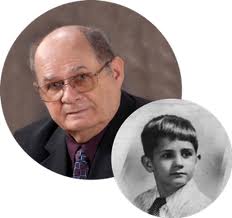 One of those who prophesied such was James Wilbur Chauncey, a retired Georgia businessman. It was way back in 1946, says Chauncey — now in his eighties — that he "died" of bacterial spinal meningitis (Meninococcal) — his vital signs disappearing to such an extent that a doctor told the nurses to prepare his body for the morgue and cremation (to prevent spread of the highly contagious and, back then, almost always deadly germ). 
It was during a period of about two hours that Chauncey believes he was taken by Jesus and angels to various parts of eternity, where, among other things, he was shown the future of the U.S.
It was not a pretty picture. 
"We went to the edge of paradise, like a cliff, and you could see the blue earth hanging there and when you wanted you could just zoom in on various places on earth," claims this man who worked as a cost engineer for NASA, Disney, and the federal laboratories in Oak Ridge, Tennessee.
"I could smell smoke and heard booming noises and it was like I was seeing over the Northeast toward Europe and I could see these armies moving from Russia over Syria and continuing southwest and southeast, bypassing Israel. They conquered all of Africa and Asia except for China, then they started across the rest of Europe and across to England. The English fought very hard. After England was decimated I saw missiles lobbed from boats at New York, Washington, Philadelphia, Cincinnati, Jacksonville, and Atlanta and some other place but at this point they weren't nuclear. That was followed by a landing of troops and I looked toward the other side of America when I heard some huge blasts and I looked toward Mexico and New Mexico. There were troops coming from Mexico and South America and they were Islamic. I kept getting that Russia has a pact with the Islamic countries. Chauncey, a retired businessman and engineer, and author of Eyewitness To Heaven, told us, "What's going on with Russia and China is pretty much right on track," he told us years ago.
Ned Dougherty, a former nightclub owner in the Hamptons, and another who had a near-death precognition (his on July 2, 1984), says he was shown the greatest threat — at least for our pondering — would supposedly come from China and a "two hundred million army" (see Revelation 9:16; [as depicted above in the London Star]). "The Lady of Light specifically told me, 'Pray for the conversion of China,'" claimed Dougherty, for discernment. "'The conversion of China to God is necessary for the salvation of the world.'"
Ironic it would be if a virus out of China eventually was the "invader" that brought the U.S. down. Or at least paved the way for actual Chinese hegemony.
It is an unlikely situation, right now. But what has occurred with the corona virus — the utter speed of breakdown — gives us pause. So does the way China is eyeing various regions around the world, especially Africa and even implanting itself in a major role in Italy, with tens of thousands of its people working there (which is why that nation has been so afflicted by Covid-19) and hundreds of Chinese companies in Africa. Maria Esperanza always said the day would come when the "yellow races rise up."
As was written in Fear of Fire (2013), about potential future epidemics, "A disease like swine flu, bird influenza, hemorrhagic viruses (such as ebola), or most likely something entirely new and reconfigured would cause panic and the same kind of decimation as an instant cataclysm. The need for order—in the wake of that breakdown (which might kill leaders, destroy the communication grid, and totally disrupt the transportation of goods, particularly food and gasoline)—would be paramount."
With 1.4 billion people, China is not to be taken lightly, nor is Russia, which as everyone now knows, has tried to meddle with our very elections.
Except with God, no one and no nation is secure from what seemed just months ago to be outlandish scenarios for the future.
[resources: Fear of Fire] and Chauncey's book, Eyewitness To Heaven]
"Mongolian Invasion: 1226-1241 AD

Meshech and Tubal invasion: known in Ezek 32:26, probably occurred in

the 5th century BC (this is not the future Gog invasion of Ezek 38-9).

Then there are the numerous personal prophecies of the Chinese invasion

of the USA and other countries sometime this century.

There appears to be something of an 800 year 
historical cycle in  operation

here. I have no explanation for this. It would seem to bear further investigation.

Sincerely in JMJ, Kenneth Heck
[Mailbag: seer at highly controversial site in Conyers, Georgia FOR CAUTIOUS DISCERNMENT ONLY: