The forces of darkness are stealthy and can enter through tiny openings. A Pope once famously said it's like smoke coming through a fissure or crack.
And so it is, whether with objects or (unfortunately) people, that a spirit can transfer to our persons or abodes, making it all the wiser for us to regularly use Holy Water; play religious songs on television, the computer, or an iPad (the Gregorian chant puts the atmosphere in the right place); and, especially with older objects (perhaps from an antique dealer), at the least make sure to touch them with Holy Water, oil, or salt and ask Christ to directly remove anything that may try to intrude, if antiques you must have.
When we say "clever," we mean clever.
An example: over the holidays we decided to use holy incense as just such a cleansing tool and purchased the two resins mentioned in the Nativity accounts — frankincense and myrrh, which churches often use in their censers. Blessed incense is said to chase away spirits.
But can it also bring in spirits?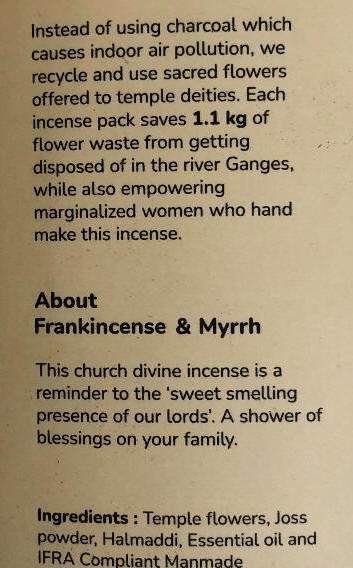 From the wrong merchant, the answer may be in the affirmative, for while the Catholic Church uses those two resins, it turns out they also are used by New Agers.
Clever.
The myrhh: It came advertised (on the box) as "Church's divine incense," with a picture of what looks like stained glass, depicting the Holy Family at the temple. But on the back cover it says, "This church divine intense is a reminder to the 'sweet-smelling presence of our lords. A shower of blessings on your family." (Essential oil is also added.)
That's no typo: "lords" was plural — as in India, where it turns out the company is located.
Worse was the explanation that explained: "Instead of using charcoal which causes indoor air pollution, we recycle and use sacred flowers offered to temple deities. Each incense pack saves 1.1 kg. of flower waste from getting disposed of in the River Ganges, while also empowering marginalized women who hand-make this incense."
Obviously, this was more than enough for us to dispose of the incense (immediately). The frankincense seemed fine, but even that's from a company that may have hidden links to India. (We had what we used blessed by a priest during Confession before Christmas.)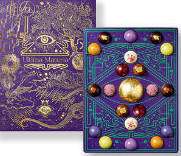 One of the world's finest chocolatiers proudly explains that every truffle it makes is done so with "love" and good vibes: Music at a certain resonance is played during manufacture, and the chocolate was inspired by the owner's trips around the world, especially among the Hindus in India.
"We infuse all of our chocolates with a 528hZ frequency, sustained as the chocolate cools from liquid to solid, creating a transformational, healing, and miracle-manifesting experience," the company explains.
"We harness the power of storytelling to open minds, spirits, and palates through chocolate, inspiring us all to interact with the world in a more loving way," it says. "We seek to create harmony, creativity, and inspiration through the exploration of the alchemic balance between the soul that seeks happiness and the spirit that wants to rule the world."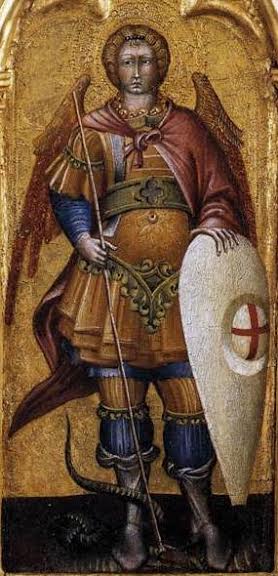 Among their products are ones called "Ritual Collection For Self-Love," "Ritual Collection for New Beginnings," the "Enchanted Collection" (remember, these are chocolates!), and "Good Luck Cakes." They use "high-vibe cacao."
No doubt, well-intentioned folks.
But the spirit that wants to rule this world is not to our particular liking (John 12:31).
And as for those who mean well, as one word of knowledge had it: "Even the most well-intentioned can be deceived."
[resources: Satan's Trap]
("Oh Jesus, Who has power over all forces in the universe, yet was born in a manger: We ask you, personally and directly, powerfully, to cleanse our homes, our cars, our property, and our bodies and our spirits of any dark, untoward energies. The Lord rebuke you, darkness!")