By Michael H. Brown
Yesterday, of course — December 8, 2020 — was the feast of the Immaculate Conception, first and foremost. I remember it for two other reasons as well. It was on that date, in 1991, that a Eucharistic miracle occurred at Betania near Caracas, Venezuela. I had just been there, and I know first hand that the mystic associated with Betania, Maria Esperanza, predicted a great happening would occur on that day. I was urged to stay but could not (there was an airline strike and I had to catch a plane before it hit full force). I also remember December 8 because it was on that date forty years ago that John Lennon was assassinated in New York. As a kid I was a huge Beatles fan, and I took the bus crosstown to the Dakota Apartments as a clutch of other fans gathered with vigil candles playing Lennon songs near the entrance where he had just been murdered.
I also went to Central Park for his "funeral" (a somber celebration at a spot now known as "Strawberry Fields") and remember how when, after a few words from people such as his wife, there was a moment of eerie, almost prayerful silence right there in the heart of New York. The only sound was of news helicopters circling above. At the moment the service ended — that precise moment — big snowflakes, the first of the year, began to fall from the late autumn sky.
I mention that because one certainly has cause to wonder if supernatural forces, good and evil, were at work in this incredible, historic rock 'n' roll group. They thought so. Both Lennon and Paul McCartney have said they felt at times more like spirit mediums, channeling the songs from — in the recent words of McCartney — "somewhere else."
The question has always been whether that somewhere else was in the heavens or chthonic regions. McCartney received a number of songs in dreams, and the very name "Beatles" was given to Lennon in a dream by a man encircled with flames (a "pie" of fire).
I know this: religion, specifically Catholicism, wove in and out of their lives and music. John and Paul met in the hall of St. Peter's Church in Woolton near Liverpool and used to hang out in the adjacent graveyard (where, yes, one stone is a marker for a deceased woman named Eleanor Rigby and her family).
That's a bit spooky, and so were the experiences and coincidences attendant to the Beatles, particularly John Lennon. As a child he once awoke to see a "ghost" standing outside his bedroom door, and later, as an adult — living at the Dakota — he claimed aliens had been outside his bedroom door (and spotted a "flying saucer" close up on another occasion from the balcony of an apartment on Manhattan's East Side).
Of course, drugs, including hallucinogenic ones, played heavily into the early adulthood of these men, but it went beyond such simple explanations. That the mega-talented four — all now in the music "hall of fame" — met each other as youngsters is a huge "coincidence."
As a youngster, Lennon's Aunt Mimi remembered he was especially interested in books that dealt with magic and would spend hours sitting in front of a mirror, staring at his face so intently he'd fall into sort of a trance. Necromancers summon spirits in mirrors (it's called "scrying").
The dark side showed itself most vividly in Lennon's apparent aversion (at least early in life) to Christ. It is reported that at least for a while before he died he'd become a "born-again" Christian after watching Pat Robertson. But he was once expelled from a church choir for substituting obscene words in the lyrics, regularly poked fun at priests, drew blasphemous cartoons of Christ, and once urinated from a balcony on a couple of nuns passing by. Sorry for being explicit. One friend told the Liverpool Echo, "The devilment was always there, and it could be quite frightening."
So whence came the explosiveness, the charisma, of this group? Was their music evil or good or a mix (as most is in life on this earth, where we all sin, especially as young people)?
There is intriguing overlap with religious dates. Besides the date of his death, the term "Beatlemania" was first pegged on October 13, 1963 (that being a major Fatima anniversary) after an appearance in London. One writer refers to it as "bewitchery of the masses." "It would come to define the mystical response the band had the world-over: the excessive emotion and enthusiasm; the chaotic crowds screaming hysterically; the frenetic behavior, uncontrollable crying, fainting, and delirium."
Noted another observer, Mark Lewisohn, "[The Beatles] were an absolute powerhouse, creating inexplicable and unprecedented frenzy among the spellbound teenagers." Such facts are spelled out in a book called The Lennon Prophecy by Joseph Niezgoda.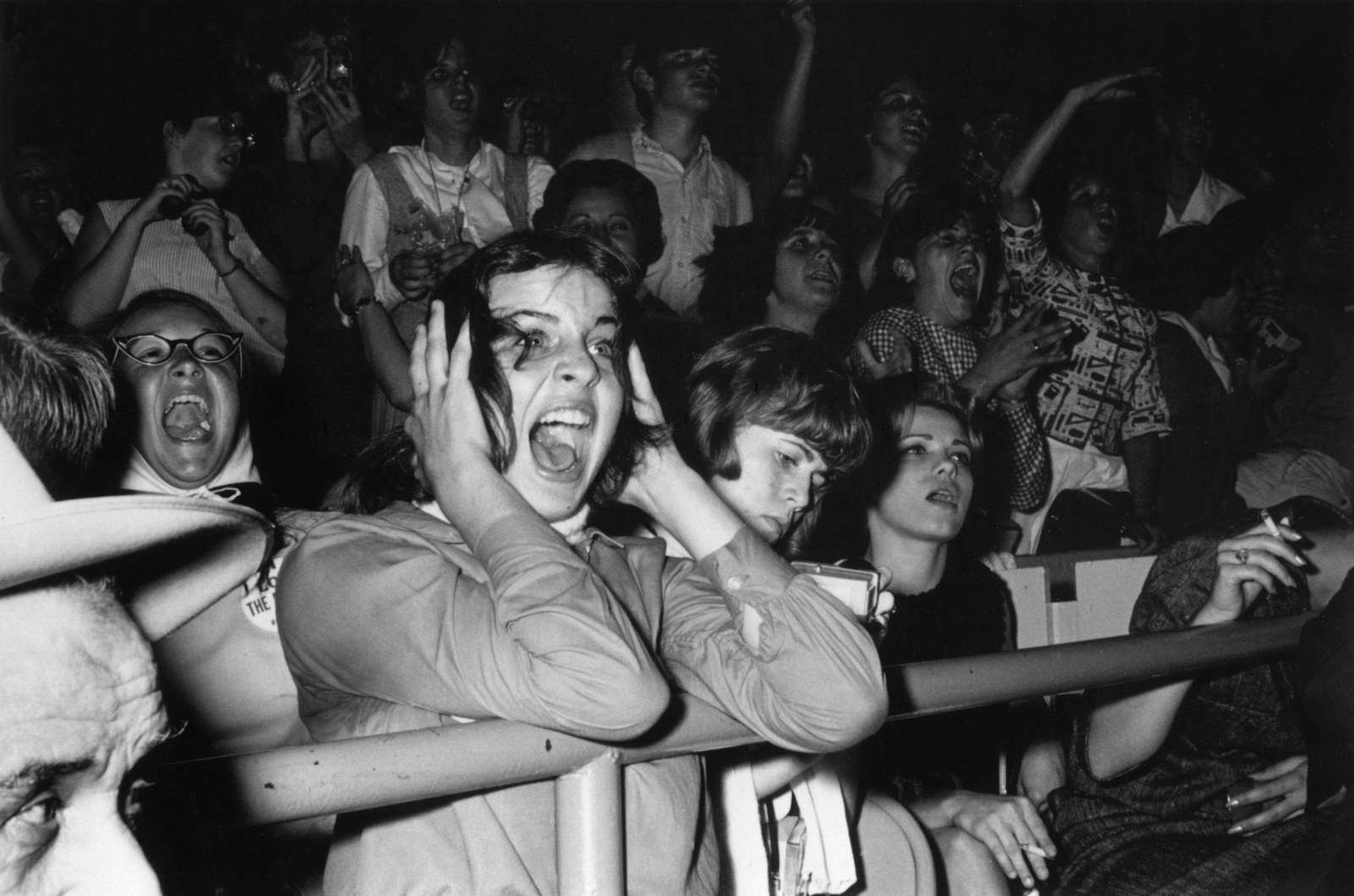 And indeed cults spring around people in the limelight, and especially around entertainers, who exude a strong ethereal force. John recognized the parallels to Hitler rallies and during an appearance in Australia even gave a mocking Nazi salute.
There is good charisma and bad charisma. Which was it? As for dates, they began their first album, "Please Please Me," on February 11, 1963 — a feast day of Lourdes. Later McCartney would pen "Let It Be" with the lyrics, "Mother Mary comes to me" (though he says he was referring to his deceased mother, whose name was Mary). They were "anointed" from somewhere.
"Things used to fall right for us as a band," drummer Ringo Starr later noted. "We couldn't stop it. The gods were on our side." Guitarist George Harrison made similar remarks. They knew the asomatous was at work.
"It was just so out of the dark," Lennon later said of their sudden success, ironically. "That's the truth: it was so out of the dark, we were knocked out."
It is impossible to delineate their success. No other groups were their equal. As many as 200,000 fans showed up for concerts (in Australia). They were an unparalleled cultural phenomenon.
One child guidance expert, Dr. Bernard Seibel, told the Seattle Times, "The hysteria and loss of control go far beyond the impact of the music. Many of those present became frantic, hostile, uncontrolled, screaming, unrecognizable beings. The externals were terrifying. Normally recognizable girls behaved as if possessed by some demonic urge. It had the impact of an unholy bedlam."
Point made. Enough said. There was also good — singing about peace and love. A lot better than the heavy-metallers of our current day! But on the cover of "Sergeant Pepper," among many others, is the occultist Aleister Crowley — the darkest magician of that century. The album "Magical Mystery Tour" depicts the group as magicians.
Did his own lyrics foreshadow his death?
In one, Lennon wrote the words "stupid bloody Tuesday." He would die in 1980 on a Tuesday night. It was also at the Dakota that a horrible, demonic movie, "Rosemary's Baby," was filmed. The Lennon song "Come Together" begins with the refrain, "shoot me" several times. That song also mentions "juju,"  an object or charm thought to have magical power. Both the man who killed Lennon and another who later stabbed George Harrison heard "voices" telling them to do it. We have to be careful what we rub up against. "Fools die for lack of knowledge," says Proverbs. There is the Beatles song, "Fool Upon the Hill."
Good stuff. Bad stuff. Great stuff. Sad stuff.
It was sad, that day at Central Park forty years ago. Through the Mercy of God — despite how much, in his early life, he had defamed Him — did God allow the great musician to send a sign to all the mourners with those flakes of snow? I've always wondered and probably always will.
+