We don't like citing people by name, but how long must we suffer certain celebrities?
That's defined — "celebrity" — as someone who no matter how much one tries to avoid mainstream TV and social media, is still face-front; is always there.
There's that trial, starring an actor who can't talk for more than a minute or two without using the "f-word" or (far worse) God's Name in vain.
The adjective for that is "reprehensible," although it may not be a surprise, for this particular celebrity hangs around another, lesser known one — a "musician" — who constantly promotes the notion of antichrist and reportedly is a practicing Satanist, perhaps even a "priest." He devised the stage name "Marilyn Manson" to include, it seems, the gamut of tortured souls who were famous. Pray for them. This is a man who, in the golden-old days (Tony Dow! Fred McMurray!) would have been arrested for public obscenity. One cannot read the lyrics to his songs without suffering the most vile language conceivable. Apparently, we no longer have profanity laws. Anything goes. Howard Stern has become one of the more reserved of the "shock jocks" and the "f-word" today is what the word "darned" was in the 1960s.
The list is long. Beware too a worldly approach to religion. Even a major movie about a priest begins with questionable scenes and is filled with vulgarities (in the name, one supposes, of artistic relevance ("realism").
The only thing real is the incredible degradation of modern culture across the board. Institutions are crumbling, falling to the wayside. Major politicians (including even "Christian" ones) likewise have adopted the "f-word" and God's Name as exclamatory profanities.
Please don't pretend, ye who do this, ye who use God's Name in vain, to be Christian.
Language is a window into the soul.
So is dress.
And here we come to what one might call "hidden claws."
It seemed enough a (now rather long) while ago when a lawyer in Los Angeles (1995) sat alongside his celebrity-friend's trial for all but decapitating a former wife and a young man visiting her. The lawyer, many speculated, may have helped the football celebrity get rid of damning evidence (for he had picked the former footballer up at the airport and was seen holding a carry-on that then disappeared). Actually, the lawyer looked both shocked and disappointed when the verdict was read (as if secretly hoping for a guilty verdict, despite his very visible support for the star).  He died, did this lawyer-businessman (prayer again) in 2005 but improbably enough, his wife and daughters were soon catapulted into even greater fame. Bigger and richer celebrities than the football hero. Fantastic success as reality-show stars and lurid provocateurs.
Not millions, have they now made; but billions. To capture attention (at which they are genii), one wore daring attire while visiting the Vatican (until forced to don a goth-like jacket).
Get thee hence!
That's enough to outrage a Catholic, but whatever the fatigued metaphor — beyond the bend, over the top — they now have dragged the Virgin Mary's image into their lewd celebrity.
Last week, one daughter was married in the skimpiest of dresses (or costumes), with the Virgin's image tacked onto it. The same was true of her older sister, attending in black dress. A photo below is both upsetting and telling.
Excuse this rare explicitness.
But it's just too much.
It needs to be cast out.
It needs to be prayed against.
This is the image she and her sister wore on their extraordinarily tight, low-cut dresses the day before, between their breasts.

In twenty-two years, we haven't quite gone here. But it has to be named. It has to be cast out. The curse has to be broken.
The Virgin has been dragged here into utter blasphemy; travesty; a situation of total disgrace (think of this word: "dis-Grace). (A candle has the mega-celebrity's face on it.)
"Since their Catholic-inspired wedding, fans have wondered if [the married couple] are Catholic and whether [they] were raised religious," says a news report. "[They] married for a third time on May 22, 2022, at L'Olivetta, a villa owned by Dolce & Gabbana, in Portofino, Italy. The couple held their reception at Castello Brown, a 16th-century castle near their wedding venue. For the wedding, [the bride] wore a white Dolce & Gabbana mini dress, with a cathedral-length veil stitched with the words 'family loyalty respect' and an image of the Virgin Mary at the base. According to Vogue, the veil was based on [the groom's] head tattoos, which also includes an image of the Virgin Mary. In Instagram Story photos shared by [his] daughter, [the couple] were also seen kneeling at the altar of their wedding. According to Brides, it's Catholic tradition at weddings for brides and grooms to 'kneel before the altar to receive their nuptial blessing from the priest.'"
We respect anyone's right or attempt to honor Mary. But was this such an attempt?
Holding hands upon arrival, it did seem like a hidden claw on the scene.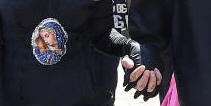 Call it "religious chic."
More accurately, call it defamation.
Most accurately, call it blasphemy and pray for all involved and all who have been corrupted by a culture that has totally strayed.