It was while at prayer in that dark silent chapel of San Damiano in Assisi, a little, old church in need of repair, that Saint Francis heard those words from the large Romanesque rood Cross: "Francis, go and rebuild My Church, which, as you see, is falling down."
Three simple words — "rebuild My Church" — that created enormous effects, for Francis went on, during the 1200s — a time during which laity and priests were suddenly separated, with rituals more formulaic — to found perhaps one of the greatest (if not the greatest) of all religious orders, the Franciscans.
He also devised the first Manger — a powerful symbol of Christ for all people of all nations.
He stands today as one of the very greatest saints.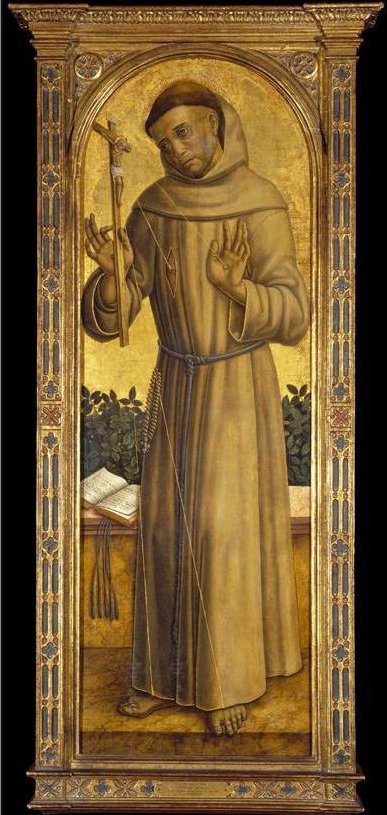 In our time, the Church again is in need of repair. It will never succumb. No forces will destroy it. It may seem that way, but no: never. It is built on a rock and will withstand anything sent its way. No matter what swirls around it, it will always be there. But it needs rebuilding, and we rebuild it through obedience, purity, and devotion.
How the good priests suffer in our time! How hard it is to hear of one more scandal. (Most recently, a bishop who had won a Nobel Prize had to be sanctioned by the Vatican for abusing youths in the 1990s!)
At times, it seems like all is going down the drain.
But it is not, and we were well warned of times such as these.
At LaSalette in France, to the seer Melanie Calvat, in 1846, "The priests, the ministers of my Son, the priests by their wicked lives, by their irreverence and their impiety in the celebration of the Holy Mysteries, by their love of money, their love of honors and pleasures, the priests have become cesspools of impurity.
"Yes, the priests are asking vengeance, and vengeance is hanging over their heads. Woe to the priests and those dedicated to God who by their unfaithfulness and their wicked lives are crucifying my Son again! The sins of those dedicated to God cry out for vengeance, and now vengeance is at their door."
That allegedly was Our Blessed Mother (in a decidedly controversial secret), and it brings to mind (speaking of devotion) a prayer to the Archangel Michael called "Prayer for the Church and Souls" that says of Satan's attacks on the Church, "This wicked serpent, like an unclean torrent, pours into men of depraved minds and corrupt hearts the poison of his malice, the spirit of lying and blasphemy, and the deadly breath of impurity and every form of vice and iniquity. These crafty enemies of mankind have filled to overflowing with gall and wormwood the Church, which is the Bride of the Lamb without spot; they have laid profane hands upon her most sacred treasures."
And so we see that it's not the Church that's on the ropes, that's in bad shape, not the Church itself that will fall into ruin, but those who are wayward and egoists in it.
Let us all kneel before the Crucifix and instead of complaint, instead of divisiveness, hear Jesus tell us likewise: "Rebuild My Church."
[resources: St. Michael Novenas and Prayers and other books of devotion]
+