There it was, in big bold red:
POPE TO CONSECRATE RUSSIA, UKRAINE TO IMMACULATE HEART
That was the headline. The last time we had one so large and pronounced, to do with Fatima, was the year 2000 when, on May 13, ironically our very first day of operation, John Paul II announced that the Third Secret was going to be released.
That was done a month later, on June 26.
Those were bigger headlines than yesterday's because in its press release, the Vatican, which set March 25 for the consecration, stated, in essence, that it already had been done.
"In June 2000, the Holy See revealed the third part of the secret of Fatima," said the official announcement. "At the time, the then-Archbishop Tarcisio Bertone, Secretary of the Congregation for the Doctrine of the Faith, pointed out that Sister Lucia, in a letter of 1989, had personally confirmed that this solemn and universal act of consecration corresponded to what Our Lady wanted: 'Yes, it was done,' wrote the visionary, 'just as Our Lady had asked, on 25 March 1984.'"
That again was from the Vatican.
But if so, if Russia already had been properly consecrated, one could now readily see the need to renew it. Was not fascism in Russia rising again? Was not a new kind of "communism" — or better said, violent tyranny — afoot once more in Europe?
That in and of itself was big news — that the Vatican was confirming what had been reported here for years: Sister Lucia's claims during the 1990s (and apparently even before) that Pope Saint John Paul had satisfied Heaven's stipulations for the consecration in 1984, and that it was responsible for the collapse of Communism in Eastern Europe and the Soviet Union (which included Ukraine).
Those words are worth mulling over.
On October 11, 1993, in a recorded meeting with Cardinal Ricardo Vidal of the Philippines, Sister Lucia had gone further — and in a dramatic way.
Said she, in the Coimbra cloister (in the presence of eight other guests), "The Consecration of 1984 prevented an atomic war that would have occurred in 1985.
"'The Era of Peace' does not refer to a civil peace but rather to a peace we are now living with the end of the spread of the errors of Communist Russia."
An incredible, historic remark — nuclear war — all but totally ignored in Catholic media, as well as the major mainstream press.
Actually, a better translation of the 1917 message was a "period of peace."
But clearly the "period of peace," promised by Mary if a consecration was conducted, had run its course (a "period" is shorter than an "era"), and now Russia was rearing its head once more as the cold-hearted scourge of chastisement.
So it is that we are now faced with one of the great Church dramas in years: a Pope ("bishop in white") standing figuratively in a half-ruined city (see Mariupol, named for Mary) against the forces of death.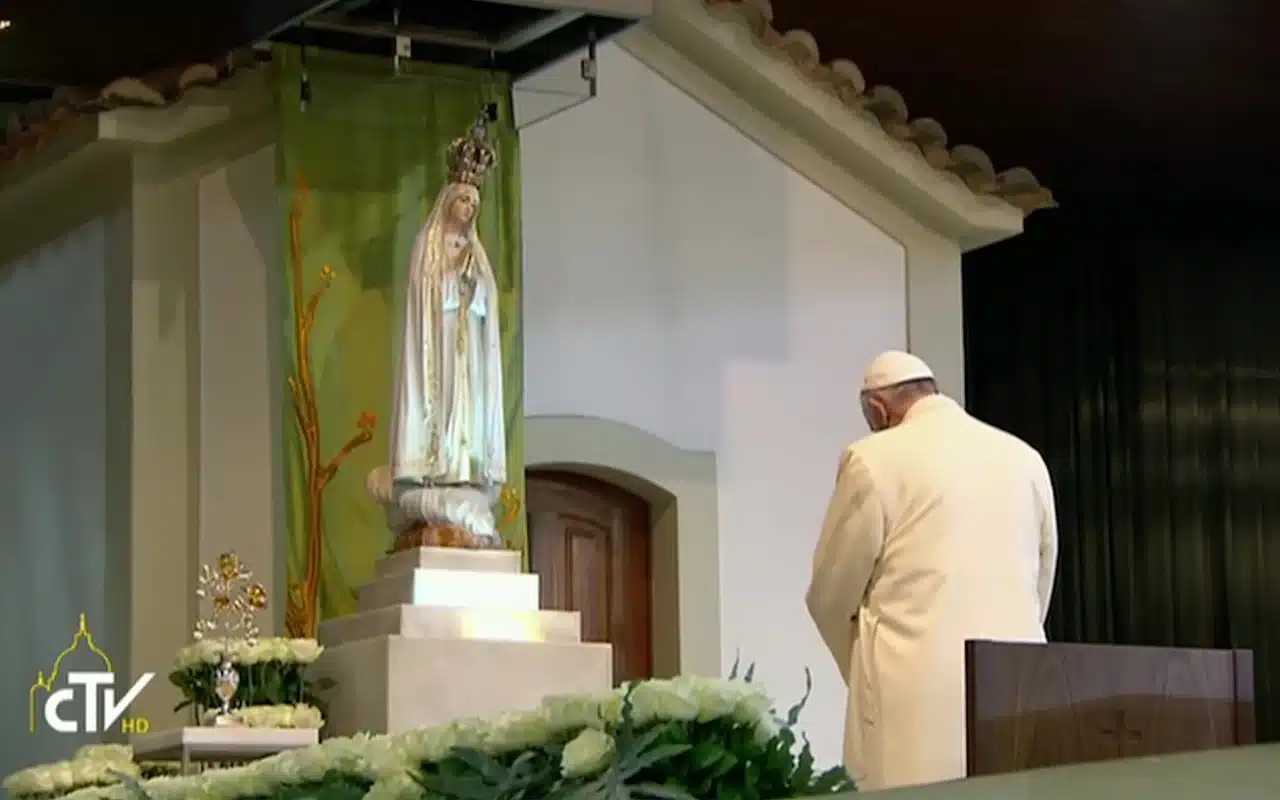 March 25 this year will be like few if any others.
With Our Lady of Fatima, Lech Walesa, and Ronald Reagan (who named evil where it was), Saint Pope John Paul II brought down Communism in Russia. They fell like dominoes: Within several years of the 1984 consecration — which remains a point of contention — Communism fell in Poland (1989), East Germany (1989), Czechoslovakia (1989), Hungary (1988-1990), Romania (1989), Bulgaria (1990), and entirely incredibly, the Soviet Union (1991).
But to repeat, does it not seem now, in the way of an old-school, Soviet-style dictator named Vladimir Putin, to be resurging?
And so isn't it time to conduct consecration again?
Counterintuitively, Pope Francis — a pontiff whom many label liberal and who seemed least likely of any recent Popes to conduct such a solemn consecration (long an issue among traditionalists) — ends up, after attempts at such a consecration by Pius XII, Paul VI, and John Paul II, the one who is conducting what at least promises to be the most public one.
Many don't realize the depth of his devotion to Mary, whose main church in Rome (Mary Major) he visits before and after every trip, praying homage in front of her statue. One must be fair.
He is also the Pope who has all but formally approved and allows official parish pilgrimages, for the first time, to Medjugorje — which John Paul II called the "fulfillment of Fatima."
But there remain and will remain controversies (these are divisive times), and we don't involve ourselves in them. For years we have reported both sides. Will the consecration include all the bishops of the world? Will it hew precisely to the formulation enunciated 105 years ago — a century ago! — at Fatima. Finally, will we have a consecration accepted by all segments of the Church? Will Catholicism join hands in unison? Will another point of contention arise? Will there be questions on consecrating with all the bishops in the world? Or the language in the prayer itself?
Questions linger.
And so now will it be most fascinating to see what effects the March 25, 2022 consecration will have — not just Russia, but also highly Marian Ukraine.
Some military analysts estimate that Russia has just ten days or so to win the current conflict (if a "winner" there is, in such a tragedy). That ten days brings us right up to the date set for the consecration.
Will the war take a final turn toward peace?
As we like to say, going back to the year 2000:
Stay tuned. There's much in the wind.
–MHB
[resources: books on Fatima]