How many know of this? How many have heard of it — aside from local residents?
One speaks here of Charles Grestl, who worked in the knitting mills of Utica (between Albany and Syracuse) and whose wife Lena was struck by cancer in 1947.
Says a website called Christ the King: on April 30 of that year, "following her radium treatments, Mr. Grestl went back to his job as a foreman, and was suddenly compelled to leave the factory, and ended up at Flanagan Road site, where he was stopped 'by boulders, stumps of trees, and old barbed wire.'"
Then there was a voice.
When he turned, Grestl said he saw the Lord."
For discernment.
"Jesus appeared to Charles Grestl on this site, and the appearances continued no less than twelve times," we're told. "In one of Mr. Grestl's apparitions, Jesus appeared on a bench carving beautiful angels out of wood and asked that his requests be made throughout the world.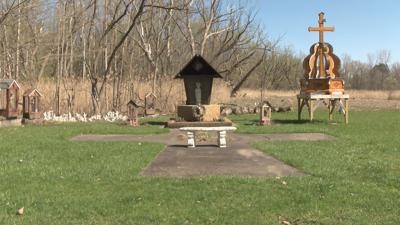 "At the third vision, He requested that a medal be struck containing Christ himself with a laborer, and to have a Scapular made with the same picture on it, and also pamphlets printed with the same picture for worldwide distribution."
Reports the local newspaper, "Grestl described these apparitions to then-Senator James Donovan, Reverend Bishop Walter Foery, of Syracuse, and the late Francis Cardinal Spellman." He also penned a letter about them to Pope John XXIII.
The seventy-fifth anniversary of the apparitions was celebrated Saturday. "It's been said, people just [feel compelled to] stop there," Michael Dziura, who recites the Rosary there, told us. "One lady there today [at the celebration] had a vision of the Blessed Mother. She saw a blue like she has never seen blue look like before."
Mary's veil, he wonders?
In one of Grestl's original visions, Jesus allegedly requested that a "medal be struck with Him as a laborer" and to have a Scapular "made with the same picture on it, pamphlets printed with the same picture for worldwide distribution, and say the Rosary at each devotion after approval of the shrine."
As it turns out, Grestl himself was soon afflicted with cancer, dying before a shrine could be built.
But followers stuck to it, and eventually, a shrine was established there with official Church blessing in 1973.
Who knew!
Who knows how very many such cases are out there.
Who knows all the special graces from the Blessed Virgin this month of hers?
+