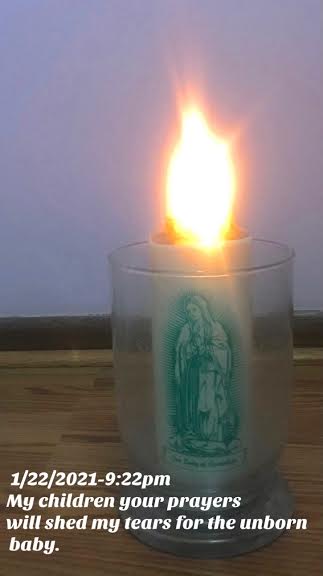 We enjoy many items in our mailbag, which, often as not, tend toward the mystical. 
The photo above was taken, for example, by a viewer from the Chicago area who has a gift for taking anointed photos, often accompanied with a little "word of knowledge." For your discernment.
And this from Lisa Vasquez: 
"Nobody sees this but me. I have stones from St. Michael the Archangel's cave [in Italy]. I carry them with me always. I love them very much. I bless my children with them, morning and night.
"One day I noticed one looked like a face had appeared on it. When I really study my stone, I am shocked to see some of the markings match markings on the Shroud. I was wondering if you agree."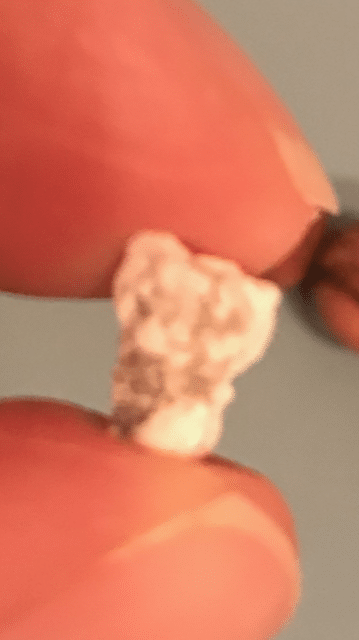 Who knows? Maybe — Padre Pio (who lived nearby) also?
"Also," says Lisa, "a girl at work who is not a practicing Catholic or a practicing anything was pregnant and one of the twins was not doing well in the womb. He was becoming anemic, which is dangerous for twins.
"I offered her the stones to bless her belly and was surprised she took them and very seriously rubbed them all over her stomach for a few minutes. About a week or so later the baby's condition had cleared up and they were born super healthy and didn't even need time in the natal ICU. They were also quite large for twins! Anyway, for some reason, I think the stones healed them."+
Many "hear" His Voice.
"This is Dawn Marie Roeder here in Phoenix," noted another e-mailer. "You asked a while ago for those who might have had experiences or hearing from the Lord to share. 
"Last year I had been taking 'Intro to Spiritual Direction' classes at Avila Institute as I was discerning whether I was called to be a lay spiritual director. I have a solid confessor and a solid spiritual director. I am grateful that the care of my soul is in holy hands.
"In December of 2019,

I began to sense a strong call to homeschool my daughters. Both of my girls, ages 8 and 11, went to private Catholic school here in the diocese. Although I never imagined myself as a homeschool mom, after conversation with my husband, reading on the subject, and prayer, we came to the mutual decision by the end of December that homeschooling would be the best option for our family. The girls were thrilled. It's been one of the most difficult and yet rewarding experiences and I am grateful that there is a strong homeschool community here for support.
"In early January 2020,

upon return from Christmas break, we said our good-byes, leaving on good terms, and pulled our girls from private school.
+
"Not long after, I began having a premonition that I quickly dismissed. I was in the middle of taking spiritual direction classes at Avila Institute with [Catholic writer] Dan Burke and studying St. Ignatius Spiritual Exercises more extensively and thought that I might be imagining things due to the intensity of the work.
"About a week after this first dismissal of the premonition, I had another that was much stronger. This one was more difficult to dismiss, but I rationalized that I was occupied with laying a foundation for our homeschooling routine, while finishing up my last class. I also sensed in the premonition that I was to let my husband know about it. But I did nothing.
"Then a week later,

the premonition came back and so strong I was dumbstruck for a few moments, thinking my heart might implode — almost physically 'paralyzed' in my bedroom as if I was being held by something, gently but firmly. I stilled myself and listened.
"I was told by an interior voice (that I believe to have been the Lord) that He was about to permit the unleashing of something that would be felt as far east as to the west and as far north as to the south, that every corner of the world was going to be impacted by it.
"What 'it' was I did not know,

but I was profoundly moved, by the firmness and authority with which the Lord spoke: that it was not going to be good. I took my husband aside and briefly shared my experience and asked him if we might not order a little more freeze-dried food just to be safe.
"I will share that I did not feel afraid or unsettled by Our Lord's words but [instead] a grand kindness He offered in order that, as the heart of the home, I might be prepared and through continued prayer and fasting, offering my family the strength, peace, and calmness of the Lord within me when things befell mankind.
"And this is exactly

what happened: When Covid-19 took the world by storm in March, I was not surprised, but my dear husband was in a moment of shock and remembrance of my words to him. [He apologized for not taking the word seriously enough and preparing.]
"Thank you for listening. There are not many I feel comfortable disclosing things like this to. There are many who scorn private revelation. Why wouldn't the Lord speak to us more clearly especially now when there seems such confusion in both the Church and the world?"
More visible manifestations?
Well, caution here. A couple years ago, a security camera reportedly caught an unusual formation of light (declared by some to be the Blessed Mother) at a controversial site of apparitions in Jacareí, Brazil. We were just sent this. 
As a Brazilian web source called Apparitions TV had reported: "Since February 7th, 1991, Our Lord Jesus Christ,

Most Holy Mary, Saint Joseph, the Holy Ghost, the Angels, and Saints, have been appearing daily in Jacareí, São Paulo, Brazil, at 6:30 p.m. (Brasília time).
"She introduces Herself as Queen and Messenger of Peace and makes one last call to conversion, through a young man: Marcos Tadeu, who at the beginning of the apparitions was only thirteen years old.
"They are the most intense apparitions in the history of our country, and Most Holy Mary says that they are the last apparitions for Humanity. The Mother of God asked that the Holy Hour of Peace be done every day, at 8 p.m., so that families convert themselves and the world has Peace. She promised Her protection to the families who do it every day. Our Lady says that the Apparitions of Jacareí and of Medjugorje (ex-Yugoslavia) are the continuation and the conclusion of Fatima."
+
But controversy? Alas,
we'd be very careful with this one.
+
Alas, there is that. Said Bishop Dom Nelson Westrupp, president of the regional episcopal conference of bishops, in a formal letter, in 2011, "The purpose of this is to provide information about the activities of young Marcos Thadeu Teixeira (Marquinho). After serious and careful discernment of his writings (visions, inner locutions) our current position is as follows:+
"Although it is evident that Marcos Thadeu has a deep devotion to the Heart of Jesus and Our Lady, the messages which he claims to have received from Jesus and Mary are NOT OF A SUPERNATURAL NATURE. There are several expressions that flatly contradict this possibility by showing that these messages / locutions come from the author's own thoughts and feelings. Theology does not teach: through Jesus to Mary (as taught in the messages of Jacarei), but rather: to Jesus through Mary. These "apparitions" also lack a common plan between Jesus and Mary – the messages are erratic.+
"Some expressions used by these so-called 'apparitions' are not theologically sound. In short, the messages of Marcos Thadeu Teixeira seem to spring from his own heart.+
"Private revelations may be accepted if they have been recognized by the Church, through Her legitimate representatives, our Holy Father the Pope and the Bishops. In the present case of the alleged apparitions at Jacarei, Brazil, NO SUCH RECOGNITION is granted and the messages of Marcos Thadeu Teixeira SHOULD NOT BE considered as legitimate and worthy of faith on the part of the faithful. The apparitions are NOT part of Catholic dogma and creed."
That does that.
[resources: Michael Brown online retreat: Apparitions of Mary, Hidden Past, Future Secrets, Saturday, February 6, 11 a.m. EST]