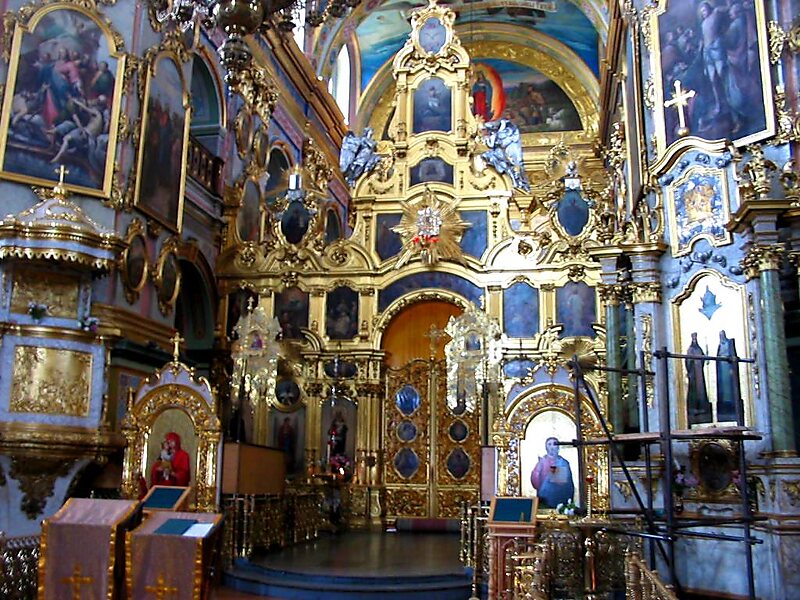 Few realize how many times the Blessed Mother has appeared in Ukraine, and how many assorted miracles have been reported there.
She is considered — is the Virgin — protectress of Ukraine, and is prayed to as part of the formal Ukrainian Catholic Eastern Rite liturgy.
No nation is more Marian.
And no nation has been more persecuted and longsuffering.
In fact, it was way back in 1840 that a miraculous well was damaged by invaders at a village east of Lviv called Hrushiw. There are miraculous icons at places like Pochaiv that date back centuries earlier. The Blessed Mother depicted on the icon there helped to heal Philip, the brother of a prominent, wealthy woman named Hanna Hoyska, from blindness. Later, the Virgin or "Theotokos" of Pochaiv (or Pochayiv) acquired a reputation as a miracle-working icon. The feast day for Pochaiv is marked by Ukrainian Orthodox  communities on August 5 (as distinct from Russian Orthodox, who report to the Kremlin).
It is a place as powerful as it is mysterious.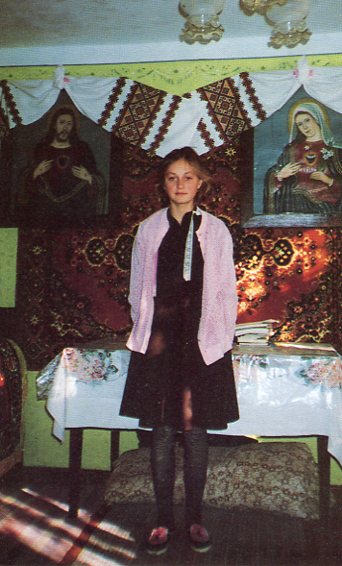 In 1914 — the cusp of World War One — Mary appeared to twenty-two Ukrainian Catholic peasants at Hrushiw, sadly informing them that they faced eighty years of war, famine, and persecution, which certainly came true as Communists led by Russia decimated the nation and caused literally millions to die of starvation.
Christianity was likewise all but obliterated in the nation, which became part of the Soviet Union. Great suffering was endured by Catholics and religious of all stripes, with many executed or imprisoned for decades in the horrid Russian gulags.
On April 26, 1987, as freedom was about to return, the Virgin Mary arrived again in Hrushiw, dressed in black on a day that was the exact one-year anniversary of the nuclear disaster at Chernobyl. Apparitions there were seen by young Maria Kizyn top and below right] but then night after night above the small church by thousands.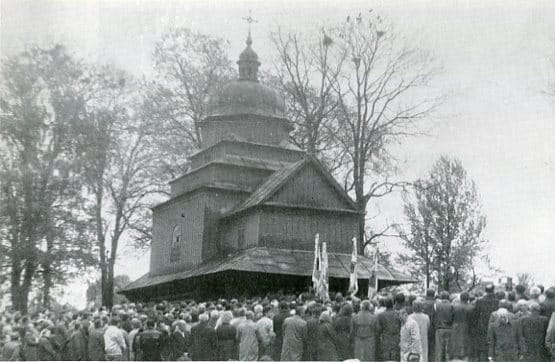 This was very telling, for the name Chernobyl means "wormwood," a bitter black-juice herb that recalls the Book of Revelation, 8:10-11: "The third angel blew his trumpet, and a great star fell from heaven, blazing like a torch, and it fell on a third of the rivers and on the springs of water. The name of the star is Wormwood. A third of the waters became wormwood, and many died from the water, because it was made bitter."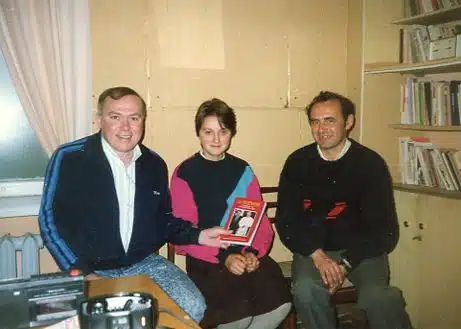 The date of the first Hurshiw apparition thus was a warning of an event that could contaminate the earth's waters (as might occur with radiation. Young seer is above and at right.)
The history rings home in recent days — as Russia once more aggressively moves into Ukraine to subsume it as was done under Soviet Russia.
When Communism fell in the Soviet republics, the Virgin began to appear at churches that had been damaged, destroyed, or turned into warehouses, museums, or worse by the Russians.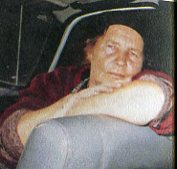 I visited some of the spots: Besides Hrushiw, Hooshiv, Buchach, Pochaiv, Pidkamin, and Zarvanystya (another seer, Chorniji Zenovia, of Zarvanystya, at left).
In some cases the Virgin appeared with Child, a tableaux in a lambent glow, reminding us of Knock, or — as at Zarvaystya and Hrushiw — in a massive glow encompassing the church.
At Buchach, where manifestations of Mary had occurred at the end of both world wars, she was seen with the infant Christ in an illumination above Trinity Orthodox Church. There had been strange pink and blue clouds above Trinity; other phenomena, such as smaller ephemeral images, manifested through town. This is a nation where cars were rare at the time — many still used cart and horse; there were no phones in any home I saw — and livestock were brought into extra rooms during bitter-cold nights.
About five miles south of Buchach, I gaped in wonderment at the miraculous "etching" of a bearded man with a halo that looked like an apostle and materialized on a windowpane on May 21, 1987, immediately after Hrushiw's most intense period.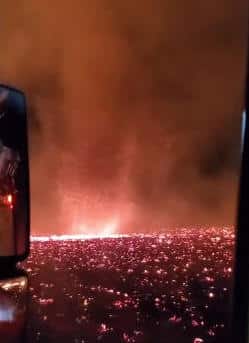 The image near Buchach was not really etched. It was just there. I wondered if Buchach was favored with so many signs because it suffered so many KGB atrocities. The pane of glass, carefully wrapped in soft cloth and hidden under a bed, went from home to home so that Communists would not find and destroy it. It took some convincing on my part (and that of my translator and driver) for them to trust me and let me view it.
In the basement of Pokrowa Catholic Church, where images of Mary had been seen in the 1950s, I saw human skulls unearthed by workmen renovating the church now that Communism had fallen — men who told me that among the remains were the bones of children and two decapitated priests, the skulls now in cardboard boxes next to old dusty statues of the Virgin and Saint Anthony.
The 1950s also were when Mary appeared in a major way at Seredne, another place famous for Marian miracles. The date was December 20, 1953. Actually it took place in a nearby village called Dubovytsya. In a vision during Mass, a woman named Hanya saw the hill of Seredne and a spot where there had been small wells of clear water.
Hanya saw it all vividly, even though she had never visited the hill.
As the vision continued, the Virgin began to speak to the woman. "My daughter, my daughter, my daughter, you see what a fullness of grace I possess. But I have no one to give my graces to, for there are so many daughters and sons that have turned away from me.
"I wanted to obtain a great forgiveness for poor sinners. Disaster is upon you as in the times of Noah.
"Not by flood, but by fire will the destruction come.
"An immense flood of fire shall destroy nations for sinning before God. Since the beginning of the world, there's never been such a fall as there is today. This is the kingdom of Satan."
Sound nuclear?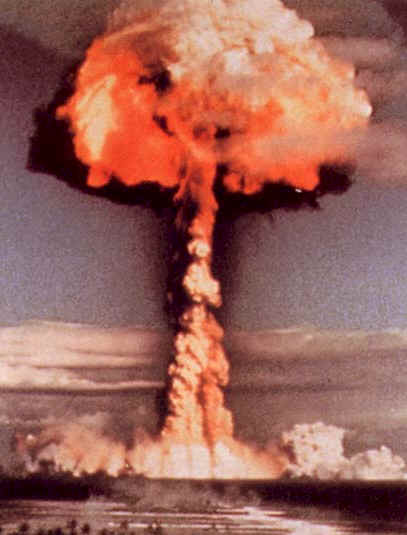 At Hrushiw, Ukrainian mystic Josyp Terelya, with whom I wrote a book, likewise said he heard Mary issue a warning on fire. He asserted that when the apparition looked into the future, she said, "I see fire. The villages are burning. Water is burning. The very air is on fire. Everything is in flames. If people do not convert to Christ, there will be war. There shall be a great conflagration."
Food for thought, as we enter a most precarious time, at the same time that we begin Lent.
–MHB
[resources: video of Michael Brown retreat, The Final Hour, and Witness: to Apparitions and Persecution in the USSR]