There are a number of powerful shrines of the great Archangel Michael.
One is in France, a dramatic island where the tide sweeps in and out, and the shrine is castle-like.
There is a miraculous well where the angel appeared in Mexico, an hour or two from Mexico City, across from a smoking volcano. (Take heed: Wednesday Vesuvius in Italy was acting up.)
There are spots commemorating Michael along what some believe are mystical lines, starting in Ireland and including a spot in England.
But the flagship, and perhaps the most potent of all, is in Italy, on the Gargano, in Apulia, the Sanctuary of Monte Sant'Angelo, not far from the monastery of Saint Padre Pio.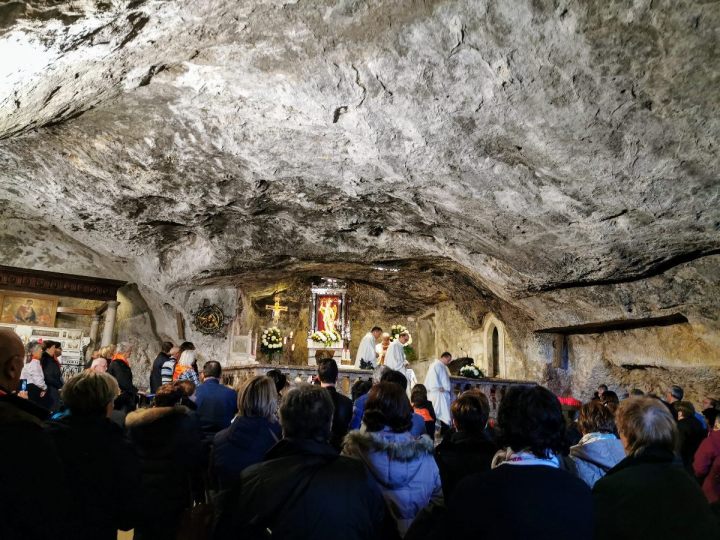 This one is a cave where the archangel appeared at least three times, dating back to the first several centuries after Jesus (and for all we know, earlier), a spot where he turned back the arrow of a wealthy man (or that of a servant)  who sought to slay an errant bull saw his arrow turned back on them in the fifth century — a cave considered a "celestial basilica," the only church in the world consecrated not through human hands but by the archangel himself.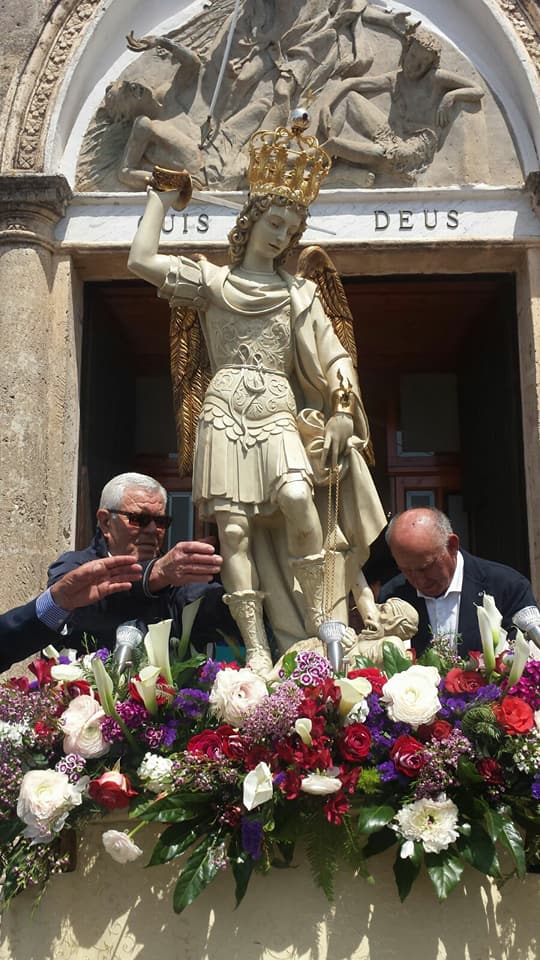 We have been to Mexico and many places.
Perhaps nowhere, no shrine dedicated to him, is more or even as powerful, a cave where deliverances and exorcisms occur spontaneously and where the most famous and authentic and miraculous statue of him is on the altar.
An angel extraordinaire, an angel without angelic superior, an angel surpassed of course by the Trinity but perhaps only by the Trinity, and Mary (Queen and Angels).
In the Talmud he is recognized by Sarah as one of the three "men" entertained by Abraham.
Some propose him as the angel in the "burning bush" (Exodus 3).
Is he not the one who kept Satan from claiming the body of Moses (Jude 1:9)?
Did he not intervene in the Book of Daniel over Persia?
Was he perhaps present at Sodom?
His wings are said to be emerald. No doubt, there are really no earthly colors to depict them.
He is in the seventh Heaven. He is the "victory" of Heaven, believe certain Jews. He is the force of Heaven.
In Persian lore, he is Beshter.
Along with Gabriel, he is the angel most commonly pictured in the works of classic masters.
It was Michael who was identified near the Vatican above a castle now known as Castel San Angelo who was seen by a procession led by Pope Gregory the Great, placing his sword back into his scabbard and ending a Roman chastisement that included — take heed, present world! — plague, food, and invasion.
Dante, Longfellow, and Milton all wrote of him.
In the Dead Sea Scrolls, he is "Prince of Light."
Invoke him this day, September 29, and this entire week.
Invoke him every day of every week.
We can attest to his power (he was part, at least in part, of my own return to the Faith forty years ago; see here).
Here is a litany.
Here are more prayers.
He is one of just four angels mentioned in Scripture (and the most prominent). Today we recognize, thank, and invoke too Gabriel and Raphael — oh, powerful also!
"The Lord rebuke you, Satan," Michael taught us to say (Jude).
Thank you, great one of Heaven. Thank you, great guardian, great defender.
Thank you, mighty one, who in casting away Satan, when he tried to take the Throne of Heaven, said, "Who is like God?"
Some believe his mystery name is Sabbathiel.
Even Muslims hail him, as Mika'il.
Thank you, Michael, who leads the armies of Heaven.
(This prayer book I use as one filled with especially potent prayers.)
–MHB

+