Much in the mailbag.
Firstly:
They talk about "pareidolia" — where one imagines or there is the subconscious contrivance of images in objects, food, clouds. Many are holy figures — when the devout are looking. Others take different forms. Psychologists — not inclined to the supernatural — call it the product of selective imagination — our minds making pictures out of randomness.
But this (a wave on Lake Erie) is a bit much!
"Of the roughly 10,000 photographs Ingersoll, Ontario, resident Cody Evans took of Lake Erie last Saturday during the lake-effect storm, one looked like something conjured up by Poseidon," says a report. "I watched the water, and when I see waves are gonna collide, I'll just take a burst of photos," Evans said, adding his Nikon Z 9 camera can take 20 photos per second." Poseidon?
There are angel stories. 
We received a number of miracle testimonies after a recent article on angelic beings interceding here on earth. For example (from Margie Meagher in Australia):
"I was diagnosed with a malignancy and in a major Sydney hospital for surgery.
"The morning of the operation, a big, dark, very handsome man (I thought Fijian ) came to wheel me to the operating theater. It is important to note that I had not had any medication.
"We were going along a corridor; I had my eyes closed and he said 'are you scared of my driving?' I replied, 'No, I am just asking Jesus to hold my hand," and he said, "Praise God, may I pray with you?"
"He prayed with me
and when we got to the operating room, there was a delay; he stayed with me praying. I knew at that time that I would recover and I had tears of joy.
+
+
"When I went into the operating room
, I had tears. The surgeon said, 'Are you that scared ?' I replied, 'No they are tears of joy.' I am a psychologist — however, I am sure he thought I needed to see one!
+
+
"The next day I asked to see this Fijian-looking employee to thank him."
It was then that it got very mysterious.
"No one had seen him," recounts Margie, "and the hospital had no one employed that met that description."
Praise God indeed.
We also had a story
about a technician/artist who felt one image of the Virgin Mary is closest to the real thing — a true resemblance — because, in striking ways, it matches characteristics of a Christ image formulated by an artistic representation of the Shroud of Turin.  That's here: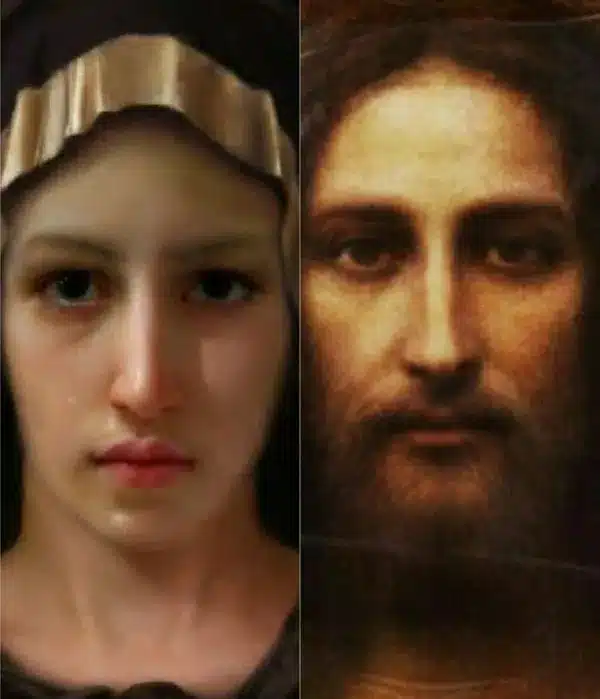 A viewer sent a well-known holy image of Mary (below) he felt closely matched the one (above, the image of Mary derived from an image of Jesus derived from the Shorud!). You decide. That's here:
Is this (
below,
an allegedly miraculous
image in Malta)
really one of the oldest paintings of Mary? Tradition has it that it was done by Luke the Apostle.
A heartfelt note was received from long-time viewer named Leo Wetter:
"I write not for the intention of bringing focus on myself but to share this experience in hopes that the story might help others in their faith journey," he says.
"My wife  Lori and I drove from Long Island to Sarasota Florida last March, hoping to find a house to purchase.
"On March 10, I experienced a bad stroke.
The ambulance took me to Sarasota Memorial Hospital. I could barely move my left arm and left leg. Could not walk and was in a mental fog (could not operate my cell phone and most other cognitive tasks). A few days later the neurosurgeon called Lori and said I needed emergency surgery to remove a blood clot that had formed in the brain. He said if this wasn't done I would most likely not survive.
"I was put on a ventilator and a nasogastric ('N.G.') tube was installed. At my bedside, Lori immediately dropped to her knees and begged God to intervene. She had been through this scene in the late 1990s with her first husband (high school sweetheart and father of their three sons). He was diagnosed with cancer of the neck and passed on October 10, 1999. I lost my first wife (Kerry Ann) on June 5, 1996. Kerry had difficult pregnancies with our first two children. When she was pregnant with our third, the pregnancy was especially difficult.
"Kerry had hyperemesis gravidarum. Her doctor's plan was to administer nutrition and fluids intravenously at home. When she completed her first trimester, they were going to admit her to the hospital for a week or two so she could stabilize.
"At this time
our pre-born son seemed to be fine. Kerry was admitted to Lennox Hill Hospital in Manhattan in early May, 1996. I was juggling my Wall Street job on 6th Ave and going to the hospital to see Kerry daily, then catching trains to get home to Huntington for our five-year-old daughter and two-year-old son.
"Kerry was supposed to be in the hospital only for a few weeks, but her condition did not improve and she slowly grew weaker and weaker. Kerry and I both shared our Catholic faith and went to Medjugorje as part of our honeymoon in 1988. I will always remember one Lennox Hill Doctor telling me… 'If you get rid of the baby, you get rid of the problem.' I immediately understood those words were from the evil one… and I replied NO! (knowing full well that Kerry, would have nothing of the sort!). Kerry eventually had heart failure. On June 4, 1996 and we lost our pre-born son. I named him  Maximximilian Kolbe Wetter.
"Kerry passed the next day.
"Long, long days, weeks, months, and years for Lori Schilt and Leo Wetter. But God had a plan. Years later Lori and I met.  We were married on August 5, 2010. Our Heavenly Father has given us five beautiful grandchildren.
"Anyway, wanted to share that Our Lord, along with Our Lady and the angels and saints, answered Lori's prayers in Sarasota and gave us a miracle. We came home from Florida in early May. Months of intense therapy and countless prayers have set me on the road to recovery. I thank Our Lord, Our Lady, and the angels and saints throughout each and every day. (I also thank you both for all that you do. I have read your blog most every day since the beginning of Spirit Daily. You have inspired me and taught me much concerning our faith.)"
You made our day, Leo!
Writes Arlyn Krug: "I would like to share with you my own experience of the power of small prayers. In Medjugorje Our Blessed Mother told the visionaries that the only reason some souls have gone to hell is that they had no one to pray for them. So I decided to start to say a small prayer for all the people that I see walking along the sidewalk as I drive to Mass every morning.
"I make the Sign of the Cross over the person and say, 'Jesus please bless this person with the gifts and graces that will get them them to Heaven.' I had been doing this for a number of months and one day I thought to myself, 'Hmmm, I wonder if I am making a difference in these people's lives.
"That night while I was sleeping
, the devil appeared to me. He was kneeling over me in bed. He appeared in a human body and was about seven-feet tall. This was NOT a dream.
"His face was contorted in anger and rage.
"He said to me, 'I am going to destroy you.' For some reason, I had no fear of him in spite of how horrible he looked. I pointed a finger right at his face and said, 'I am not afraid of you.'  He pushed my arm down and knocked over the glass of water that I keep next to my bed.
"That's how I knew this was no dream.
"This showed me that even my small prayers are working at saving souls."
+