---
More than two decades ago, Al Halliday of Hartland, Michigan, took his family on a vacation to Grand Canyon National Park.
If you've been there, you know a few things: One is that the size and beauty exceed your expectations. It can't be exaggerated. Another: there are sheer drops and warning signs not to go beyond the fence rails or leave the path (at spots where there are no rails). People die each year doing just that. The Grand Canyon is as dangerous — as daunting — as it is beautiful.
Anyway, Halliday brought along his 14-year-old sister Janie, as well as his own wife and kids, and at one "daunting" lookout point, despite warning signs, his sister foolishly climbed through the railings to get a better photograph of the canyon floor. Taking just a few steps, she started focusing her camera when suddenly her feet slipped from under her and she fell on her back, sliding downward.
A horrifying moment. Slipping with absolutely nothing to grasp onto. On her way to certain death.
Suddenly, however — for no known reason — her body stopped its descent. "There was nothing I did to stop me," the mystified girl recounted.
No longer in descent, Janie lay on her back in nearly a vertical position on the rockface.
Above, where they'd heard her screams, there was sheer panic. Where was she? A ledge prevented that direct downward view. Out of their sight, she was just stuck there on a steep embankment, with the bottom of the canyon a thousand or more feet below.
Every time Janie moved — tried to squirm her way up — she started to slip.
Terrifying was not the word for it.
"I just stayed there and wondered: how am I supposed to get back up?'" she says.
There was absolutely no footing. In fact, when she moved even slightly, she would start descending again.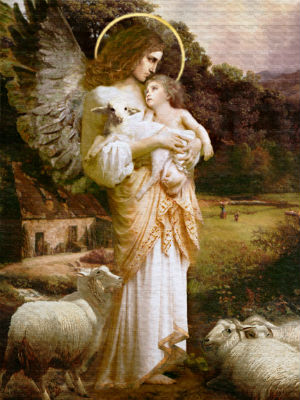 That's when it happened. No one knows how. No one ever will — not while here with the limited vision of earth. But the next thing Janie knew, she was back near the top and able to grab the rail. "I don't remember moving up," she says. "I knew something strange had happened." It was as if an angel had pushed her upward. Ironically, there is a trail at the canyon called Bright Angel.
Strange indeed. A possible explanation materialized when she got home and told her mother what had happened.
At the exact moment she was hanging for her life on the side of a cliff, it turned out, her mom, 1,500 miles away, experienced a powerful premonition. ""I didn't even know where they were but I knew that Janie was going to die," she says.
As quickly as the panic rose in Janie's mother, at that thought, did a sudden and inexplicable — certainly unexpected — feeling of peace come over her. Something supernatural was at work. Both mother and daughter knew that. It hit home yet more when, years later, when Janie's mother traveled to the part of the canyon where her daughter nearly died. "Anyone who looks over that ledge knows there's no way to ever get back to the top," she says, convinced that her daughter had been miraculously rescued. "From that time on I felt safe always."