You know how it is, with most near-death experiences: All we hear are the glorious descriptions of vistas that in the end are actually indescribable. Amazing colors. Tremendous feelings of tranquility. The realization that one is finally home.
That's beyond terrific — and what we have to keep in mind; what we can look forward to; what awaits us if we live with the Love and Heart of Jesus. ("Lord, let me love with Your Love; let me love with the Heart of Christ.")
But hell exists, and there are also in-between zones.
Rare is the near-death experience that includes those.
But of late, we have found some such accounts that do.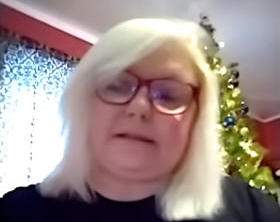 And in this regard is Jennifer Morris, who "succumbed" on January 22, 2017, after spinal fusion surgery and was in a coma for two days, only to return, as so many have, to tell us what she'd seen.
Upon rising from her body on a hospital bed, Jennifer told an interviewer, she found herself "for whatever reason, in this grayish-white vast open area" while below her "was this pitch black — I mean a blackness that you can't even imagine and I could see figures in the blackness but to the left of me were ten family members.+
"In front of me were two larger golden orbs and off to the distance, way off in the distance, I could see a very bright white."+
This certainly sounds like a middle purgatorial region — where souls needing cleansing, love, and balance (pray about that balance and cleansing these final Lenten days) were apparently set right — schooled in true goodness — before their final approach to the Lord.+
It also sounds like descriptions from mystics and seers at places such as Medjugorje in Bosnia-Hercegovina.+
"I think the angels

were wanting me to send a message: that because they're so unhappy [with the conduct of mankind], in the not-too-distant future things can change for us on this planet and it just will not be a good thing, and that we need to start loving and caring for each other, including strangers. They want that love to be in all of us. They want us to be caring for each other. They do not want the state of the world how it is [currently]."
This should ring as an alarm at a time when everyone is at everyone else's throats. 
More problematic (he tends to meld Eastern concepts with his experience), Leth nonetheless bolsters the notion that it isn't all splendor and joy: as Catholics (though not evangelicals) teach, there indeed are levels of purification.+
"Away my consciousness

floated above my body," he recounts of an experience while hospitalized as a boy of eight. "And then I elevated — floated and went through the roof — and was above the hospital. I could see down on the grass and stuff on the top of the roof.
And then from there, I just went up and I saw bright light, and then it ended.
The very next thing I remember is I have like a guardian angel with me, or some sort of entity talking to me, I'm up in Heaven."
There, claims Leth, he appeared before a group of spirits he regards as a "council of elders."
"These are like authority figures," says Leth. "And they're asking me questions about my experience on earth: What do I remember? What did I learn? I got hung up on explaining to them what love was."
Leth also had traversed an area where, as he puts it, "I started noticing that I wasn't alone. And I started seeing like sets of eyes way off in the distance. And it was like they were behind a barrier and it was blacker than black. blacker than where I was.
"I took it like they were

deeper into the darkness than I was. I suddenly realized they could understand my thoughts. While you're in the spirit form, your thoughts are not private. Right? You can sense what they're thinking and they in return, can sense yours.
"Well, being a little kid and being scared anyway, before I went under, I didn't know where it was, I entertained fear. And, to me, those sets of eyes looked like eyes hiding in a deep forest — you know, like animals.
"And they started coming closer and closer.
"And then I got really scared. When they realized I was scared, they attacked. These spirits that came after me, they were angry, mean, bitter, hateful. They just hated me. I must have been at the entrance of hell.
"Then finally somewhere from deep down

inside me I said, 'Please, God, make them stop.' Then they were furious. They told me to shut up. I wouldn't. I just kept calling out for help.
"And then I heard another voice.
"At first, it was way off in the distance. And it kept coming closer and it was calling out to me and somehow I just knew I could trust this other voice. It sounded like it was concerned and it cared."
As it happens, Leth says it was an "angel that glowed with light."
"Those things that attacked me could not tolerate that light. It was like it burned them. So when that angel got close, those spirits just took off. They had to hide back in the depths."
Darkness. Consternation. It is why we pray — and cleanse.
Oh, no reason to fear

if we're right with the Lord! If we pray. Such eyes, we will not see. Dark entities, will not be in the experience. The best avenue is as simple as it is difficult: to love in all circumstances.
And also, we see the wisdom of beseeching the help of Heaven upon passage. What light — and joy — there will be!
Yes, and the "indescribable" vistas.
Wisdom indeed: "pray for us sinners, now and at the hour of our death.
"Amen!"
+