---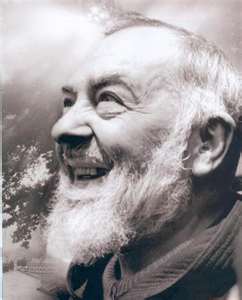 There are countless accounts, in our time, of those who have returned from the "dead" to describe Heaven and other eternal destinations, but few are as amazing as that described in a new book, Near-Death Experiences Examined, by Dr. Patrick Theiller, M.D. — chief medical examiner at the famous shrine of Lourdes.
While much of the book is dedicated to recapping the findings of other researchers in the field of such accounts, and arguing for the credibility and value, including for Catholics, in this work are several gripping testimonies consistent with so many others who report leaving their bodies upon clinical death and finding themselves in the Light of God.
One case, writes the doctor, involved an abbot named Jean Derobert, who, in certified testimony, recalled a crossover into the eternal during a war in Algeria as a member of the French army's health corps.
Adopted by the saint as a "spiritual son," he received a card from Pio one morning in August 1958 that had but two handwritten lines:
"Life is a constant struggle but it leads to the light" (underlined two or three times).
That very night, a commando for the Algerian National Liberation Front attacked their village, killing everyone around — including, apparently, Abbot Derobert, who "immediately had the experience of disembodiment," observing his own body next to those of bloodied, fallen comrades, and then beginning a "curious ascension through a kind of tunnel."
In that "tunnel" were somber faces that emerged from a fog — "faces of people who did not have such a good reputation," noted the religious.
As he went up, faces became more luminous. 
He was astonished to find that he could now walk and also see all around himself without moving his head.
He was also amazed that when his thoughts turned to his parents, who, still living, were back in France, Derobert suddenly found himself in the room they inhabited at his home, his parents asleep as he noted a piece of furniture that had been moved — describing it later to his mother, who asked how he could have known that.
More fascinating still: when he thought of then-Pope Pius XII, he found himself in the Holy Father's room. "We spoke through the exchange of thoughts, since he was very spiritually attuned," testified Abbot Derobert of his alleged encounter with the sleeping Pontiff, apparently via a dream.
The higher he went into the hereafter, the more beautiful and luminous it was, said Derobert, until he found himself wrapped, in a paradise of soft blue light with thousands of other souls, then ascending still further, until he lost all human nature and became a "drop of light."
He claimed to have seen many other "drops of light," recognizing one as Saint Peter and another as the apostle John or Paul.
Derobert testified that he next saw the Blessed Mother "in full radiance and beauty," smiling "ineffably," with Jesus — "looking spectacularly beautiful" — behind her.
"There I felt a total fulfillment of everything I could have ever desired," claimed Derobert, as related by Dr. Theiller, whose book is introduced by his bishop, Most Reverend Marc Aillet of Bayonne. "I experienced perfect happiness."
When — soon — Derobert returned to the physical world — his face in the dirt, the bloody men around him once more — he found his own clothing pierced by bullets and full of blood.
And still later, when he left the army, he went to see Padre Pio at Saint Francis Hall at San Giovanni Rotundo. Pio motioned for the abbot to come over and offered him a "small sign of affection."
Pio then told Derobert these simple words:
"Oh! You really took me for a ride this time!
"But what you saw, it was really beautiful, wasn't it?" 
Halting, Pio said nothing more.
[see previous story]
[resources: Near-Death Experiences, What You Take To Heaven, and The Other Side]
[see also: Michael H. Brown retreats: the Blessed Mother, the afterlife, prophecy: Toronto May 20 and New Jersey June 24]