CWIA Annual Charismatic Conference, Alexandria, VA, Aug 12-14, 703-971-3633

---
Is there currently a war of religions?
The short answer: yes. It is also the long answer.
Whether one parses terms like "religious war," it can be said with great confidence that there's an ongoing global conflict — more acute by the month (and sometimes the week) — between those who believe in one True God and those who believe in false gods, or no God at all.
The latter are the secularists who in the West are beginning to actively persecute Christians. They have man-made gods. They want no Creator. (The same for materialists, a category that overlaps others.)
In between are the false gods of the New Age; of Eastern religions; and — if you are with those who believe that Allah is different than the Christian God — of Islam.
Are Muslims — like the humanists, like the secularists, like the occultists (include here the sudden rise of Satanism) — at war with Christianity?
Whether or not Allah equates to Christianity's "God the Father" (we want that to be the case, though we are not sure) — and though we are without question called by the Church, as well as Our Blessed Mother, to find common ground with other religions, including Islam — it is also good to have balance and to cite the truth where one sees the truth (which sets one free) and the facts line up to tell us that something in the fabric of Islam — in its foundation — seeks to erase Christianity and that too many within its ranks are set on just that, with quiet support from others.
Simple facts.
Simple truths.
It is not a time to candy-varnish things.
For we approach an emergency.
Let us find common ground with Muslims in the service of love (they are children of God, often devout ones), but it is also high time to tell Muslims and their "Sharia law" to back off.
Those who belong to their religion have killed thousands of Christians in the last several years and are wreaking terror from France to Nigeria to the Philippines to Orlando to London.
To ignore this is to enable it.
It is also to ignore history.
For centuries, starting in the seventh century — 1,400 years ago — Islamic forces have fought on European soil and at one point conquered all of Spain and much of France, fighting on the outskirts of Rome itself. 
There are numerous apparitions of Mary that occurred during or after such persecution, in consolation to persecuted Catholics, in coming to their aid. In fact, Muslims historically have reached as far north as Grenoble in France (near the apparition site of LaSalette, meaning both that place as well as Lourdes were under duress) and have threatened Christian territories in Czechoslovakia and Poland (leading many Christians to convert to Judaism, which Muslims at that point were not at war with). For centuries, Christians had to bury or otherwise hide Crucifixes and statues of Mary across large swaths of southern Europe.  
So is there and has there been a religious war?
There has been a religious war, sometimes quiet, sometimes simmering, sometimes frothing over, for fourteen centuries. Steam comes out of the kettle once more.
Simple truth.
Speaking aboard Shepherd One on his way to Rome earlier this week, after a five-day trip to Poland, Pope Francis said: "I think it is not right to identify Islam with violence. It is not right and it is not true. I believe that in every religion there is always a little fundamentalist group."
And there is truth to that (we will not quibble with the Supreme Pontiff).
But we are concerned that it is more than a "little fundamentalist group."
Palestinian terrorists have terrorized Israel for decades, and there have been leaders in the Middle East like Gaddafi and Arafat and Ayatollah Khomeini (and Saddam Hussein); there have been Hezbollah and Hamas; there is Al Qaeda and now ISIS and Boko Haram. Surveys show, disconcertingly, that many mainstream Muslims favor not just Sharia law but tacitly support conquest of those who are not Muslim. 
Christians have not responded in kind. There are no Christian or Jewish terrorists car-bombing Muslim communities, nor slashing the throats of imams; there have been no Christian hijackings, or kidnappings; Christians have not beheaded those who read the Koran. Thus, the problem is not with Christianity.
It never was. 
"The Holy Father acknowledged that there are violent Catholics, too," trumpets the media. "'I don't like to talk about Islamic violence because every day, when I look at the papers I see violence here in Italy—someone killing his girlfriend, someone killing his mother-in-law. These are baptized Catholics.'"
But with all due respect: one must differentiate between criminals and terrorists. We know what the Pope is getting at, and it's a good point, perhaps hastily said.
For Christians have never attempted to take over the entirety of Islamic territories in an effort to eradicate a religion. The Crusades were to rescue Christianity. Someone killing a mother-in-law is not a religious terrorist.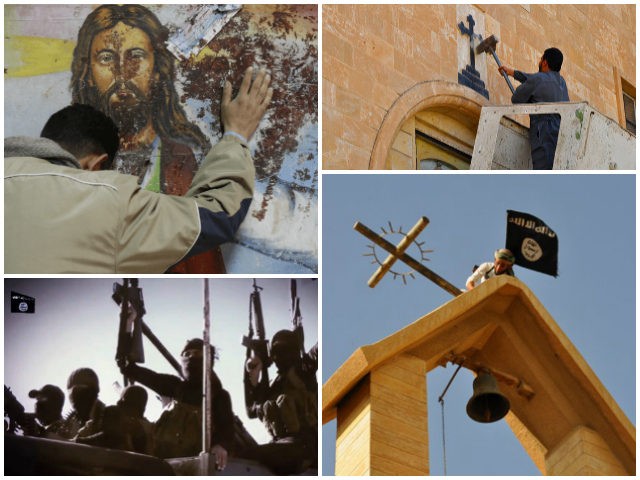 Thus, the need currently is not to lecture Christians on peace and conciliation — since Christians are not the aggressors but the victims; the ones being killed; savaged — but to lecture Muslims. They need the discourse — and very stern rebuke.
Otherwise, we are enablers, we simply embolden their radicals. And enabling radical Muslims — of which there are many — will cost yet more Christians lives like that of the 85-year-old priest in France who last week was all but beheaded.
Sometimes, it seems they are using immigration as a modern form of invasion.
Just this week, we received a call from a viewer in the Midwest who was distraught and desperate for help because hostile Muslim neighbors are stockpiling crates in their backyard, with who knows what in them. Elsewhere — for example, in Greece, this week (hearkening back to the Middle Ages, when Muslims fought in Crete) — crates hoarded by Islamic "immigrants" were confiscated by police who found them filled with arms.
Are Muslims setting the stage here in the U.S. for "jihad"? 
Astonishingly, there are news accounts like this: "A mob of up to 30 young Somali men paraded through one of Minneapolis' more upscale neighborhoods last week, yelling disparaging comments and threats against homeowners. A female resident of the neighborhood, obviously shaken in a TV interview, related how she was screamed at by a Somali man who threatened to kidnap and rape her. 'They were screaming at the house that they were going to kidnap you and they were going to rape you," one Minneapolis resident told KSTP TV. 'It was a very traumatizing experience.'"
In another case a Christian woman (in the U.S.) was not served by a Muslim store clerk because of the Cross around her neck!
This is America?
This is just today: "LONDON (AP) — A Norwegian teenager of Somali origin is suspected of going on a knife rampage through London's tourist hub of Russell Square, killing an American woman and injuring five other people, police said Thursday."
And this: "Police are hunting for a Moroccan terrorist who attacked a Catholic priest at a cafe in Spain after warning him 'You should be afraid of me, I'm an Arab.' The terrorist, thought be aged around 35, tried to grab his victim's Crucifix around his neck before threatening to kill him after insulting him." Sockdolager after sockdolager of terror.
We are called to love — no question — but we are not required by Christ to wear a target on our backs. 
Good people? There are saintly Muslims. Many have a religious discipline, a dedication, that Christians could emulate.
Those who seek to simply come to the U.S. and live peaceably within the framework of their own religion without forcing it on others: no problem. There never was.
But an unpleasant fact: in polling, too many Muslims support Sharia law and tacitly endorse the conquest of Christianity. Simple truth.
Thousands of Christians have died at the hands of radical Muslims and Hindus in the past ten years. Thousands. To repeat. [At left, where ISIS is now]
Show us the Catholic terrorist.
Show us the doctrinaire Christians who, as in Mosul, Iraq, have detonated a hundred churches, even a 1,400-year-old monastery (Mosul is the site of ancient Nineveh). Show us where Christians have ever done what has been done in Syria.
How much of the above can we attribute to hereditary abnormalities? Generational "curse"? How much to simple human (or inhuman) misguidance and evil?
Honesty in such matters is a critical start to alleviating intractable issues, for the truth sets us free, although the truth is also not always (these days, not usually) politically correct.
Love, always — but do not enable evil.
[An abbreviated timeline of just the low Middle Ages:
627: Meccan leader Abu Sufyan (c. 567 – c. 655) laid siege to Muhammad's forces in Medina during the battle of the Trench. Even with 10,000 men he was unsuccessful for the 15 days he was there. Muhammad suspected the Banu Quraiza Jews of helping the Meccans and had all the men killed.
715: By this year just about all of Spain is in Muslim hands.
725: Muslim forces occupied Nimes, France.
730: Muslim forces occupy the French cities of Narbonne and Avignon.
813: Muslims attack the Civi Vecchia near Rome.
846: Muslim raiders sail a fleet of ships from Africa up the Tiber river and attack outlying areas around Ostia and Rome. Some manage to enter Rome and damage the churches of St. Peter and St. Paul. Not until Pope Leo IV promises a yearly tribute of 25,000 silver coins do the raiders leave. The Leonine Wall is built in order to fend off further attacks such as this.
870: After a month-long siege, the Sicilian city of Syracuse is captured by Muslim invaders.
939: Madrid is recaptured from Muslim forces.
965: Grenoble is recaptured from the Muslims.
994: The monastery of Monte Cassino is destroyed a second time by Arabs.
July 03, 997: Under the leadership of Almanzor, Muslim forces march out of the city of Cordova and head north to capture Christian lands.
August 11, 997: Muslim forces under Almanzor arrive at the city of Compostela. The city had been evacuated and Almanzor burns it to the ground.
998: Venice conquers the Adriatic port of Zara.
c. 1000: Chinese perfect the production and use of gunpowder.
1000: The Seljuk Turkish Empire is founded by an Oghuz Turkish bey (chieftain) named Seljuk. Originally from the steppe country around the Caspian Sea, the Seljuks are the ancestors of the Western Turks, present-day inhabitants of Turkey, Turkmenistan, Uzbekistan and Azerbaijan.
August 08, 1002: Death of Al-Mansur Ibn Abi Aamir, ruler of Al-Andalus, on the way back from raiding the Rioja region.
1004: Arab raiders sack the Italian city of Pisa.
1007: Birth of Isaac I Comnenus, Byzantine emperor. Founder of the dynasty of the Comneni, Isaac's government reforms may have helped the Byzantine Empire last longer.
1009: Caliph Al-Hakim bi-Amr Allah, founder of the Druze sect and sixth Fatimid Caliph in Egypt, orders the Holy Sepulcher and all Christian buildings in Jerusalem be destroyed. In Europe a rumor develops that a "Prince of Babylon" had ordered the destruction of the Holy Sepulcher at the instigation of the Jews. Attacks on Jewish communities in cities like Rouen, Orelans, and Mainz ensue and this rumor helps lay the basis for massacres of Jewish communities by Crusaders marching to the Holy Land.
1009: Sulaimann, grandson of Abd al-Rahman III, returns over 200 captured fortresses to the Castilians in return for massive shipments of food for his army.
1012: Caliph Al-Hakim bi-Amr Allah, founder of the Druze sect and sixth Fatimid Caliph in Egypt, orders the destruction of all Christian and Jewish houses of worship in his lands.
1012: Berber forces capture Cordova and order that half the population be executed.
1013: Jews are expelled from the Umayyad Caliphate of Cordova, then ruled by Sulaimann.
1015: Arab Muslim forces conquer Sardinia.
[Noted one critic of Islam, to give us this view: "Religion is behind the violence and jihad we're seeing in Europe, the Middle East, Asia, and here in this country. It's a religion that calls for the extermination of 'infidels' outside their faith, specifically Jews and Christians. It's a religion that calls on its soldiers to shout 'Allahu Akbar' ('God is Great' in Arabic) as they behead, rape, and murder in the name of Islam. Radical Islamists are following the teachings of the Quran. We should call it what it is."]
[Christian children reveal horror of radical Muslims]
[From: Islamic terror on American soil:
| Date | Country | City | Killed | Injured | Description |
| --- | --- | --- | --- | --- | --- |
| 1972.04.14 | USA | New York, NY | 1 | 3 | Ten members of a local mosque phone in a false alarm and then ambush responding officers, killing one. |
| 1973.01.19 | USA | Brooklyn, NY | 1 | 1 | Muslim extremists rob a sporting goods store for weapons, gunning down a police officer who responds to the alarm. |
| 1973.07.01 | USA | Bethesda, MD | 1 | 0 | An Israeli diplomat is gunned down in his driveway by Palestinian terrorists. |
| 1973.07.18 | USA | Washington, DC | 8 | 2 | Nation of Islam members shoot seven members of a family to death in cold blood, including four children. A defendant in the case is later murdered in prison on orders from Elijah Muhammad. |
| 1973.10.19 | USA | Oakland, CA | 1 | 1 | Nation of Islam terrorists kidnap a couple and nearly decapitate the man, while raping and leaving the woman for dead. |
| 1973.10.29 | USA | Berkeley, CA | 1 | 0 | A woman is shot repeatedly in the face by Nation of Islam terrorists. |
| 1973.11.25 | USA | Oakland, CA | 1 | 0 | A grocer is killed in his store by Nation of Islam terrorists. |
| 1973.12.11 | USA | Oakland, CA | 1 | 0 | A man is killed by Nation of Islam terrorists while using a phone booth. |
| 1973.12.13 | USA | Oakland, CA | 1 | 0 | A woman is shot to death on the sidewalk by Nation of Islam terrorists. |
| 1973.12.20 | USA | Oakland, CA | 1 | 0 | Nation of Islam terrorists gun down an 81-year-old janitor. |
| 1973.12.22 | USA | Oakland, CA | 2 | 0 | Nation of Islam terrorist kills two people in separate attacks on the same day. |
| 1973.12.24 | USA | Oakland, CA | 1 | 0 | A man is kidnapped, tortured and decapitated by Nation of Islam terrorists. |
| 1974.01.24 | USA | Oakland, CA | 4 | 1 | Five vicious shooting attacks by Nation of Islam terrorists leave three people dead and one paralyzed for life. Three of the victims were women. |
| 1974.04.01 | USA | Oakland, CA | 1 | 1 | A Nation of Islam terrorist shoots at two Salvation Army members, killing a man and injuring a woman. |
| 1974.04.16 | USA | Ingleside, CA | 1 | 0 | A man is killed while helping a friend move by Nation of Islam terrorists. |
| 1977.03.09 | USA | Washington, DC | 1 | 1 | Hanifi Muslims storm three buildings including a B'nai B'rith to hold 134 people hostage. At least two innocents were shot and one died. |
| 1980.07.22 | USA | Bethesda, MD | 1 | 0 | A political dissident is shot and killed in front of his home by an Iranian agent who was an American convert to Islam. |
| 1980.08.31 | USA | Savou, IL | 2 | 0 | An Iranian student guns down his next-door neighbors, a husband and wife. |
| 1989.11.06 | USA | St. Louis, MO | 1 | 0 | A 17-year-old girl is stabbed to death by her parents for bringing 'dishonor' to their family by dating an 'infidel' African-American. |
| 1990.01.31 | USA | Tuscon, AZ | 1 | 0 | A Sunni cleric is assassinated in front of a Tuscon mosque after declaring that two verses of the Qur'an were invalid. |
| 1990.11.05 | USA | New York City, NY | 1 | 0 | An Israeli rabbi is shot to death by a Muslim attacker at a hotel. |
| 1993.01.25 | USA | Langley, VA | 2 | 3 | A Pakistani with Mujahideen ties guns down two CIA agents outside of the headquarters. |
| 1993.02.26 | USA | New York, NY | 6 | 1040 | Islamic terrorists detonate a massive truck bomb under the World Trade Center, killing six people and injuring over 1,000 in an effort to collapse the towers. |
| 1994.03.01 | USA | Brooklyn, NY | 1 | 0 | A Muslim gunman targets a van packed with Jewish boys, killing a 16-year-old. |
| 1997.03.23 | USA | New York, NY | 1 | 6 | A Palestinian leaves an anti-Jewish suicide note behind and travels to the top of the Empire State building where he shoot seven people in a Fedayeen attack. |
| 1997.04.03 | USA | Lompoc, CA | 1 | 0 | A prison guard is stabbed to death by a radical Muslim. |
| 2000.03.17 | USA | Atlanta, GA | 1 | 1 | A local imam and Muslim spiritual leader guns down a deputy sheriff and injures his partner. |
| 2001.09.11 | USA | New York, NY | 2752 | 251 | Islamic hijackers steer two planes packed with fuel and passengers into the World Trade Center, killing hundreds on impact and eventually killing thousands when the towers collapsed. At least 200 are seriously injured. |
| 2001.09.11 | USA | Washington, DC | 184 | 53 | Nearly 200 people are killed when Islamic hijackers steer a plane full of people into the Pentagon. |
| 2001.09.11 | USA | Shanksville, PA | 40 | 0 | Forty passengers are killed after Islamic radicals hijack the plane in an attempt to steer it into the U.S. Capitol building. |
| 2002.03.19 | USA | Tuscon, AZ | 1 | 0 | A 60-year-old man is gunned down by Muslim snipers on a golf course. |
| 2002.05.27 | USA | Denton, TX | 1 | 0 | Muslim snipers kill a man as he works in his yard. |
| 2002.07.04 | USA | Los Angeles, CA | 2 | 0 | Muslim man pulls out a gun at the counter of an Israeli airline and kills two people. |
| 2002.09.21 | USA | Atlanta, GA | 1 | 0 | Muslim terrorists gun down an employee at a liquor store. |
| 2002.09.21 | USA | Montgomery, AL | 1 | 1 | Muslim snipers shoot two women, killing one. |
| 2002.09.23 | USA | Baton Rouge, LA | 1 | 0 | A Korean mother is shot in the back by Muslim snipers. |
| 2002.10.02 | USA | Wheaton, MD | 1 | 0 | Muslim snipers gun down a program analyst in a store parking lot. |
| 2002.10.03 | USA | Montgomery County, MD | 5 | 0 | Muslim snipers kill three men and two women in separate attacks over a 15-hour period. |
| 2002.10.09 | USA | Manassas, VA | 1 | 1 | A man is killed by Muslim snipers while pumping gas two days after a 13-year-old is wounded by the same team. |
| 2002.10.11 | USA | Fredericksburg, VA | 1 | 0 | Another man is killed by Muslim snipers while pumping gas. |
| 2002.10.14 | USA | Arlington, VA | 1 | 0 | A woman is killed by Muslim snipers in a Home Depot parking lot. |
| 2002.10.22 | USA | Aspen Hill, MD | 1 | 0 | A bus driver is killed by Muslim snipers. |
| 2003.08.06 | USA | Houston, TX | 1 | 0 | After undergoing a 'religious revival', a Saudi college student slashes the throat of a Jewish student with a 4″ butterfly knife, nearly decapitating the young man. |
| 2004.04.15 | USA | Scottsville, NY | 1 | 2 | In an honor killing, a Muslim father kills his wife and attacks his two daughters with a knife and hammer because he feared that they had been sexually molested. |
| 2006.06.16 | USA | Baltimore, MD | 1 | 0 | A 62-year-old Jewish moviegoer is shot to death by a Muslim medical student in an unprovoked terror attack. |
| 2006.06.25 | USA | Denver, CO | 1 | 5 | Saying that it was 'Allah's choice', a Muslim shoots four of his co-workers and a police officer. |
| 2006.07.28 | USA | Seattle, WA | 1 | 5 | An 'angry' Muslim-American uses a young girl as hostage to enter a local Jewish center, where he shoots six women, one of whom dies. |
| 2008.01.01 | USA | Irving, TX | 2 | 0 | A Muslim immigrant shoots his two daughters to death on concerns about their 'Western' lifestyle. |
| 2008.07.06 | USA | Jonesboro, GA | 1 | 0 | A devout Muslim strangles his 25-year-old daughter in an honor killing. |
| 2009.02.12 | USA | Buffalo, NY | 1 | 0 | The founder of a Muslim TV station beheads his wife in the hallway for seeking a divorce. |
| 2009.04.12 | USA | Phoenix, AZ | 2 | 0 | A man shoots his brother-in-law and another man to death after finding out that they visited a strip club, in contradiction to Islamic values. |
| 2009.06.01 | USA | Little Rock, AR | 1 | 1 | A Muslim shoots a local soldier to death inside a recruiting center explicitly in the name of Allah. |
| 2009.11.02 | USA | Glendale, AZ | 1 | 1 | A woman dies from injuries suffered when her father runs her down with a car for being too 'Westernized.' (10-20-09) |
| 2009.11.05 | USA | Ft. Hood, TX | 13 | 31 | A Muslim psychiatrist guns down thirteen unarmed soldiers while yelling praises to Allah. |
| 2009.12.04 | USA | Binghamton, NY | 1 | 0 | A non-Muslim Islamic studies professor is stabbed to death by a Muslim grad student in revenge for 'persecuted' Muslims. |
| 2010.04.14 | USA | Marquette Park, IL | 5 | 2 | After quarrelling with his wife over Islamic dress, a Muslim convert shoots his family members to 'take them back to Allah' and out of the 'world of sinners'. |
| 2011.04.30 | USA | Warren, MI | 1 | 0 | A 20-year-old woman is shot in the head by her stepfather for not adhering to Islamic practices. |
| 2011.09.11 | USA | Waltham, MA | 3 | 0 | Three Jewish men have their throats slashed by Muslim terrorists. |
| 2012.01.15 | USA | Houston, TX | 1 | 0 | A 30-year-old Christian convert is shot to death by a devout Muslim for helping to convert his daughter. |
| 2012.11.12 | USA | Houston, TX | 1 | 0 | A 28-year-old American man is shot to death by a conservative Muslim over an alleged role in converting a woman to Christianity. |
| 2013.02.07 | USA | Buena Vista, NJ | 2 | 0 | A Muslim targets and beheads two Christian Coptic immigrants. |
| 2013.03.24 | USA | Ashtabula, OH | 1 | 0 | A Muslim convert walks into a church service with a Quran and guns down his Christian father while praising Allah. |
| 2013.04.15 | USA | Boston, MA | 3 | 264 | Foreign-born Muslims describing themselves as 'very religious' detonate two bombs packed with ball bearings at the Boston Marathon, killing three people and causing several more to lose limbs. |
| 2013.04.19 | USA | Boston, MA | 1 | 1 | Jihadists gun down a university police officer sitting in his car. |
| 2013.08.04 | USA | Richmond, CA | 1 | 0 | A convert "on a mission from Allah" stabs a store clerk to death. |
| 2014.03.06 | USA | Port Bolivar, TX | 2 | 0 | A Muslim man shoots his lesbian daughter and her lover to death and leaves a copy of the Quran open to a page condemning homosexuality. |
| 2014.04.27 | USA | Skyway, WA | 1 | 0 | A 30-year-old man is murdered by a Muslim fanatic. |
| 2014.06.01 | USA | Seattle, WA | 2 | 0 | Two homosexuals are murdered by an Islamic extremist. |
| 2014.06.25 | USA | West Orange, NJ | 1 | 0 | A 19-year-old college student is shot to death 'in revenge' for Muslim deaths overseas. |
| 2014.09.25 | USA | Moore, OK | 1 | 1 | A Sharia advocate beheads a woman after calling for Islamic terror and posting an Islamist beheading photo. |
| 2014.12.18 | USA | Morganton, NC | 1 | 0 | A 74-year-old man is shot several times in the head by a 'radicalized' ISIS supporter. |
| 2015.07.16 | USA | Chattanooga, TN | 5 | 2 | A 'devout Muslim' stages a suicide attack on a recruiting center at a strip mall and a naval center which leaves five dead. |
| 2015.12.02 | USA | San Bernardino, CA | 14 | 17 | A 'very religious' Muslim shoots up a Christmas party with his wife, leaving fourteen dead. |
| 2016.06.13 | USA | Orlando, FL | 49 | 53 | An Islamic extremist massacres forty-nine people at a gay nightclub. |