From Associated Press:
CARTAGENA, Colombia (AP) — Pope Francis wrapped up his Colombia trip with a deeply personal final day Sunday honoring St. Peter Claver, a fellow Jesuit who ministered to hundreds of thousands of African slaves who arrived in the port of Cartagena to be sold during Spanish colonial times.
Francis' visit to Cartagena got off to a rocky start, however, when he banged his head on his popemobile when it stopped short amid swarms of well-wishers. Francis, who only had a hip-high bar to hold onto, lost his balance and suffered a bruised, black left eye and a cut on his eyebrow that dripped blood onto his white cassock.
The cut was quickly bandaged with a butterfly patch and Francis carried on without incident with his program. Devotees reacted to the wound with a mix of amazement and concern.
[Return to www.spiritdaily.com]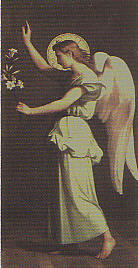 Pray always for purity and love
+++