From France 24:
Thousands of Polish Catholics formed human chains on the country's borders Saturday, begging God "to save Poland and the world" in an event many viewed as a spiritual weapon against the "Islamisation" of Europe.
Reciting "Rosary to the Borders", they called to be protected from the dangers facing them. The episcopate insisted that it was a purely religious initiative.
The goal was to have as many prayer points as possible along Poland's 3,511-kilometre (2,200-mile) border with Germany, the Czech Republic, Slovakia, Ukraine, Belarus, Lithuania, Russia and the Baltic Sea.
From The New York Times:
The event, "Rosary at the Borders," was sponsored in part by several state-owned companies and was timed to coincide with the Feast of Our Lady of the Rosary. It also commemorated the 1571 naval Battle of Lepanto between Christian fighters, under orders from the Pope, and the Ottoman Empire.
Organizers noted that in the battle, "the Catholic fleet defeated the much larger Muslim fleet, saving Europe from Islam."
[Return to www.spiritdaily.com]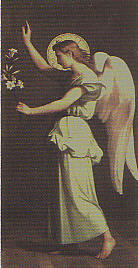 Pray always for purity and love
+++