In a Facebook post written in Kerala's native language, Malayalam, Jijo Kurian pointed out that the popular image of St. Alphonsa, the first Catholic saint of Indian origin, is a world away from what she looked like in real life.
"According to the norms of sainthood, she has to look fair and beautiful. But here is how she actually looked in history and how she has been popularly imagined," Kurian says alongside a rare original black-and-white photograph of St Alphonsa and a calender-art picture of the same person. St. Alphonsa, born Anna Muttathupadathu, made history when she was canonized by the Catholic church in 2008. Born in Changanacherry, a small town in Kerala, in 1910, a young Anna is said to have been so determined to join the church that she even disfigured herself to avoid getting married.
We see the same with Saint Kateri Tekakwitha of America. Though she lived too far back for photographs, look at the various depictions.
[Return to www.spiritdaily.com]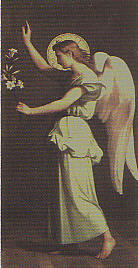 Pray always for purity and love
+++