Michael Brown beyond Love Canal
Niagara Gazette reporter who broke toxic dumping story four decades ago has a higher mission now
Michele DeLuca Commentary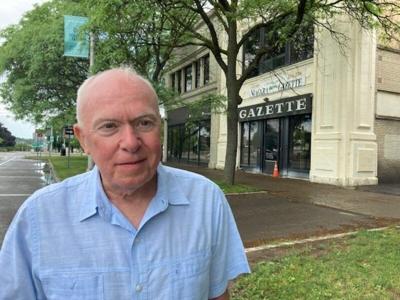 Niagara Falls hasn't heard from Michael Brown in a long while.
The former Niagara Gazette reporter who broke the Love Canal story as a 26-year-old news reporter has been keeping a low profile in mainstream media for the past few decades and rarely gives interviews.
Brown reappeared recently in a documentary that aired on WIVB TV, produced by Rich Newberg, a former reporter at that station and his co-producer Tom Vetter. Newberg and Vetter created the program to show the importance of local TV news footage in Western New York history and promote efforts to save the video footage which is now decomposing.
The documentary, called "The Buffalo Story: History Happens Here," airs for a second time at 7 p.m. on Saturday, on WIVB's sister station WNLO, and features many unforgettable moments in local history. Love Canal has a 12-minute segment of the hour-long presentation.
The shocking images of distraught Love Canal homeowners fighting for their lives and begging for help from a wall of unmoved government officials is still stunning. And it brings home the point these moving images, the first draft of history as Newberg calls them, need to be preserved along with other monumental visuals of Western New York history, including the local Civil Rights Movement, the Buffalo Bills four Superbowls, the Blizzard of '77, the Erie Canal restoration and more.
Newberg included parts of an interview with Michael Brown. After the documentary made its debut a few weeks ago, he presented the 30-minute video footage of Brown's interview to the Niagara Gazette, where it will reside into perpetuity on the Gazette website and YouTube Page. This is a big deal for generations to come who may want to know more about Love Canal, at least as it was experienced by a 26-year-old reporter who was nominated three times for the Pulitzer Prize.
Brown was long gone by the time I arrived at the Niagara Gazette 14 years ago, but as my years at this newspaper flew by like pages ripped from a calendar, Michael Brown and his efforts were never far from my mind.
His book, "Laying Waste: The Poisoning of America by Toxic Chemicals," was always at the top of the pile of books near my computer. I never wanted to forget what the efforts of one dogged reporter can do to bring awareness to the good or bad in any community.
The longer I work in the news business, the more I am aware of how newspapers and local TV stations are documenting local history in a way that national news programs can't. The point was underscored when I watched the documentary and relived once again, the horrors those families faced in Love Canal, helplessly watching their families get sick and facing off against mostly indifferent and arrogant government officials.
Michael Brown, a 26-year-old Gazette reporter was objective as possible, but not indifferent. From the moment he met with the first family and saw their young daughter who was born with multiple birth defects, he knew he had to write stories that would help get those families out of Love Canal.
After I watched the documentary and remembered how horrific I found the experience of covering just one Love Canal meeting as a young reporter for the Courier-Express, I asked Newburg for his phone number and called Brown myself. I had to know more about him and who he became. I left a message and Brown called me back, telling me he only did so because I was from the Gazette. We talked for an hour. It was quite enlightening.
It turns out that Love Canal is not a great memory for Michael Brown. After the story broke and the families were safely relocated, plenty of politicians and officials were angry with him. He was harassed by the police when he returned for a wedding. He left the Niagara Gazette to move to New York where he wrote his first book and became a crusader of sorts for the environment, traveling the country to promote his book and lecturing at colleges.
He pursued another toxic story, this time about a mob-related dump in New Jersey, and wrote another book about that. But during that time he was also having an incredible spiritual conversion.
For the next few decades, Brown was literally experiencing miracles, particularly at Madjigore, a tiny village he's traveled to nine times in Bosnia and Herzegovina, where the mother of Jesus is said to have been making appearances since1987.  He has been to more than 30 sites of alleged Marian apparitions, as well as to other holy sites like Israel, Fatima, and Lourdes.
When Brown speaks publicly now, he speaks of his deep Catholic faith and specializes in reporting on extraordinary spiritual phenomenon.
His 30 or so books include topics such as revelations, miracles and near-death experiences, and other spiritual news stories. For nearly 30 years, he and his wife, Lisa, have run a website www.spiritdaily.com, a digital newspaper, which they update every day with new stories, and where his newsroom skills are put to good use.
He was in Niagara Falls this past weekend to visit his family and agreed to meet me in front of the now-closed former Gazette building at 310 Niagara St. where we both once worked. I took his photo and we had talked for a bit at Power City Eatery where he shared more about his faith-filled life, which has been shadowed only by his disappointment that Love Canal never really changed anything.
After he wrote "Laying Waste," Brown traveled the country appearing on national and local TV shows, speaking at colleges and wherever else he could gather an audience, to bring awareness to toxic chemical dumping.
"I thought Love Canal would spur this country to take a look at the chemicals it was producing and using and realize you should not be allowed to use or manufacture a compound unless you could disassemble it in its natural components. Not in toxic form."
While there are many positive things happening to protect our environment around the world, there's a long way to go, especially when some people don't even think there's a problem. "Baby steps," Brown admitted with a shrug. But, baby steps are better than no steps at all.
The father of three, married to Lisa, who shares his mission and  works with him daily on their website, sats he will likely "die with his boots on." But he still finds time to kayak near his home in northern Florida, and admits he wouldn't change a thing about his life.  "You have your good days and your bad days, but I'm certainly happy," he said. "I still write lots of letters to the editor about the environment."
My takeaway is that he is doing his best to live a deeply faithful life, writing, traveling, teaching the message of his Catholic faith to as many as possible. Despite his disappointment in the inability of most world leaders to learn the lessons of Love Canal, he is resolute in his faith and has clearly committed to working on a much bigger and far greater story.
To watch the video or read the full interview between Rich Newberg and Michael Brown, which was conducted for the documentary "The Buffalo Story: History Happens Here," visit online at www.niagara-gazette.com.  For more information about Brown visit www.spiritdaily.com. To reach Michele DeLuca email: [email protected] or call 282-2311, ext. 2263.
ON TV
• WHAT: Re-airing of the Buffalo Story: History Happens Here," an hour-long special documentary to showcase the importance of preserving local TV news video footage, and including a segment on Love Canal with an interview by former Niagara Gazette reporter Michael Brown.
• WHEN: 7 p.m. Saturday
• WHERE: WIVB's sister station WNLO, also known as CW 23
ONLINE
• WHAT: To read the full Michael Brown interview for "The Buffalo Story: History Starts Here," check out our e-edition or visit our website on Monday.