---
You may have heard of Anneliese Michel. She was a young, devout German woman who went through repeated exorcisms in an attempt to purge especially atrocious spirits. She died after a second major possession, and dozens of exorcisms, at age 24.
Psychologists called it "epileptic psychosis." But anyone who was familiar with the circumstances knew, from the extraordinary phenomena, that it was blatantly supernatural in character. The 2005 movie The Exorcism of Emily Rose is based on her story.
Incredibly, her parents were accused of negligent suicide for her death, which came after a yearlong series of exorcisms during which she lost weight and dehydrated. Both of her knees were broken from continuous genuflections.
The question, at this time of year, when spiritual warfare is again to the fore: how did poor Anneliese become possessed to begin with? What was the aetiology? 
And here it gets even more interesting. For as a new book we're offering, Anneliese Michel: A True Story of a Demonic Possession, by Lawrence LeBlanc and well-known Spanish exorcist Father Antonio Fortea points out, there was first and foremost the idea of a curse.
This came from the "mouth" of a demon claiming to be Lucifer who spoke through her and during one exorcistic session saying, "The snot nose is cursed. I will not let her free. I will not get out alone. And we are so many inside her! The snotty slut is ours! You have to pray much more. By order of that one [Virgin Mary] they should still recite… [Rosary] or else, we cannot come out. This affair will last at least for half a year still. By order of that Lady, people should fast. She was cursed from the beginning. She was cursed before birth!"
You'll have to excuse the language. Is what is said during an exorcism valid?
Added the demon: "The other one of that village, where the curse took place, was an envious woman: that woman from your mother's village. (When asked if others were cursed, there was no
answer). Today, no one believes any longer in the Immaculate Conception. The Church? At present, most believe it is only a community. The modernists are killing it evermore. We are hard at work at this, so it may be drawn, and we throw much poison into the Church, so it will be drawn. By now, those who believe in the Church and are faithful and believe in her are very few. The Rosary, they do not think it is modern. Many believe that after life, everything is finished. They are very many, and they live accordingly, because they do not pray any longer. Sins reach Heaven: but the thing will not last long. The one of 1917 (the Virgin of Fatima) said it. But only a few have listened to her. Death, tribulations, and famine, O yes, they will come again!"
An envious woman had caused Anneliese's possession? A woman from her mother Anna's hometown?
As the book says, "Anna maintained that the woman who cursed Anneliese was from her village of Lieblfing and a refugee from the war. She did it out of envy because she and Josef were relatively well off financially, while the woman was struggling to survive. Peter stated that the Michels attempted to pursue the issue but the lady in question had died."
There certainly are such things as spells and curses upon families — and envy is a key energy behind them. But might there also have been another factor — namely, an errant apparition site?
Here we get even more controversial.
Anneliese's father Josef — and in his footsteps Anneliese herself — were devotees of such a place in Italy called San Damiano. We have been there. We have investigated it. We're not at all comfortable with it. In addition, the local bishop condemned it.
Could a spirit have attached to Anneliese from there?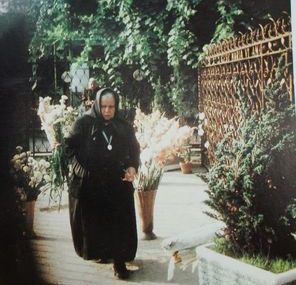 Notes the book: "When they arrived in San Damiano, Anneliese was unable to enter the shrine. She said that the soil burned like fire underfoot. She tried to enter from the back of the shrine but couldn't get past the garden. She also stated that she couldn't look at holy pictures or sacramentals. Thea offered Anneliese water from the miraculous well several times but she was unable to drink as she said it smelled bad. Josef bought her a medal but she couldn't wear it because she claimed it pressed her chest to the point that she could not breathe. Thea was wearing a medal around her neck under her dress. Anneliese tore it off by grabbing the outside of her dress. When leaving, Anneliese knocked Thea down on the bus and in doing so, broke her rosary. On the way home, Anneliese was still not herself. She seemed to be making fun of Thea and was using improper language. She spoke in a deep voice like a man. She exuded a stench, like fecal matter or something burning. Everyone on the bus could smell it. It was totally out of character for Anneliese to act in this manner. Josef sat beside her and held her tightly as he tried to calm her down."
That makes it seem like the site was holy and the demon in Anneiliese was reacting to it. And maybe she was reacting to Holy Water and other sacramentals, if they had been blessed by a priest.
Or was it more complicated that that?
Demons lie. For example, the one in Anneliese at one point predicted that San Damiano (the key seer here was called Mama Rosa Quattrini) would be recognized by the Church.
The opposite — a strident rejection — occurred. Those promoting the site were threatened with Church sanctions.
Was the demon trying to hide its origin?
Or were a number of forces in play?
For your reckoning.
In the end, the "Virgin Mary" supposedly appeared to the poor woman and asked if she would be willing to become possessed again (she had been delivered) to show and warn others that real evil existed. Was it Mary — or just the demon; perhaps even the "Virgin" of San Damiano?
A puzzle wrapped in a conundrum for sure! At another point, the possessing demon takes credit for the rejection of San Damiano (and the nearby site of Montechiari).
To wit:
"The apparitions at San Damiano and Montechiari are true," said the evil spirit. "The Church did not recognize them, but this is our work."
Can we believe anything such a spirit says?
A lenten meditation, this is: purging ourselves such that deception becomes obvious through a clear prism.
[resources: Anneliese Michel: A True Story of a Demonic Possession]
[Michael Brown retreat, May 4, Chicago]
[Footnote: the Bishop of Piacenza's ruling (rough translation):
OFFICE OF THE BISHOP OF PIACENZA
OFFICIAL NOTIFICATION
My recent Pastoral Visit to the parish of St. Damiano as well as the announcement already made of gathering of young people at the place where the apparitions of Mary are presumed to be force me to take action regarding these events. It is a known fact that for a long time these activities have been disturbing the spiritual life of that parish and are bringing much discredit on Religion and on true Christian piety.
The authority and responsibility which come from God to me as Bishop of the Church in Piacenza urge mc to judge the facts which regard faith and ethics. I cannot shrink from the duty to denounce and strongly deplore the serious disobedience of those people, laymen, religious and priests coming from outside the Diocese who continually neglect to
follow the judgement and directions of the legitimate and competent Ecclesiastical Authority. The Apostolic See, indeed, has issued, among other correspondences, the letter from the Secretary of State of His Holiness the Pope dated May 16 th 1977 prot. 327.022.
Therefore, I ORDER AND DECLARE what follows:
1. Once again I express the negative judgement already more times declared by my Venerable Predecessor and by myself regarding the so called happenings of St. Damiano and which I again stress have no supernatural foundation.
2. No act of cult to the Blessed Virgin, connected with those presumed apparitions and messages, may be licitly practiced and encouraged.
3. Those who advertise through writings in order to propagate such events, or who organize pilgrimages or go to St. Damiano for devotional reasons are in blatant disobedience to the Church.
4. On the 3th. and 4th. of May and in future days during which, according to the judgement of the competent Authority, particular circumstances could require it, St. Damiano's Church will remain closed. The Pastor will provide other means for the parishioners to participate to the celebration of the Eucharist.
5. In the whole Diocese I renew the following dispositions:
a) Priests from outside the Diocese going to St. Damiano for such a devotional reason must not be permitted to celebrate Mass, and if they dared to do it, they are suspended "a divinis."
b) To the Priests and religious going to St. Damiano Holy communion is to be refused.
6. I invite the Rectors of the Churches, including those administered by Religious and at times frequented by groups of "pilgrims of St. Damiano" to give an adequate instruction to enlighten them on true devotion to the Blessed Virgin and on the obedience to the legitimate Authority of the Church according to the doctrine of the Second Vatican Council and in conformity with the Canon Law.
Piacenza: Bishop's Office – May 1 th 1980
+ ENRICO MANFREDINI
Bishop of Piacenza
[Note: some minor grammatical errors made during the translation from the original Italian have been
left as provided: they do not affect the main thrust of the Bishop's message].