There are many strange things in our time, or things that at least seem strange.
Those uncanny sounds continue in various places around the world — no longer just inexplicable rumblings but outright "skyquakes."
Here's a video of the massive thunder/explosion that everyone heard around 3:30am in #Montreal. Pretty surreal. pic.twitter.com/y8VbpVAK5O

— Phylippe Bernard (@PhylBernard) March 25, 2021
Is that far-off thunder (there was no storm, nor any in proximate areas), or perhaps a fireball resonating — blasting — in our atmosphere? (Hit the "pause" symbol to stop videoclips.)
Meteorites have been increasingly seen — and heard. Here's a rare daytime one from last week.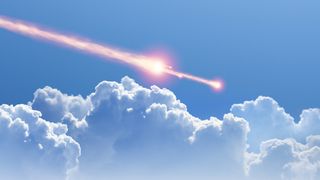 That triggered a loud sonic boom on March 20 that reportedly was heard in southwest England, Wales, and northern France, according to Sky News.
Other sounds have been far more mysterious: Trumpet-like echoes. Grinding subterranean noise.
There are those who posit the cause as not meteorites but "UFOs" (we'll be having a "special report" about some major developments). They're in the news because it turns out that part of the pandemic stimulus bill signed in the U.S. last December mandates the public release of what the government knows about such objects. The deadline that had been set was 180 days (meaning by June 1).
Senator Marco Rubio of Florida warns that the intelligence organizations in control of such data, mainly from the military, will probably not be ready by then; and there are likely to be challenges to any release at all. But it seems high time that we at least see what the government knows (or doesn't know). "The bottom line is if there are things flying over your military bases and you don't know what they are because they aren't yours and they are exhibiting — potentially — technologies that you don't have at your own disposal, that to me is a national security risk and one that we should be looking into," Rubio said.
No one any longer questions the existence of evidence (and a lot of it) of unexplained aerial phenomena, especially above military and nuclear facilities around the world, but from what we can tell, no government has a handle on exactly what or who exactly it is and perhaps cares not to admit this (or is afraid of alarming the public; this happened in the 1950s when there was a massive wave of UFOs over the Washington D.C. area). At the Pentagon, the Unidentified Aerial Phenomena Task Force (UAPTF) has been ordered to prepare a detailed overview of the UFO mystery for submission to Congress.
Former intelligence director John Ratcliffe said in a recent interview on Fox News, "Frankly, there are a lot more sightings than have been made public." That we knew.
It brings to mind a famous "UFO" that was videoed over the Temple Mount in Jerusalem in 2011:
Many say it was a hoax. We'll certainly take that under advisement. But it is interesting to note the powerful magnetism of this spot — sacred in Jews, Christians, and Muslims — where Mohammed supposedly ascended and where, perhaps to the point, Jesus confronted the devil (many believe UFOs are nothing material, but spiritual phenomena: ones often associated with demonic activity).
And also, they are sometimes linked — yes — to those unexplained booms.
Skyquakes.
The spiritual and geological worlds certainly intermingle; there was the quake at the moment of Our Lord's death.
Are at least some of the strange sounds heard around the world sort of an incursion — if not from another galaxy, from the spiritual realm?
Last night #thunder in the West Island of #Montreal. See lightening flash in the first second, then rumble. This was heard over the entire island and off island in Ile Perrot and Laval. It rumbled on for awhile. pic.twitter.com/0mX4nPaw02

— James Riordon (@outofcontrol) March 25, 2021
[resources: Lying Wonders, Strangest Things]