---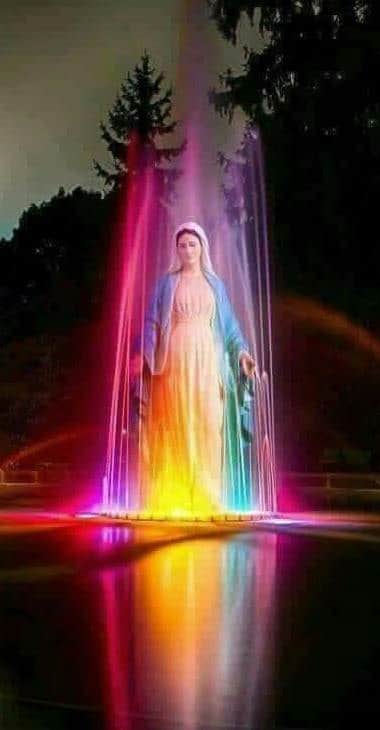 As we head down the home stretch toward the Coast-to-Coast Total Consecration (or Re-Consecration as the case may be) to Jesus through Mary, do not let anything get in the way of your final preparation and ultimate consecration on May 31st. (By Dominic Cingoranelli)
On the Day of Consecration
You have completed the thirty-three days of preparation and today is the day of consecration. As planned, it falls on a feast day. Here are some components of this day and for the new life that follows. •   
The Sacrament of Reconciliation: Plan to receive the Sacrament of Reconciliation today. If unable to arrange confession this day, receive it on a day shortly before or soon after. •   
The Eucharist: Attend Mass and receive holy Communion. You may wish to prepare for Mass by praying with the readings, using the same method that you did in the contemplation each day of the preparation. •   
The Act of Consecration: Form the intention of giving yourself to Jesus Christ though Mary. You will pray the formal Act of Consecration sometime after receiving Communion. You may choose to write it out by hand, recite it out loud, and sign and date it. •   
A Tribute of Love to Mary: Saint Louis de Montfort recommends making a tribute of love to Mary today. The tribute can take many different forms, such as giving alms, lighting a candle, placing flowers before an image of Mary, a fast, or an act of charity. Saint Louis indicates that this act of love should be given according to our own fervor and discretion, saying, "If they had but a pin to give in homage, and gave it with a good heart, it would be enough for Jesus, who looks only at the good will" (TD, 232). •   
An External Sign of Devotion: While optional and not essential, Saint Louis recommends wearing an external sign and reminder of your consecration in the form of little chains around your wrist (symbolic of holy slavery). You may wear a Marian medal or scapular in lieu of the little chains, if you prefer. •   
The Rosary: In order to help maintain a life of consecration, Saint Louis de Montfort encourages the ongoing and daily practice of some Marian devotions. Preeminent is the Rosary. Strive to pray the Rosary each day, even if you are only able to pray one decade. •   
A New Life of Consecration: The consecration isn't finished on the day it is prayed; it's only just beginning. Now it is time to live out the consecration on a daily basis. Continue to foster the interior practices of remaining in communion with Jesus and Mary. Deepen your sense of Mary's presence with you, and give all that you are to Jesus through her. •   
Renewal of Consecration: Once a year or more you should renew your consecration. It is especially meaningful to renew it annually on the same Marian feast day.
Source of the Above: McMaster, Fr. Brian. Totus Tuus: A Consecration to Jesus through Mary with Saint John Paul II (pp. 153-154). Our Sunday Visitor. Kindle Edition.
St. Louis Marie de Montfort's Prayer of Consecration
O Eternal and Incarnate Wisdom! O sweetest and most adorable Jesus! True God and True Man, only Son of the Eternal Father, and of Mary ever Virgin! I adore Thee profoundly in the bosom and glory of Thy Father during eternity; and I adore Thee also in the virginal bosom of Mary, Thy most worthy Mother, in the time of Thine Incarnation.
I give Thee thanks, that Thou hast annihilated Thyself taking the form of a slave, in order to rescue me from the cruel slavery of the devil. I praise and glorify Thee, that Thou hast been pleased to submit Thyself to Mary, Thy holy Mother, in all things, in order to make me Thy faithful slave through her. But alas! Ungrateful and faithless as I have been, I have not kept the promises which I made so solemnly to Thee in my baptism; I have not fulfilled my obligations; I do not deserve to be called Thy child nor yet Thy slave; and as there is nothing in me which does not merit Thine anger and Thy repulse, I dare no more come by myself before Thy Most Holy and August Majesty. It is on this account that I have recourse to the Intercession of Thy most holy Mother, whom Thou hast given me for a Mediatrix with Thee. It is by her means that I hope to obtain of Thee contrition, and the pardon of my sins, the acquisition and the preservation of wisdom. I salute Thee, then, O Immaculate Mary living tabernacle of the Divinity, where the Eternal Wisdom willed to be hidden and to be adored by Angels and by men. I hail thee, O Queen of heaven and earth to whose empire everything is subject which is under God.
I salute Thee, O sure refuge of sinners, whose mercy fails no one. Hear the desires which I have of the Divine Wisdom; and for that end receive the vows and offerings which my lowness presents to thee.
I, [Name], a faithless sinner-I renew and ratify today in thy hands the vows of my Baptism; I renounce for ever Satan, his pomps and works; and I give myself entirely to Jesus Christ, the Incarnate Wisdom, to carry my cross after Him all the days of my life, and to be more faithful to Him than I have ever been before.
In the presence of all the heavenly court I choose thee this day for my Mother and Mistress. I deliver and consecrate to thee as Thy slave, my body and soul, my goods, both interior and exterior, and even the value of all my good actions, past present and future; leaving to you the entire and full right of disposing of me, and of all that belongs to me, without exception, according to Thy good pleasure to the greatest glory of God, in time and in eternity.
Receive O gracious Virgin, this little offering of my slavery, in honour of, and in union with, that subjection which the Eternal Wisdom deigned to have thy Maternity, in homage to the power which both of you have over this little worm and miserable sinner, and in thanksgiving for the privileges with which the Holy Trinity hath favoured thee. I protest, that I wish, henceforth, as thy true slave, to seek thy honour, and to obey thee in all things.
O admirable Mother, present me to thy Dear Son, as His eternal slave, so that as He hath redeemed me by thee, by thee He may receive me.
O Mother of mercy, get me the grace to obtain the true Wisdom of God, and for that end place me in the number of those whom thou lovest, whom thou teachest, whom thou leadest, and whom thou nourishest and protectest, as thy children and thy slaves. O Faithful Virgin, make me in all things so perfect a disciple, imitator and slave of the Incarnate Wisdom, Jesus Christ thy Son, that I may attain, by thy intercession and by thy example, to the fullness of His age on earth, and of His glory in heaven. Amen.
https://marianapostolate.com/total-consecration-to-mary/
33 Days to Morning Glory CONSECRATION PRAYER
I, ___________________________  , a repentant sinner, renew and ratify today in your hands,
O, Immaculate Mother, the vows of my Baptism. I renounce Satan and resolve to follow Jesus Christ even more closely than before.
Mary, I give you my heart. Please set it on fire with love for Jesus. Make it always attentive to his burning thirst for love and for souls. Keep my heart in your most pure Heart that I may love Jesus and the members of his Body with your own perfect love.
Mary, I entrust myself totally to you: my body and soul, my goods, both interior and exterior, and even the value of all my good actions. Please make of me, of all that I am and have, whatever most pleases you. Let me be a fit instrument in your immaculate and merciful hands for bringing the greatest possible glory to God. If I fall, please lead me back to Jesus. Wash me in the blood and water that flow from his pierced side, and help me never to lose my trust in this fountain of love and mercy.
With you, O Immaculate Mother – you who always do the will of God – I unite myself to the perfect consecration of Jesus as he offers himself in the Spirit to the Father for the life of the world. Amen.
http://33daystomorningglory.blogspot.com/p/consecration-prayer.html
Prayer of Marian Consecration
(Composed by St. Maximilian Kolbe)
O IMMACULATA, Queen of Heaven and earth, ref­uge of sinners and our most loving Mother, God has willed to entrust the entire order of mercy to you. I, (name), a repentant sinner, cast myself at your feet, humbly imploring you to take me with all that I am and have, wholly to yourself as your possession and property. Please make of me, of all my powers of soul and body, of my whole life, death and eternity, what­ever most pleases you.  If it pleases you, use all that I am and have with­out reserve, wholly to accomplish what was said of you: "She will crush your head," and "You alone have destroyed all heresies in the whole world." Let me be a fit instrument in your immaculate and mer­ciful hands for introducing and increasing your glory to the maximum in all the many strayed and indif­ferent souls, and thus help extend as far as possible the blessed kingdom of the most Sacred Heart of J e­s us. For wherever you enter you obtain the grace of conversion and growth in holiness, since it is through your hands that all graces come to us from the most Sacred Heart of Jesus.
Allow me to praise you, 0 Sacred Virgin

Give me strength against your enemies.
https://missionimmaculata.com/index.php/marian-spirituality-consecration/how-to-make-your-consecration-to-mary
Nationwide Coast-to-Coast Total Consecration to Jesus through Mary
Mary's Flame of Love
Our Lady wants to share her Flame of Love with us—who or what is that Flame of Love? None other than Our Lord Jesus Christ. This is at the heart of the remarkable story of Elizabeth Kindlemann, a 20th century Hungarian laywoman, who was visited by both Jesus and Mary many, many times. Our Lady wants to share her Flame of Love with everyone, and in doing so, pour out graces on those of us who would cooperate with her.
Consecration to Jesus, the Flame of Love, through Mary
How do we do this? Total consecration to Jesus through Mary is the perfect answer. St. Louis de Montfort told us, three centuries ago, "This devotion is a smooth, short, perfect and sure way of attaining union with our Lord, in which Christian perfection consists."
Graces Come through Consecration
The many graces we experience through consecration or entrustment to Jesus through Mary are far too diverse to list in a short piece like this, and they'll vary from person to person. But consider this—in Catholic For A Reason, Dr. Tim Gray tells us, "It is noteworthy that John is the only one of the twelve who follows Christ all the way to Calvary. Could it be accidental that the disciple closest to Mary was the one who had the courage to stand under the Cross?"
Now, fast forward about 2,000 years, and read what Monsignor Charles Pope is telling us today in his recent post on modern day persecution. When the persecution heats up, gets closer to, and becomes more personal for each of us, will we have the courage of St. John?
Staying close to Our Blessed Mother gives us courage to fight the enemy and stay in the spiritual battle. At the same time, though, while spiritual artillery rounds are raining down around us, the more united we are with Our Lady, the more peace we can have in our lives.
Peace Comes through Consecration
Even in the midst of trials, we can have the peace of God. Fr. Emile Neubert explains in Life of Union with Mary, that we can only find true peace in God, and Mary provides the direct path that leads to Him. Total consecration to Jesus through Mary opens up the shortest route for that peace to come to us!
Coast-to-Coast Total Consecration to Jesus Through Mary – May 31
This week, on May 31st, the Coast-to-Coast Total Consecration to Jesus through Mary will occur. Two, different live streams will be available.
A live streaming Facebook video feed will be available at about

11:10 a.m. Eastern Time

from the Marians of the Immaculate Conception, during Mass celebrated by Fr. Chris Alar, MIC via this link:

https://www.facebook.com/MarianHelpers

.

A separate consecration will take place when Msgr. Ralph Chieffo, the National Spiritual Advisor for the Flame of Love Movement in the US, will be lead the faithful in the traditional St. Louis de Montfort Prayer of Consecration

at the end of his 7:30 p.m. (Eastern Time)

Mass at St. Mary Magdalen Church in Media, PA. To access the live stream, go to

www.stmarymagdalen.net

and click on Liturgy—Live Stream.
The two live streamed Consecration events are different: One will be in the morning led by Fr. Chris Alar using the 33 Days to Morning Glory Prayer, and the other will be in the evening led by Msgr. Ralph Chieffo, the National Spiritual Director of the Flame of Love Movement in the US, using the longer, traditional St. Louis de Montfort Prayer. Either option is acceptable—take your pick.
Please join in and complete your consecration to Jesus through Mary this Friday!
Jesus and Mary are not efficiency experts with clipboards; they're not accountants keeping ledgers, nor are they scorekeepers. They are more interested in your heart and soul than in how perfect your preparation has been. They love each of you infinitely, and they want you to consecrate yourself to Jesus through Mary. As you join in on this momentous consecration with thousands of other faithful, be prepared for an abundance of graces to be poured out upon you.
Please do not let the anyone or anything hinder you from completing this most important step in your relationship with Jesus and Mary.
More here: https://spiritdailyblog.com/preparation/as-war-heats-up-major-consecration-set-days-from-now