From Crux Now:
+
A Luxembourg performance artist shocked onlookers by posing naked in front of the Marian shrine in Lourdes on Friday. Deborah de Robertis was arrested after "sexual exhibition" and is expected to go to court next May.De Robertis's actions took place during a Eucharistic procession. As the 34-year-old posed in a praying position in front of the famed grotto of the shrine, an onlooker attempted to cover her with a veil. The police were called, and she was escorted off the premises.
From Artnet:
The performance artist Deborah de Robertis has defended her feminist statement of standing nude beneath the statue of the Virgin Mary at Lourdes in France, upsetting pilgrims and outraging the shrine's Catholic authorities.
The artist, who is best known for her nude performances at museums including the Musée d'Orsay and the Louvre, has been charged with "sexual exhibitionism" after she stood in the famous grotto at the Sanctuary of Our Lady of Lourdes, hands clasped as if in prayer, wearing nothing but a blue veil on her head on Saturday, September 1. Bystanders seeing the artist at the shrine quickly intervened to cover her up, and the police were called. De Robertis tells artnet News that the police phoned for an ambulance and pressured her to leave with the doctors, which she refused. She says police threatened to have her committed (she has already been forced to spend a night in a psychiatric ward following another performance in Paris) but after a lengthy negotiation settled for bringing her into police custody. The 34-year-old is due to appear in court at Tarbes next May.
[Return to www.spiritdaily.com]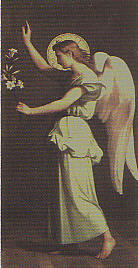 Pray always for purity and love
+
Please report any inappropriate ads or content
=
=
=
=
=
=
=
=
=
=