From History Channel:

According to historical accounts, Samuel Adams (who by then had become governor of Massachusetts), Paul Revere and William Scollay placed the original contents of the time capsule in 1795, in a ceremony that started in downtown Boston and ended at the State House, then under construction. Located atop Beacon Hill on land once owned by the state's first elected governor, John Hancock, the State House was completed in 1798. The Federalist-style building, sometimes called the "New" State House," replaced the Old State House on Court Street as the seat of the Massachusetts government. The latter building built in 1713, is the oldest surviving public building in Boston and now houses a historical museum.
This past October, the Old State House saw its own time capsule excitement, when officials opened a 113-year-old container that had been encased in the head of a golden lion statue on top of the building. Its contents, including sealed letters, photographs, and newspaper articles, were found to be in near-perfect condition. The capsule placed by Revere and Adams in 1795 was first removed from the State House cornerstone in 1855, during emergency repairs to the building, and its contents were placed in a copper box, replacing the original cowhide container. It was then reburied and did not see the light of day again—until yesterday.
[Return to www.spiritdaily.com]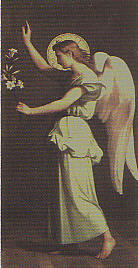 Pray always for purity and love
+