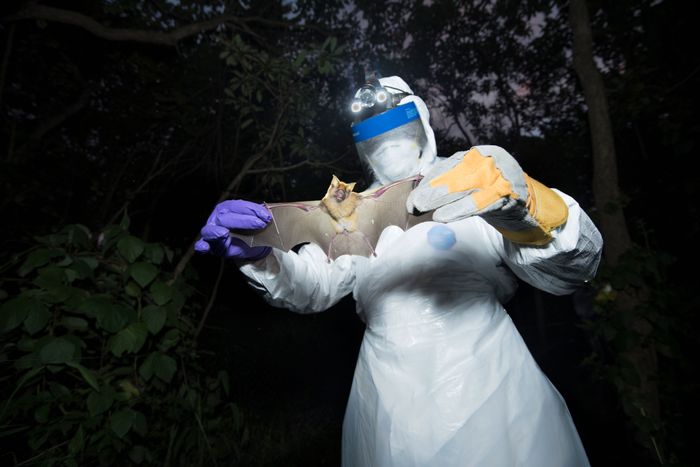 [Previously, we have reviewed interesting and in some cases, suspicious aspects of SARS-CoV-2, or "novel coronavirus," which causes the baffling, often mild, sometimes wildly virulent, and in too many cases fatal malady we all now know as covid-19. Among the points of interest: why does this "new" pathogen have certain technical similarities to HIV, which long has been suspected of having a synthetic origin; how many suffer health disorders many months after infection (more on that soon); and when exactly did this bat virus first enter the human populace?
[For long months now, the common understanding has been that corona first did this in China in November or December of 2019, afflicting Wuhan horribly when it hit there in January 2020. Soon after — by March — it has spread to dozens of nations as a historic pandemic.
[However, there are now reports that the virus was circulating earlier, perhaps back in March of 2019 in Spain as well as, apparently, Asia and possibly elsewhere. Said one of the few news outlets to report that, Reuters: "Spanish virologists have found traces of the novel coronavirus in a sample of Barcelona wastewater collected in March 2019, nine months before the COVID-19 disease was identified in China, the University of Barcelona said (six months ago)."
[Might it have been around yet earlier — might you, or someone you know, have been infected by it long ago. And if so, was the ultimate origin China — which has the world's largest bat-virus collection (in fact at a lab in Wuhan) — or other places where laboratories have meddled with this virus, including ones in the U.S. where Wuhan scientists trained and where there was research on what they call "gain-of-function": making the virus as deadly and transmissible as possible, so as to know the worst nature might serve up (or for use in biological warfare).
[We are suspicious that whether in Wuhan or elsewhere, the virus now causing mayhem around the world and particularly in the U.S. does indeed have a synthetic component, and in this regard is a noteworthy report this week in New York Magazine.
[Notes the author]:
From the New York Intelligencer:
Over the past few decades, scientists have developed ingenious methods of evolutionary acceleration and recombination, and they've learned how to trick viruses, coronaviruses in particular, those spiky hairballs of protein we now know so well, into moving quickly from one species of animal to another or from one type of cell culture to another. They've made machines that mix and mingle the viral code for bat diseases with the code for human diseases — diseases like SARS, severe acute respiratory syndrome, for example, which arose in China in 2003, and MERS, Middle East respiratory syndrome, which broke out a decade later and has to do with bats and camels. Some of the experiments — "gain of function" experiments — aimed to create new, more virulent, or more infectious strains of diseases in an effort to predict and therefore defend against threats that might conceivably arise in nature. The term gain of function is itself a euphemism; the Obama White House more accurately described this work as "experiments that may be reasonably anticipated to confer attributes to influenza, MERS, or SARS viruses such that the virus would have enhanced pathogenicity and/or transmissibility in mammals via the respiratory route." The virologists who carried out these experiments have accomplished amazing feats of genetic transmutation, no question, and there have been very few publicized accidents over the years. But there have been some.
And we were warned, repeatedly. The intentional creation of new microbes that combine virulence with heightened transmissibility "poses extraordinary risks to the public," wrote infectious-disease experts Marc Lipsitch and Thomas Inglesby in 2014. "A rigorous and transparent risk-assessment process for this work has not yet been established." That's still true today. In 2012, in Bulletin of the Atomic Scientists, Lynn Klotz warned that there was an 80 percent chance, given how many laboratories were then handling virulent viro-varietals, that a leak of a potential pandemic pathogen would occur sometime in the next 12 years.
A lab accident — a dropped flask, a needle prick, a mouse bite, an illegibly labeled bottle — is apolitical. Proposing that something unfortunate happened during a scientific experiment in Wuhan — where COVID-19 was first diagnosed and where there are three high-security virology labs, one of which held in its freezers the most comprehensive inventory of sampled bat viruses in the world — isn't a conspiracy theory. It's just a theory. It merits attention, I believe, alongside other reasoned attempts to explain the source of our current catastrophe.
[Spirit Daily note: we recommend vitamin C, vitamin A, vitamin D, and zinc as potential preventatives or mitigants.]
[resources: The God of Healing]