From the London Guardian: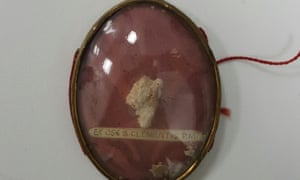 A small leather case containing a fragment of bone claimed to be a relic of St Clement, a pope who was martyred almost 2,000 years ago, has been found in rubbish collected from central London.
The waste disposal firm is now appealing for suggestions from the public for a more suitable final resting place for a saint than a bin. The box, originally sealed with red wax and tied with crimson cords, contained a scrap of bone under a glass dome, with a faded strip of paper labelling it "Oss. S Clementis" – bone of St Clement.
[Return to www.spiritdaily.com]
Pray always for purity and love