From Vatican Insider:
"The sacrifice of Christ is free, and this implies that even when one wants to remember someone, for example a deceased, the Mass is free": Pope Francis emphasized that during the general audience, and stressed that "no one and nothing is forgotten in the Eucharistic Prayer". Jorge Mario Bergoglio then explained the Council's choice of using the "language that people understand" to allow the assembly to join the priest in prayer that recalls the sacrifice of Christ. Francis also recalled that in the Eucharist there is the body and blood of Jesus and that it makes no sense to make "strange thoughts" in this regard. At the conclusion of the catechesis, the Pope recalled that Friday the penitential liturgy for the traditional "24 Hours for the Lord" initiative will be celebrated, and finally sent greetings to the International Paralympic Committee that will open in two days, pointing out that the recent Olympic Games "have shown how sport can build bridges between countries in conflict, giving a valid contribution and perspectives for peace among peoples."
The Eucharistic Prayer asks God to gather all his children in the perfection of love, in union with the Pope and the Bishop, mentioned by name, a sign that we are celebrate in communion with the universal Church and with the particular Church" the Pope said.
 "The supplication, like the offering, is presented to God for all members of the Church, alive and dead, in anticipation of the blessed hope of sharing the eternal legacy of heaven with the Virgin Mary.
 Nobody and nothing is forgotten in the Eucharistic Prayer, but everything is brought back to God, as the concluding doxology reminds us. No one is forgotten and if I have someone, relatives, friends who are in need or have passed from one world to another, I can name them at that moment, in silence…". 
"But father, how much do I have to pay for my name to come there?", Nothing! you do not pay for the Mass, for the Mass is the sacrifice of Christ which is free, If you want you can make an offering, but you do not pay, this is important to understand."
[Return to www.spiritdaily.com]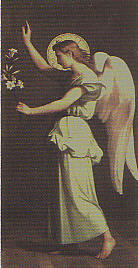 Pray always for purity and love
+++