From Zenit:
"To those who abuse minors I would say this: convert and hand yourself over to human justice, and prepare for divine justice."
Pope Francis delivered this strong message, during his annual address to the Roman Curia, for their annual exchange of Christmas greeting. In his annual address, he noted that in the firm conviction that the light always proves stronger than the darkness, he expressed his wish to reflect with them on the light that links Christmas (the Lord's first coming in humility) to the Parousia (his second coming in glory), and confirms all in the hope that does not disappoint.  [For Full Story]
From the Catholic Herald:
Pope Francis strongly condemned clerical sex abuse in his annual Christmas speech to the Roman Curia Friday, promising that the Church leadership will never again cover-up abuse or treat such cases lightly.
"Let it be clear that before these abominations the Church will spare no effort to do all that is necessary to bring to justice whosoever has committed such crimes. The Church will never seek to hush up or not take seriously any case," Pope Francis said in Vatican's City's Apostolic Palace on December 21. "It is undeniable that some in the past, out of irresponsibility, disbelief, lack of training, inexperience, or spiritual and human short-sightedness, treated many cases without the seriousness and promptness that was due. That must never happen again. This is the choice and the decision of the whole Church," he continued. [For Full Story]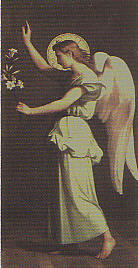 Pray always for purity and love
+
Please report any inappropriate ads or content